#mydentity Guy Tang Magnum8 Powder Lightener Bag
€ 50,50
ex. VAT
(Trade Price)

(

€ 62,12

inc. VAT)
Overview
Lifts up to 8 levels in a single application
Dust-free, violet powder
Delivers superior conditioning during the lifting process.
Ideal when fast-acting lift is desired
Unique consistency offers fluid spread-ability
Description
#mydentity @Guy_Tang #Magnum8 Powder Lightener is a dust-free, violet powder that lifts up to 8 levels in a single application. #Magnum8 is your ideal solution for fast-acting on- and off-scalp lift, maximum control and superior conditioning during the lifting process.
Directions for Use
Mix #mydentity @Guy_Tang # Magnum8 Powder Lightener in a ratio of 1:1 up to 1:3 with #mydentity @Guy_Tang Permanent Developer for desired consistency. On-scalp application: Up to 20 Volume; Off-scalp: Up to 40 Volume. Apply to dry, unwashed hair. Process for 20-45 minutes. Additional heat is not required. Rinse thoroughly after processing; shampoo & condition with desired care products.

Secret tip from @GUY_TANG: #Hairbesties, I love to mix # Magnum8 with # Big9 to create a hybrid consistency*. *off-scalp only.
Ingredients
Potassium Persulfate, Sodium Silicate, Magnesium Carbonate Hydroxide, Ammonium Persulfate, Mineral Oil, Xanthan Gum, Disodium EDTA, Glycine, Hydrated Silica, Polyquaternium 10, Sodium Hexametaphosphate, Cyclopentasiloxane, Cyclotetrasiloxane, Dimethiconol, Fragrance, Sodium Sulfate, Ammonium Sulfate, Ultramarines
Warnings
Do not use to bleach eyelashes or eyebrows or anything else except hair, including body or facial hair. Avoid contact with eyes and skin. If the product comes into contact with the eyes, wash immediately with plenty of water and consult a doctor. If the scalp itches intensely or is like a burning sensation, rinse immediately with warm water. Keep out of the reach of children. Do not apply on children. Examine client's scalp. If there are any cuts, scratches or abrasions, or if scalp is sensitive or irritated, do not proceed. Do not use over metallic dyes (color restorers), compound hennas, hennas or semi-permanent haircolor. Wait until hair treated with these products has grown out or semi-permanent haircolor has washed away. Hair breakage or discoloration could result. This product contains persulfates and other ingredients which may cause serious irritation, respiratory and/or allergic reactions. Do not inhale or ingest, prepare and use in a well-ventilated area. If affected by inhalation, move to fresh air. If symptoms persist, get medical attention. If swallowed, call a physician, hospital emergency room, or poison control center immediately. Induce vomiting only if recommended by medical personnel. Get prompt medical attention. Use only as directed. Wear suitable, disposable gloves while in contact with the product. Store in a cool, dry place. Follow use instructions. For professional use only.
Recently Viewed Products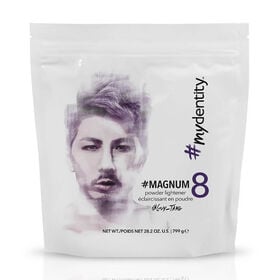 <ul><li>Lifts up to 8 levels in a single application </li><li>Dust-free, violet powder </li><li>Delivers superior conditioning during the lifting process.</li><li>Ideal when fast-acting lift is desired </li><li>Unique consistency offers fluid spread-ability </li></ul>