How do I enrol for online training?
1. Purchase your course. You can browse all courses here.

2. You should receive email confirmation of your enrolment onto your course from the course provider (this should be within 48hrs of booking, excluding weekends & Bank Holidays).

3. For courses that include starter kits they will be posted out alongside an access code to the online learning platform by the provider. For all other courses your training provider will let you know when you will receive access to the pre-course work- it should be roughly a week before your course is due to begin.
4. Complete all your pre-course work: this will include reading material, video content, step by step tutorial videos and quiz assessments.

5. Attend your live webinar session

6. You will receive notification of your result and an accredited certificate when you pass your course. Once received, please pass the certificate on to your insurance provider to update your insurance with your new skill.
Why train with Salon Services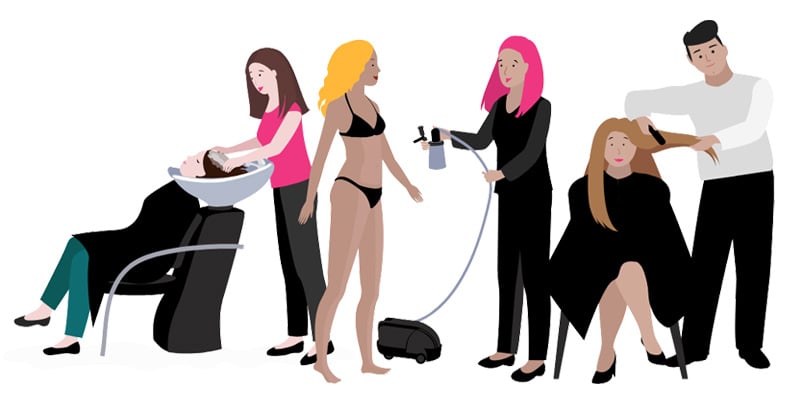 Taught and assessed by industry experts:

All of our online courses are assessed via a live webinar session, and many are delivered via a live webinar too. In addition, you'll receive access to our online training portal with a host of engaging material, from videos to reading material, step-by-step tutorials to quiz assessments, you can be confident that you'll receive the tools and training you need to succeed.

Training for over 15 years

With over 15 years worth of experience, you can guarantee that we're experts in our field and you will receive high-quality training from trained professionals.

CPD standard courses:

Our courses are CPD standard, meaning you can be sure you're receiving the highest quality training from the professionals.

For all levels beginners to advanced

Whether you're looking for training to kickstart your career, learn a brand new skill or refine those you have, we'll have the course for you.
Frequently Asked Questions
Do you need any previous experience to sign up to the courses?
All students must be at least 18 years old.
For the online Balayage & Freehand hair colour course all students are required to have previously obtained a hairdressing NVQ/VRQ level 2 or equivalent to take part.
Do I have to purchase the kit items to take part in the course?
All students are required to work on a human hair training head during the live practical session, no human model required. Please note if you are taking part in the online Balayage and Free hand hair colour course the training head used must be colour responsive.
Do you need any previous experience to sign up to the courses?
Students are required to have access to their own professional tool kit and purchase any additional items required. Please note that some of the items may already be salon essentials so there is no need to purchase more if you already own them. A full kit list for each course can be found on the product page or is available on page 22 of the Prospectus available here.
Do I have to complete the pre-course work before the live webinar?
Yes all pre-course work must be completed before attending the live webinar. You should receive access to the work via email a week before your live practical session with a guide of how long it should take to complete. If you haven't received the email (and it's not in your junk folder) we advise you to contact the course provider to check your details are correct.
Can I re-arrange or cancel the date of my live webinar?
If you need to change or cancel the date of your live webinar within 14 days of it taking place there will be a booking amendment charge of £20.
How long will I have access to the online training portal for?
After your webinar you will continue to have access to the various reference video tutorials via the online learning portal valid for 1 year.
How do I add my new qualification to my insurance?
Once you have completed your course including your live webinar session you will receive notification of your result and an accredited certificate if you have passed. You will need to contact your insurance provider to provide them with a copy of your accredited certificate for them to update your insurance.

Please note when speaking with your insurance provider they will ask who the course is accredited by which is outlined on your certificate and not the company you purchased the course from.
Is it possible to hire out a training room in one of your stores?
Unfortunately this is not currently possible but we will keep you updated on when the service will be next available.
I am part of a college/salon interested in training on my premises, is it possible to arrange this?