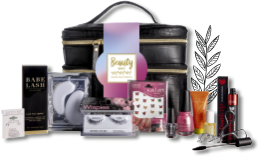 For use with the Beverly Hills Footsie Bath
Designed for one-time use
Perfectly fits to the tub for a professional look
100 disposable liners per pack

Powerful advanced curing technology
Designed with 78 state-of-the-art Taiwanese LED bulbs that provide the best wavelength (405nm) for curing and over 8000 bulb hours
Angled lights for full 5-finger curing
Ensures maximum comfort for clients
Pre-set 10, 30 and 60 second timer for accurate curing

Flexible arm directs light exactly where you need it
28 high-quality bright daylight LEDs
Touch switch dimmer with 4 brightness levels
Lamp brightness: 1,145 Lux at 30cm
1.5m length cable

Lightweight, compact and portable wireless lamp
Folds down to fit in your bag
Rechargeable for up to 10 hours of light
USB compatible
Continuous dimmer

Trade Price:

€ 33,60

€ 42,00

ex VAT

Made from chemical-resistant high-density laminate
5 storage drawers
Drawers clip on top of trolley for convenience
Large accessory top for storing tools

Slim, modern design LED floor lamp with flexible arm
2 independently adjustable heads
56 high-quality bright daylight LEDs
Touch switch dimmer with 4 brightness levels
1.8m length cable

Innovative, high performance design from the bottom up!
SmartCure technology for quick, comfortable gel curing
Diamond reflectors, perfect 360 5 finger cure
EyeGuard LED Shield - The ultimate in eye protection for safe LED services
Removable santizable magnetic tray

4 brightness levels
Integrated LED emit low heat
Lightweight aluminum shade with full length diffuser for better spread of light and diffusion, shadow free
Ergonomically designed with two flex-joints for perfect positioning, long reach
2 years manufacturer guarantee

Lightweight (2.4kg), portable with included carry bag
2 flexible shades with diffuser for shadow free lighting and 4 brightness levels
Telescopic stand with stable flat base
Flexible and removable mobile phone holder with USB port
2 years manufacturer guarantee

Combines powerful Daylight LEDs (6,000 K) with alarge 17.7cm (7 ) glass lens
Contemporary, slim and stable design andfFree-motion arm and head joint with wing nut can hold any position
3 diopter (1.75X) magnification and 2 brightness levels
Long reach arm 108cm (42.5 ) with internal springs
2 years manufacturer guarantee

Colour trolley
Includes foil cutter
Includes tint bowls

Storage trolley in stylish design
4 trays and 2 side compartments
Chrome hairdryer holder
Side tray supports
Accessory holders

Motion Sensor
3 timer settings: 10, 30, 60 seconds to suit your needs
36 Watts: State of the art LED curing technology for a superior finish
No production of harmful UV light so that nails remain strong and beautiful
A removable magnetic base plate for client pedicures

Gellux fast cure 13W LED lamp
For use with Gellux Gel Polish and UV/LED Hard Gel
Removable raised base
Lightweight, compact and portable
80 LED bulbs for optimum cure

Magnify and illuminate your intricate work easily
Bright Daylight LEDs with 2 brightness levels
Adjustable spring arm holds any position
12.7cm glass lens
Maximum reach 110cm

5x magnification lamp
45 SMD LEDs for cold white light
Adjustable neck
8W
5 dioptres

Ideal for mobile therapists
Folds down to be portable
Curved white top with storage drawer
Armrest for extra comfort
Castors for easy mobility

Freelance friendly table magnifier lamp
Magnification 10.2cm
5 dioptres
Extra bumper
Adjustable neck

Weighted 5-star base
For use with Sibel LED Magnifier Lamp 5x
Castors for easy mobility

Practical and elegant nail station with locking cupboard
2 height adjustable internal shelves
Adjustable chrome leg for uneven floors
Lamp holder
Easy glide castors

Cubic modern design
Cabinet storage section
Ample work space for manicure treatments
In contrast Dusk and Dawn finish

Mini Nail Lamp
Compact ergonomic design
Perfect for hands and feet
10 watts, 47 bulb LED, lasts 30,000 hours
Removable base, reflective inner surface and 30 second timer

Round mirror
Plain and magnifying
Metal frame
With stand
For home or salon use

The Edge UV lamp
In pink and white
The choice for professionals
With a timer for precise curing and sliding reflective plate
Power rating 36W

Beverly Hills Footsie Bath from Louella Belle
With disposable liners for easy clean up
Retractable cord and extra-deep bowl
Quiet operation and lightweight construction
With four control settings

Made from high-density wood laminate
Lockable top drawer and cupboard
Storage shelf
Easy glide castors
Available in White or Dark Wood

Ultra fast EXPRESS LED lamp with removable raised base for pedicures
Ergonomic design, black gloss finish
Cures Gellux Gel Polish in 10 seconds
Automatic motion sensor for instant light activation and acc urate timing
Powerful 5 finger cure and intense LED bulbs for maxiumu m cure (21W)

Stylish but practical storage trolley
5 drawers made from high-density laminate
Drawers clip on top of trolley for convenience
Large accessory top for storing tools
Available in black or dark wood

Suitable for most chairs
Allows the therapist to adapt to different treatments

Your ultimate salon partner
With six drawers for ample storage
Hinged colouring accessory tray
High-quality castors for easy movement
Practical and easy to clean

Professional quality 36 watt UV lamp
Cures both hard and soak-off gels
Slide-out, reflective plate for pedicures
Features 120 & 180 second timer settings for precise curing

Smart and stylish trolley from REM
5 deep drawers for easy slide use
Flat top to keep tools organised
Castors for easy movement
High gloss white

Sturdy and lightweight all-metal folding trolley
Perfect for the salon or a mobile therapist
Two shelves and large, easy-glide wheels

Lightweight and compact professional LED lamp
Cures all five fingers simultaneously
Full and even coverage
220V / 18 watt lamp
10, 30 and 60 second timer
20.5cm x 9.5cm x 17.5cm

Double head increasing your illuminated work surface
Flexible arm directs light exactly where you need it
56 high quality bright LEDs provide accurate colour matching
Touch switch dimmer with 4 brightness levels
Lamp brightness: 2,090 Lux at 30cm (12")
Whether you're looking for trolleys, LED lamps, manicure stations or more, find it in our fantastic selection of nail equipment and nail salon furniture. We stock great options from top brands such as Bellazi and ASP for high quality nail salon equipment that will suit your shop.