REM Salon Design and Planning
£421.43
ex. VAT
(Trade Price)

(

£505.72

inc. VAT)
LOOKING FOR MORE OPTIONS?
Our Furniture and Equipment range expands beyond the selection we have online.
To make sure that you get the right products for your salon, we offer a one-to-one consultancy service. To find out more or place an order, Click Here to drop us an email or call us on 0845 850 9983.
Overview
First impressions count! Achieve the salon of your dreams with the REM Salon Design Team.
REM's experienced team of designers will work with you to create practical, inspirational, tailor-made plans to bring to life the image, reputation and personality of your business.
Discuss your salon requirements and vision in depth with an on-site consultation
Realise this vision with technical 2D floor plans and 3D renders of selected areas to help finalise the details and visualise your colour scheme
These plans can be used by Joiners, Plumbers and Electricians alike
This amount is fully refundable when you spend £3000 ex VAT or more across REM furniture and equipment*
Description
In hairdressing, barbering and beauty, first impressions matter! The character of your salon or barbershop, its personality and values, will often be reflected in its look and décor, whether that's vintage, rustic, modern, eco, minimalist, retro, luxury or pampering.

For many years, REM have been instrumental in creating working environments for the salon industry. REM's team of Designers understand that todays working environments have to be responsive to the changing needs of the contemporary workplace. With this in mind, the designs REM offer are inspirational and tailor-made to reflect the image, reputation and personality of your salon, with practical and attractive solutions to enhance and ultimately grow your business.

REM use the latest technology to produce detailed 2 dimensional plans of the floor space you intend to work on. Equally, should you choose to employ an Architect to work on your project which REM can liaise with to realise a workable environment. These technical floor plans can be used by Joiners, Plumbers and Electricians alike to ensure the services you need for the Salon are met and quoted for correctly. From the 2 dimensional plans, the REM Design Team will then create 3 dimensional images to help finalise the details of your salon even before works commence.

How the Salon Planning Service Works….

Once purchased, a member of our team will be in touch within 2 working days to arrange a suitable date to visit your site.
During the on-site consultation, a member of the REM Design Team will take measurements and discuss your vision and requirements in depth.
Two dimensional plans are drawn up, visuals are produced and offered for initial approval.
Follow up call to discuss project.
This service is chargeable at £295 +vat and is refunded following any orders received in excess of £3000 ex VAT across REM furniture and equipment.* Click Here to shop all REM Furniture & Equipment.

It is important to ensure that your contact details are up to date so that we can contact you to make the necessary arrangements. Please provide as many methods of contact as possible, including your current phone number.
*Please be aware that this amount has to be strictly across REM branded products and has to be purchased through Salon Services.
Recently Viewed Products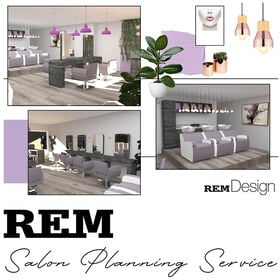 <ul><li>First impressions count! Achieve the salon of your dreams with the REM Salon Design Team. </li><li>REM's experienced team of designers will work with you to create practical, inspirational, tailor-made plans to bring to life the image, reputation and personality of your business. </li><li>Discuss your salon requirements and vision in depth with an on-site consultation </li><li>Realise this vision with technical 2D floor plans and 3D renders of selected areas to help finalise the details and visualise your colour scheme </li><li>These plans can be used by Joiners, Plumbers and Electricians alike </li><li>This amount is fully refundable when you spend £3000 ex VAT or more across REM furniture and equipment* </li></ul>