Threading In-Person Brow Course
https://www.salon-services.com/brows%2C-lashes-and-makeup-courses/threading-in-person-brow-course/115128_00001_04-MAR-2024.html
£145.00
ex. VAT
(Trade Price)

(

£174.00

inc. VAT)
Threading is a highly popular technique for hair removal as it doesn't require application of any products to the skin. Mastering this ancient art can give you a quick and simple alternative method of eyebrow and facial hair removal.
Top Features
Read more
What to expect when booking this course
Within 48 hours of booking, you will receive a welcome email from The Nail & Beauty Training Academy to explain your training journey.
Recently Viewed Products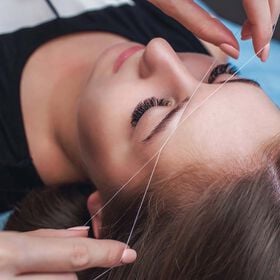 Threading is a highly popular technique for hair removal as it doesn't require application of any products to the skin. Mastering this ancient art can give you a quick and simple alternative method of eyebrow and facial hair removal. <br> <br> <b>Top Features</b><br><ul> <li> Practice and demonstrations of the threading technique </li> <li> Anatomy and physiology of the hair and skin </li> <li> Client consultation techniques and contraindications </li> <br> <b>Key Learnings</b><br><ul> <li> Full understanding of the practical application and supporting theory surrounding threading </li> <li> The skills and knowledge required to complete this treatment confidently and safely </li> <li> Health and safety knowledge to carry out the service confidently </li> </ul> <br> <b>Additional Information</b><br><ul> <li> Students are required to work on each other </li> <li> Students must be at least 16 years of age, and must arrive wearing minimal make-up </li> <li> Students must bring a selection of items listed below. Please note that there is no need to purchase more if you already have them. </li> <li> There will be an assessment at the end of this course </li> <li> Students will receive a qualification upon passing </li> <li> Training provided by The Nail & Beauty Training Academy </li> <li> Course accredited by IPHM & Professional Beauty </li> <li> Course duration: 1 Day, 10am - 3pm </li> </ul>