Online Hi Brow Shape, Colour & Style Course (Including Kit worth £135/€155)
https://www.salon-services.com/ie/brows%2C-lashes-and-makeup-courses/online-hi-brow-shape%2C-colour-and-style-course-%28including-kit-worth-%C2%A3135%2F%E2%82%AC155%29/815581_00093_01-SEP-2023.html
€ 133,00
€ 190,00
ex. VAT
(Trade Price)
Why should I purchase this course?
Become a Hi Brow professional and learn how to create the perfect brow using different shaping techniques and ...
Read more
SAVE 30%
Across Lash FX & HiBrow Online Training Courses

Markdown already applied
What to expect when booking this course
Within 48hrs of booking you will receive a welcome email from Lash FX to arrange your kit postage and access to the online training platform.

Kit Contents: Client Consultation Cards x 5, Hi Brow Strut Card, Cleanser & Afterwax Cream (Mini), Freshening Rose Lotion (Mini), Brow Shaping Wand, Brow Stix, Brow Pen, Smoothing Wax Pencil, Professional Brow Tint Dark Charcoal, Professional Brow Tint Light Brown, Professional Brow Tint Dark Brown, Professional Brow Tint Light Charcoal, Professional Brow Tint Developer, Glass Mixing Dish, QIC try me kit, Wax Perfect Pen, Orange Wood Sticks x 10, Spatulas x 5, Brow Waxing Strips (Pack of 100), Deluxe Professional Scissors, Hi Brow Deluxe Tweezers, Professional Silky Tangerine Thread, Mascara Brushes x 5, Professional Duo Sharpener, Hi Brow Aftercare Leaflets x 5.

Please note your kit includes a wax pen for training, where no heater is required. We recommend for future treatments you purchase a Professional Wax Heater and Soft Facial Wax.
Recently Viewed Products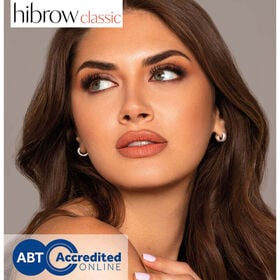 <style>.availability-notavailable, .availability, .variation-list { max-width: inherit; display: none !important; }</style><strong>Why should I purchase this course? </strong><br><ul><li> Become a Hi Brow professional and learn how to create the perfect brow using different shaping techniques and just the right tint shade </li> <li> You can expect to charge anything from £20 - £35 per treatment (dependent on location), which should take around 30-40 mins to complete, with results lasting 4-6 weeks </li> <li> <b> This means you would only to have to complete 8 Hi Brow Classic treatments to make a profit from completing this course </b></li> </ul><br> <strong>Top Features: </strong><br> <ul><li> Work at your own pace through an online training platform to complete all the required theory, video tutorials and assessments </li> <li> Includes a <strong>starter kit worth £135/€155</strong>, containing everything you need to complete the course. </li> <li> Low pressure approach with the option to replay each chapter as many times as required and a multiple choice questionnaire to track progress </li> <li> Once all your theory & practical tutorials are completed you will be invited to book onto a live <b>one-to-one </b>practical assessment webinar with an expert trainer where you will work on a model with their guidance & support </li> </ul > <br> <b>Key Learnings:</b><br><ul> <li> Health & Safety </li> <li> Anatomy & Physiology specific to brows </li> <li> Identify & understand different face/brow shapes to complete brow mapping to ensure symmetry </li> <li> You will be taught how to apply a bespoke tint, wax, shape, measure, trim & tweeze to create the perfect brow </li> <li> You will learn a threading technique to tidy the surrounding brow area to perfect the finished look </li> <li> Complete thorough client consultation and offer aftercare & maintenance advice </li> </ul> <br> <strong>Additional Information</strong><br><ul> <li> Students must be at least 16 years of age </li> <li> This course is delivered by Lash Perfect Academy, upon completion you will receive an ABT accredited e-certificate for insurance purposes </li> <li> Students are required to have a human model to work on during their live practical webinar, they must be at least 16 years of age, make up & eyelash extension free </li> <li> A patch test must be completed on your model 24 hours before your live practical webinar </li> <li> Please note, this course does not include how to shape the brow with thread, only to tidy </li> <li> Full FAQs for Lash FX courses available <strong><a href="https://www.salon-services.com/training/online-education/online-beauty-training-courses"> here</a></strong></li> </ul>