Online Education
now available
While face to face courses are currently postponed, we know many of you are still keen to keep learning over this time. For this reason, you can now book places for our convenient and safe online training courses.
BROWSE ONLINE
Online Education
now available
for 2020
While face to face courses might be postponed for 2020, we know many of you are keen to keep learning over this time. For this reason, we now have places to book on training webinars online!
BROWSE ONLINE
How do I enrol for online training?
1. Purchase your course. You can browse all courses here.

2. You should receive email confirmation of your enrolment onto your course from the course provider (this should be within 48hrs of booking, excluding weekends & Bank Holidays).

3. For courses that include starter kits they will be posted out alongside an access code to the online learning platform by the provider. For all other courses your training provider will let you know when you will receive access to the pre-course work- it should be roughly a week before your course is due to begin.
4. Complete all your pre-course work: this will include reading material, video content, step by step tutorial videos and quiz assessments.

5. Attend your live webinar session

6. You will receive notification of your result and an accredited certificate when you pass your course
Why choose to train online with Salon Services?
Why train with Salon Services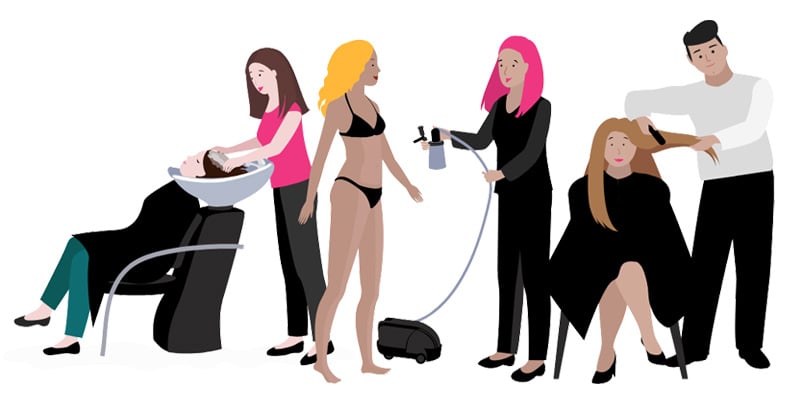 More than 60 training facilities, more than 50 accredited courses:

Have a browse through our extensive range of accredited courses, at our training facilities across the UK and Ireland.

Training for over 15 years:

With over 15 years worth of experience, you can guarantee that we're experts in our field and you will receive high-quality training from trained professionals.

CPD standard courses:

Our courses are CPD standard, meaning you can be sure you're receiving the highest quality training from the professionals.

For all levels beginners to advanced:

Whether you're looking for training to kickstart your career, learn a brand new skill or refine those you have, we'll have the course for you.
What happened to the face-to-face training
courses you used to sell?
Please note our face to face training courses are currently unavailable.
As a business, we want to assure you we are taking the threat of Coronavirus across UK & Ireland seriously and our customers and educator's wellbeing is important to us. Please be assured that we are treating this seriously and continue to monitor the situation daily. For now - you can browse our online courses here.