How to identify - and avoid - illegal nail products
There are so many nail products available to buy online. But with lots of them shipped from overseas, how do you make sure what you're buying is legal for use in the UK?
It is possible to order safe products online or from overseas, just be vigilant and make sure the product has ALL of the below:
Country of origin - Any products manufactured outside the EU must have a country of origin stated on the packaging.
Ingredients list - All ingredients must be listed in a language you can read.
Directions of use – There must be instructions for how to safely use the product.
Hazard warnings – Any warnings to look out for must be listed.
Use by date – There should be a date identified or a period of time after opening that you should no longer use the product. This is because the stability of the chemicals will reduce over time.
Responsible person – There should be a company name and address that you can contact if you have any issues with the product for advice.
This was the focus of our Nail Tech Talk in February where our expert panel included Marian Newman, author of The Complete Nail Technician, Rob Giblett, MD of IKON.iQ Nails and Yasmin Ahmed, our Salon Services Legal Regulatory Advisor.
Marian says, "Legal products are all about safety - that's what the cosmetic regulations are about. Yet there are so many products that are illegal to use in the EU and it's very hard for the nail artist to know.
"They don't know to look at a bottle and see if that label is compliant. Why would they? How can they find out that a particular brand they love is actually illegal to sell in Europe?"
Always refer to the checklist, above.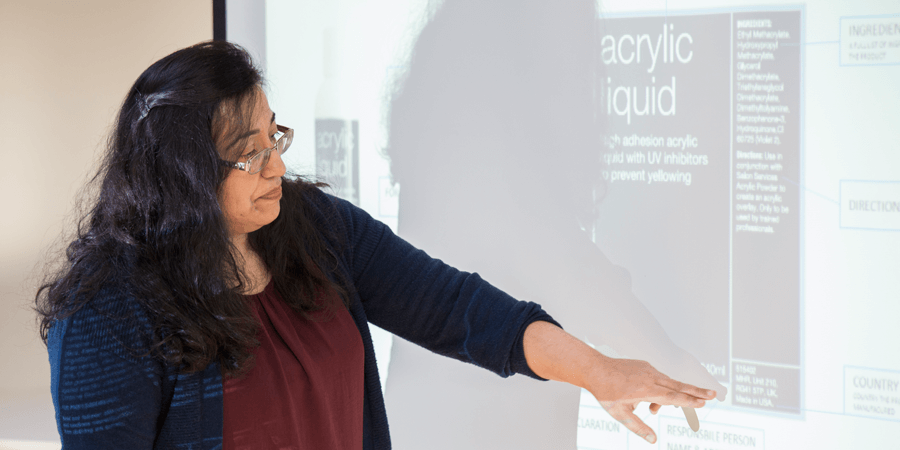 Why is it so important to be compliant with product regulations… and what happens if you're not?
Using products that aren't legal in the UK could have huge repercussions for you and your business.
This could include:
Invalid public liability insurance
Unlimited fines
Prison sentence
Injuries may result in claims for compensation
Reputational damage
Marian says, "If you're using illegal products your insurance, public and products liability is all invalid. So if a client has an adverse reaction and they decide to sue you, you've got no back up from the insurers because you're using a product that isn't approved for use professionally in this country."
You could also be breaking the law. "If you buy a gel polish from the internet and you use that on a client, you are illegally selling that product", says Marian. "You don't have to sell it, you just have to use it in return for payment."
By sticking to products that are approved for use here, you're not only keeping your clients safe, you're also protecting yourself.
"If you're using a product that is illegal - whether you know it or not - you're not insured"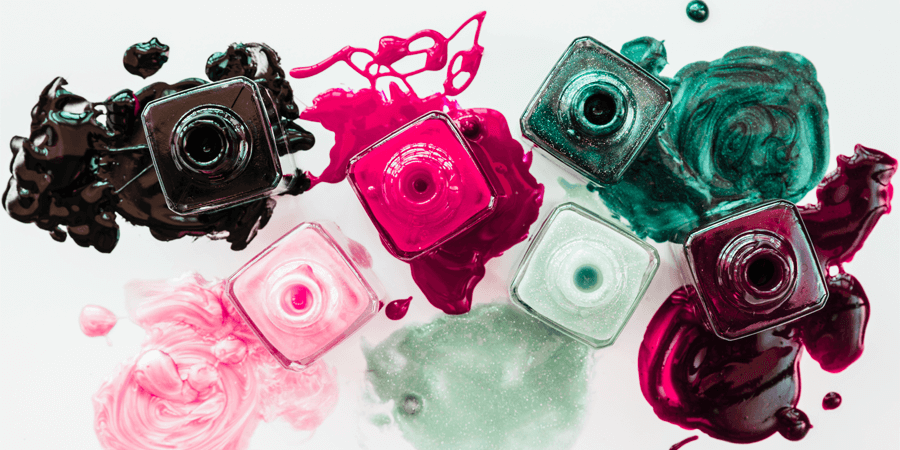 h2>Why are some products illegal for use in the UK?
For a product to be sold in the UK it has to meet a very strict list of regulations. Marian says, "Just because a product isn't legal to sell in the UK doesn't necessarily mean something terrible is going to be happen when it's used on a client.
"There can be many reasons a product is illegal, including the ingredients. One example that that springs to mind are some neon colours which may not be approved for use as an ingredient in cosmetic products in Europe."
Illegal products may contain banned or restricted ingredients which have the potential to cause injury. To reduce this risk, products must be checked to ensure that the ingredients used are not banned or used above the concentration allowed.
How can nail techs make sure they are compliant with UK product regulations?
There are three simple steps you can take to make sure you stay on the right side of the regulations.
Make sure you purchase your products from a reputable supplier. (See below)
Always follow the manufacturer's instructions for use.
Don't mix brands. For example, if you use a branded nail lamp with another brand of gel polish, these won't have been tested together by the manufacturer. The lamp has been designed specifically for use with the gel polish, so it is best practice to use the same brand lamp and gel polish together.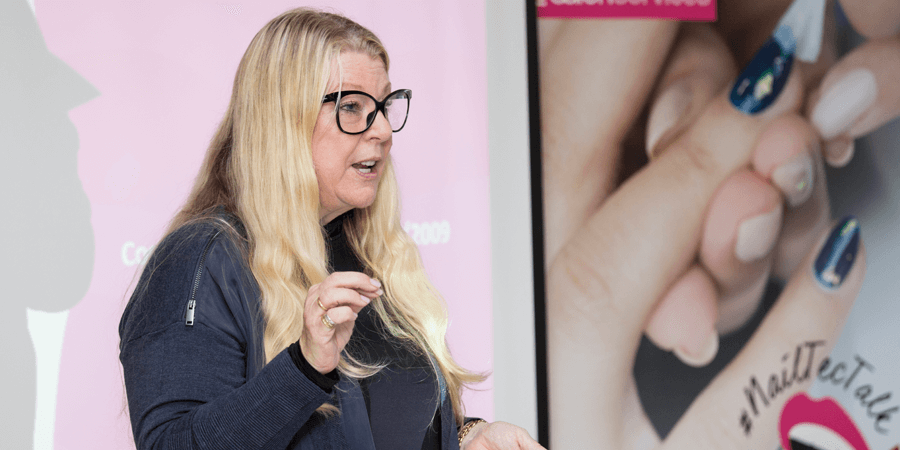 How to safely order products online
To protect yourself, Marian says avoid buying your nail supplies from random websites. "It's up the nail professional to buy responsibly. My advice is: only buy from reputable companies that you can trust like Salon Services.
"There are a lot of products that I'm sure Salon Services would like to have on their shelves but they have an incredibly strict compliance department. This means you can guarantee everything they sell is compliant and legal."
Also, be mindful when shopping on websites based overseas. Marian says, "If you're buying something from eBay there's a chance it's not legal to be sold here. Also, if you're buying from a seller in China or the US and the product doesn't meet European standards then you are illegally importing and illegally selling that product. If you're using a product that is illegal - whether you know it or not - you're not insured."
You may also face unlimited fines and / or imprisonment, but if you follow the guidelines you can reduce the risk of finding yourself on the wrong side of the law!
Watch the full Nail Tech Talk seminar from Yasmin now!
#NAILTECTALK with Yasmin Ahmed

👑👑👑👑 sound ON! 👑👑👑👑 Join the conversation. 🙌👀 Time to get sharing the first presentation from #NAILTECTALK, with advice from our legal regulatory adviser Yasmin Ahmed🙏👂 #SALONSERVICESUK @Scratch Magazine

Posted by Salon Services on Thursday, 14 March 2019
Join the conversation
Stay inspired
Recent Posts