Discover the Truths

We know that you want to give your clients the full beauty salon experience, so let us introduce you to the Truths family. Available exclusively at Salon Services, this special family of products offers a professional beauty range in all of the key treatment areas including Skin Care, Manicure, Pedicure, Aromatherapy and Tanning.
Not only do the Truths offer exceptional quality, each solution has been carefully formulated with the perfect blend of naturally derived and scientifically advanced ingredients, along with essential oils to ensure that your clients' treatments have perfect results every time. And it gets better, all of the products are free from sulphate, mineral oil and parabens.
Skintruth Face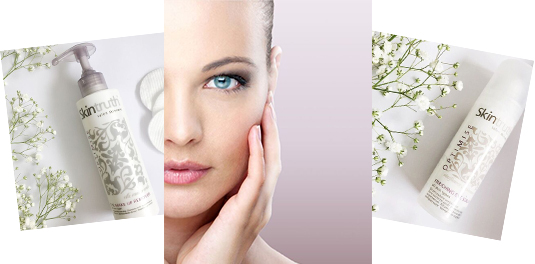 This facial range offers three solutions in Nourishing for normal to dry skin, Equalising for combination to oily skin and Soothing for sensitive skin types. Each solution includes a cleanser, toner, moisturiser and intensive mask all containing natural ingredients and essential oils tailored to ensure that each skin type is left soothed and rejuvenated.
To complete the range, the Optimise products can be used together with the core skin type solutions to enhance and tailor facials and therapies to suit all skin types. The range includes everything that you need to complete a full and rejuvenating facial.
Skintruth Bodycare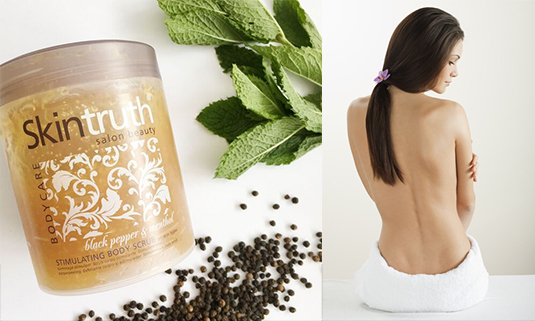 The Skintruth Bodycare range is packed full of natural ingredients and the uplifting aromas will awaken the senses of your clients. The range includes scrubs, oils, butters, lotions and creams - everything you need to enhance your clients' salon experience and ensure that they are left with smooth, supple and beautiful skin.
Skintruth Manicure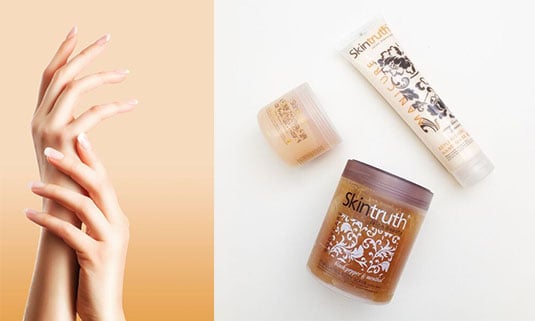 From preparation to application and manicure, the Skintruth Manicure range provides a complete sense of quality, comfort and luxury. A fusion of Orange Blossom and Rosemary provides the perfect balance of uplifting and restorative benefits along with a moisturising and protective base. By using this range of products, all aspects of a truly professional manicure are assured.
Skintruth Pedicure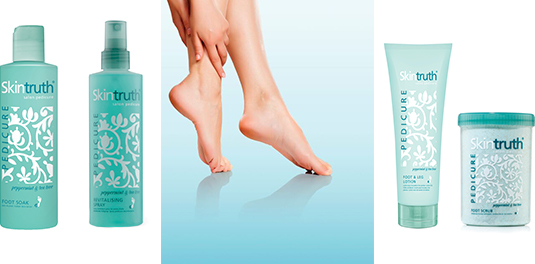 Skintruth Pedicure is a luxurious collection of foot soaks, scrubs, lotions and masques that provide the ultimate in pampering. This range provides all of the requirements of a complete foot care experience to treat sore tired feet leaving them refreshed and invigorated. Blending essential oils and plant extracts to soothe and revitalise feet penetrating deeply into the skin to condition and restore moisture. The combination of these products creates a unique and high quality pedicure system.
Aromatruth

These unique blended aromatherapy oils are perfect for facial and massage treatments to provide targeted solutions for tired, unbalanced skin. Blended oils are specially formulated using a mixture of naturally derived extracts and oils, creating the ultimate solution for your specific needs. Gentle ingredients in the Aromatruth range will calm problem areas whilst bringing skin back to its natural glow.
Tantruth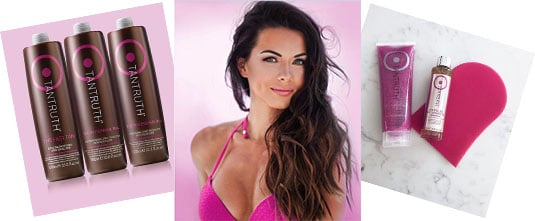 Tantruth is a collection of luxurious and professional tanning products designed and created by experts to deliver flawless results.
The Tantruth collection comprises only the finest ingredients including DHA and Erythulose to products the desired golden tan. The range also benefits from unique and innovative key ingredients including Vegetan Premium® which is designed to mimic the skins natural tone and silhouette refining technology to help improve the appearance of the skin whilst tanning.
Tantruth offers a fully comprehensive range made up of three definitive areas which guarantee fabulous results – Professional Spray Tanning, Salon & Retail Tanning and the Prepare and Prolong Range.
Each product is Paraben, Alcohol and Mineral Oil Free.
We offer two Tantruth training courses – Ultimate Spray Tanning and Extreme Body Contouring. Book today!
Recent Posts