Acrylic Nails FAQ: Your acrylic nails questions answered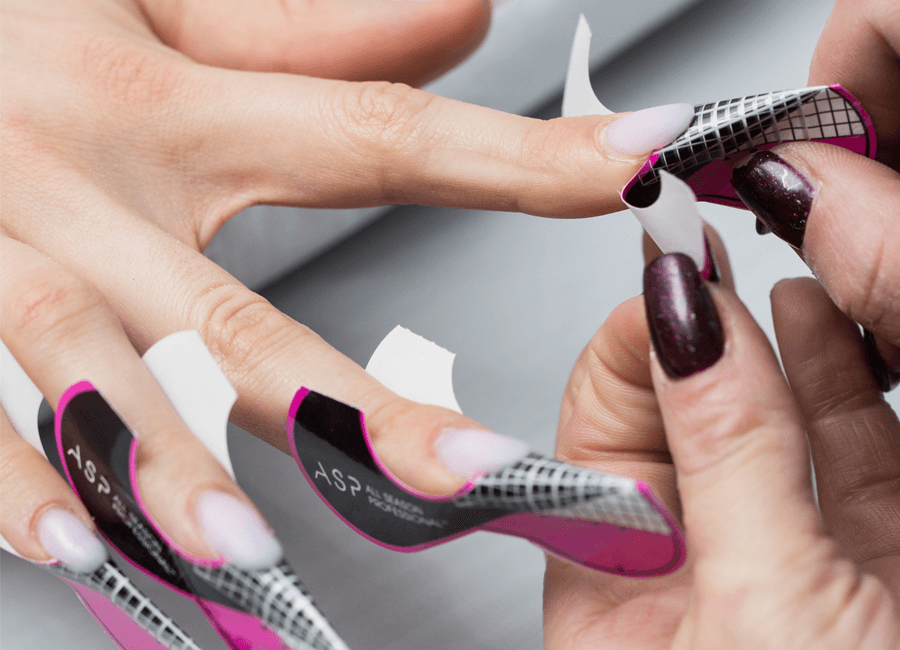 Acrylic nails are still one of the most popular nail services requested by clients. Yet as a nail technician you'll know they come with their own unique challenges - from problems with nails lifting through to uncertainty over how to upsell to your customers. To help, Naomi Mogg answers our acrylic nails FAQ.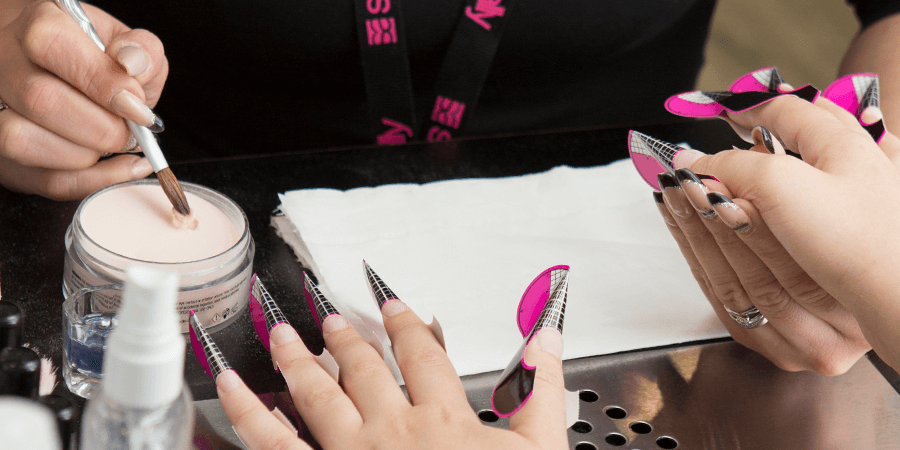 Q. I've used acrylic nails on clients for years. Why are they suddenly lifting?
A. "It is not hugely common for experienced nail technicians to have this problem, but if they are unsure I would first look to the client for answers. Have they been in poor health from anything up to six months previous?
"Also personal stress or trauma can have a huge effect on the nails which could also impact the wear of acrylics or any product on the natural nail. Have they been doing something different with their hands? Most clients would probably say 'no' but with some careful questioning you can determine the truth of that!
"Certain cleaning products can impact the wear of acrylics even with only brief contact so if they haven't worn gloves just the one time to rinse off certain bathroom descalers this could affect the product!
"For lesser experienced technicians, if you're having problems with lifting of a product, that could possibly be down to something as simple as your application technique.
"Years ago, nail technicians were taught to work in zones but now anything goes. You can apply the product from back to front in one bead, you can apply it in three beads, not everyone learns the same so different techniques of application can support all learning styles.
"As long as you're applying the correct amount of pressure to the product to press it into the nail and it's not too thick or thin then you shouldn't have a problem.
"It is also important to prevent lifting to remember your product ratios of liquid to powder- if you're not using the right ratios then you're going to have a problem."
"Aftercare is key. Always get clients to return for maintenance especially if they want their nails removed"
Q. Why are ratios so important?
A. "At the moment the market has so many different acrylic brands around it's a minefield. If the product isn't working as you expect, it's helpful to have an understanding of the chemistry behind acrylics. That way, you'll understand why each product might work differently.
Each acrylic has slightly different levels of ingredients. This chemical makeup affects how you should be using ratios of liquid to powder. For example with the ASP acrylic nails we'd use 1.75 liquid to one part powder. You might have a company who uses it drier: 1.5 part liquid to one part powder."
Q. How can I get upskilled in new products on the market?
A. "Contact the company and find out if they offer a half day training course in the new product. Acrylics are changing so quickly, by training in the product you want to use, you'll speed up how you work and become more cost effective.
If you've not updated your skills for years, my advice would be to book yourself on a course. I do this every year to keep my skills updated. You can watch things on YouTube but there's nothing more valuable than being with another technician who does something different and can show you how to do it."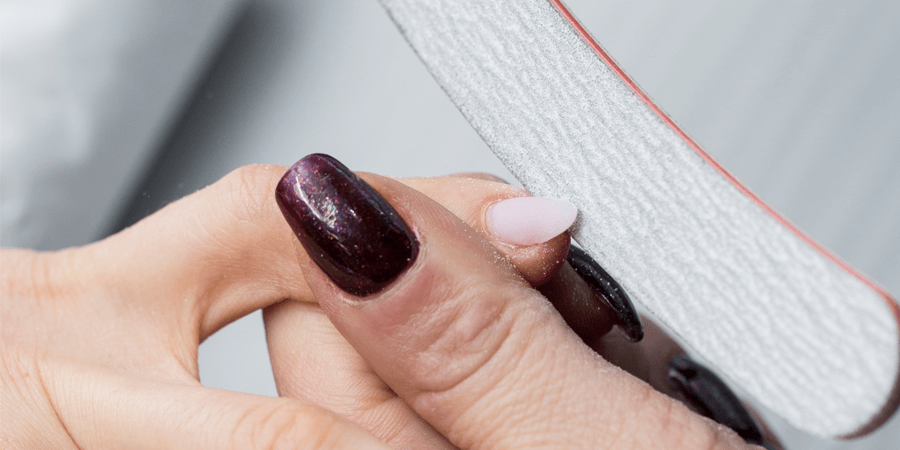 Q. What can affect the clarity of acrylic nails?
A. "Some acrylics you would dip it and draw a line in the powder. Another company might teach you to dip the acrylic and then circle in the powder. It might sound like a tiny thing and not something that really matters, but it can make a big difference to the clarity of the product. It can also be the reason you get air bubbles.
"Always make sure you look at the product information or contact the company to find out the right ratios and how to apply. Also remember to keep a clean working environment. If any of the liquid or powder becomes contaminated then this will affect its clarity."
Q. What's your top tip for freelance nail technicians?
A. "If you're doing nails at a client's house, always make sure you go with all the products you might need in your bag. You never know what they might ask for!
"Also use social media for expert support. I would try and connect with as many nail technicians as you possible on Instagram and ask them questions about their work. It's a great way of educating yourself and getting inspiration. Nothing ever progresses without experimenting."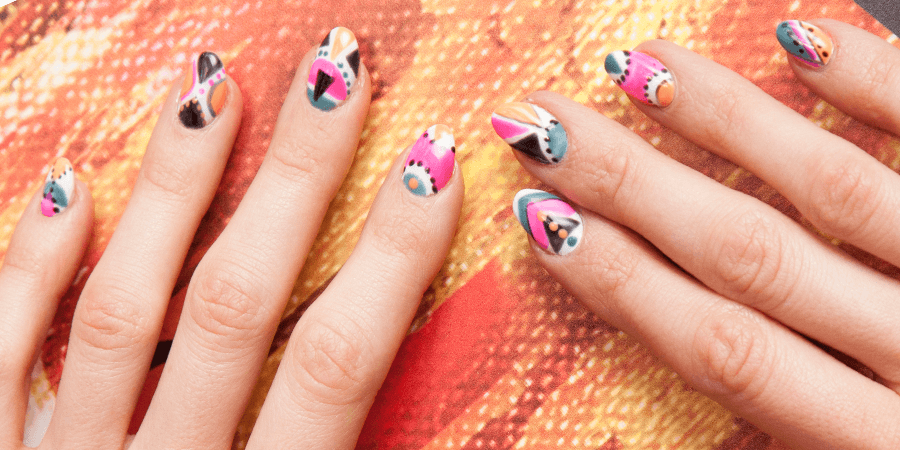 Q. How can I upsell to my clients?
A. "Aftercare is key. Always get clients to return for maintenance especially if they want their nails removed.
"If a client has a new set of acrylics I would always send them away with a cuticle oil and explain the benefits of using it: acrylics continue to cure for at least 48 hours and oxygen in the air slows down this process. By applying cuticle oil it sits in the air pockets and helps to speed up the curing process.
"Two other ways of upselling are using different cover acrylics and also applying gel polish over the top of plain acrylics. That means clients can leave straight away and don't have to wait for it to dry like nail varnish."
Q. My client wants a complicated acrylic nail art design she's seen on Instagram… but I have no idea how to do it!
A. "Ask your clients to send you images a day or two before if they've seen something on Instagram. This gives you time to look at the picture and how you're going to achieve the same result.
"If you've got a client coming in off the street and what they want is something you've not done before, say you can't do it today but book them in for their next appointment."
Follow Naomi on Instagram, @beauty_bubble_hertford
Acrylic nails – your questions
Got a question about acrylic nails? Ask them on our Facebook page, @SalonServicesUK.and we'll answer them!
Stay inspired
Recent Posts