Suitable Level
intermediate
Wella Colour Family Online Live Education
https://www.salon-services.com/training/hair-training-courses/hair-colour-courses/wella-colour-family-online-live-education/814373_00093_04-OCT-2022.html
£20.00
ex. VAT
(Trade Price)

(

£24.00

inc. VAT)
Suitable Level
intermediate
Why should I purchase this course?
Discover everything you need to know about the Wella Colour Family and how to get the best out of it, perfect for new and established hairdressers and freelancers.
This live interactive 1hr webinar is delivered by the Wella ...
Read more
What to expect when booking this course
Within 48hrs you will receive a confirmation email including a PDF link with all the details required to join your session, this may go to your spam email folder.
Recently Viewed Products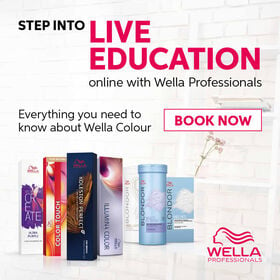 <b>Why should I purchase this course? </b><br><ul><li> Discover everything you need to know about the Wella Colour Family and how to get the best out of it, perfect for new and established hairdressers and freelancers. </li> <li> This live interactive 1hr webinar is delivered by the Wella education team to give you the best education possible on the brand and its products. </li> <li> The opportunity to get all of your questions answered in a small group - limit of 10 people per session! </li> <li> Following your session you will receive a £10/€12 voucher redeemable against your next Wella shop online at Salon Services to try out your new skills! </li> </ul><br> <b>Top Features: </b><br> Recap and refresh your knowledge of the Wella colour family and get some great hints & tips on how to create: <ul><li> <li> Perfect Grey Blend/Coverage </li> <li> Flawless Blondes </li> <li> Vibrant Reds </li> </ul><br> <b>Key Learnings: </b><br> <ul> <li> How to choose the correct product for your clients' needs </li> <li> What is the perfect partner for toning </li> <li> A better understanding of all the products within the Wella Colour Family and how best to use them </li> </ul> <br> <b>Additional Information</b><br><ul> <li> This is an intermediate level course suitable for existing stylists who already perform hair colour services delivered by Wella Technical Colour Educators. </li> <li> You will receive a confirmation email within 48 hours of booking which includes all the information required to join your session. </li> <li> Students require a laptop, tablet or smartphone to be able to access the session through Zoom. </li> </ul>