Cuccio Naturale Stainless Steel Pedicure File with 30 Disposable Refills
£9.15
ex. VAT
(Trade Price)

(

£10.98

inc. VAT)
Overview
Unbreakable stainless steel firm grip handle provides leverage whilst filing and is 100% sanitisable. Can also be sterilised in an autoclave.
Hygienic disposable and water-resistant abrasive refills that can be peeled off and discarded after use.
Both coarse (80 grit) and medium (180 grit) refills are included - 15 refills of each. Larger refill packs of 50 are available seperately.
Use a new abrasive for each service to give your clients peace of mind and build their loyalty through sanitation.
Removes hard, dead, callused skin on the feet to reveal healthy looking, smooth skin.
Description
The Cuccio Naturale brand – a luxury spa professional range for hands, feet & body. Established over 30 years ago offering high-quality botanical ingredients that not only enhance the salon treatment but also ensure clients see the benefits from using the products at home in between services. This natural range of products will provide nourishing, revitalising and anti-aging benefits to skin and nails and is available in many different fragrances, each providing different benefits, aromas and therapeutic experiences.

Unbreakable stainless steel pedicure file, 100% sanitisable and includes disposable abrasive refills that can be peeled off and discarded after use. Superior sanitation insures client safety and peace of mind as you can offer a new abrasive for every service. 2 options of refill grit means you can use a different one on each side of the tool if required. 180 grit (white) refills are medium coarseness, and 80 grit (black) refills are coarse grit for stubborn hard skin and calluses. Effectively removes dead skin cells to reveal soft, radiant skin.
Directions for Use
1. Pull backing off your abrasive of choice and attach to clean, sanitised and dry foot file. Be sure to apply the tab area without adhesive to the end near the handle for easy removal.
2. After use, pull tab to release abrasive and dispose. If needed, clean off any adhesive residue with acetone and then sanitise metal foot file with sanitiser. Use caution when filing around cracked skin.
3. Ideally, soak the feet in warm water for 10 minutes to soften dead skin before removal with the file. Start with the coarser grit (black) abrasive and then polish the skin with the medium (white) abrasive for a smoother finish.
Recently Viewed Products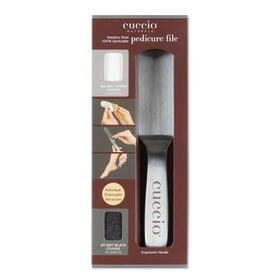 <ul><li>Unbreakable stainless steel firm grip handle provides leverage whilst filing and is 100% sanitisable. Can also be sterilised in an autoclave.</li><li>Hygienic disposable and water-resistant abrasive refills that can be peeled off and discarded after use.</li><li>Both coarse (80 grit) and medium (180 grit) refills are included - 15 refills of each. Larger refill packs of 50 are available seperately.</li><li>Use a new abrasive for each service to give your clients peace of mind and build their loyalty through sanitation.</li><li>Removes hard, dead, callused skin on the feet to reveal healthy looking, smooth skin.</li></ul>