Suitable Level
intermediate
Course Duration
90 Minutes
Online Wella Professionals Colour Family Live Education Course (including £10/€12 voucher)
https://www.salon-services.com/ie/training/hair-training-courses/hair-colour-courses/online-wella-professionals-colour-family-live-education-course-%28including-%C2%A310%2F%E2%82%AC12-voucher%29/814373_00093_11-MAR-2024.html
€ 24,00
ex. VAT
(Trade Price)
Suitable Level
intermediate
Course Duration
90 Minutes
This session is dedicated to giving an understanding of the Wella Colour Portfolio. Discover everything you need to know about the Wella colour range, what it is, what it does and how to use it! This course is a great introduction to Wella for new hairdressers, or hairdressers new to Wella. ...
Read more
What to expect when booking this course
We will provide you with Zoom details once you have booked your place. Download the app to phone/tablet or laptop and log on with details provided.
Recently Viewed Products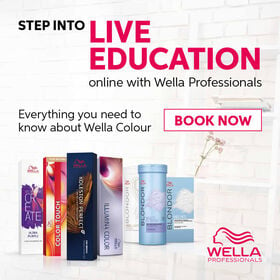 This session is dedicated to giving an understanding of the Wella Colour Portfolio. Discover everything you need to know about the Wella colour range, what it is, what it does and how to use it! This course is a great introduction to Wella for new hairdressers, or hairdressers new to Wella. <br><br><b>Top Features </b><br><ul><li> Discover everything you need to know about the Wella Colour Family and how to get the best out of it, perfect for new and established hairdressers and freelancers </li> <li> This live interactive 90 minute webinar is delivered by the Wella education team to give you the best education possible on the brand and its products </li> <li> The opportunity to get your questions answered in a small group </li> <li> Following your session you will receive a £10/€12 voucher redeemable against your next Wella shop online at Salon Services to try out your new skills! </li> </ul><br> <b> Key Learnings </b><br> <ul><li> Overview of all Wella colour ranges </li> <li> Understanding the differences in the ranges </li> <li> What it is, what is does and how to use it </li> <li> Which of your clients would be most suitable for the range </li> <li>How to use the products, including mixing ratios and development times </li> </ul> <br> <b>Additional Information</b><br><ul> <li> The course will be held on Zoom </li> <li> Education e.books will be provided during the class </li> <li> You will have the opportunity to ask the educator questions </li> <li> Course Duration: 90 minutes </li> </ul>