Suitable Level
intermediate
Online Bleaching and Lightening Hair Colour Course
https://www.salon-services.com/ie/training/hair-training-courses/hair-colour-courses/online-bleaching-and-lightening-hair-colour-course/815580.html
€ 130,00
ex. VAT
(Trade Price)
Suitable Level
intermediate
Why should I purchase this course?
Want the chance to brush up on your colouring techniques and get to grips with a range of lightening skills? Look no further than this course which is perfect for those looking to review, refresh and update their skills whilst gaining ...
Read more
Select Variation for Availability
What to expect when booking this course
You will receive a Welcome Email from Training Solutions to explain your training journey within 48 hours of purchasing your training.
Recently Viewed Products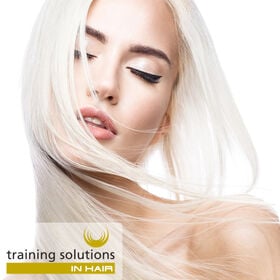 <b>Why should I purchase this course? </b><br><ul><li> Want the chance to brush up on your colouring techniques and get to grips with a range of lightening skills? Look no further than this course which is perfect for those looking to review, refresh and update their skills whilst gaining confidence with the process of creating brilliant blondes. </li> <li> You can complete the theory learning at your own pace with the added bonus of continued access to video tutorials via the online portal for a year after your live webinar! </li> </ul><br> <b>Course Content: </b><br> Prior to your live webinar you will receive access to an online learning portal to complete the following: <br><ul><li> Health & Safety information </li> <li> Tips on client consultations and how to manage expectations </li> <li> Essential hair & advanced colour knowledge </li> </ul><br> The live webinar practical session will cover: <br> <ul> <li> A recap on essential colour theory </li> <li> How to select the best tools and equipment </li> <li> Practical hands on colour application including bleaching techniques such as: Platinum Lightening, Foil Highlights & Full Head Bleaching </li> <li> Product recommendations and after care advice </li> <li> Trouble Shooting and Problem Solving </li> </ul> <br> <b>Key Learnings:</b><br><ul> <li> The skills and knowledge required to a perform a range of bleaching and lightening processes </li> <li> Health and safety knowledge to help you carry out the service confidently </li> </ul> <br> <b>Additional Information</b><br><ul> <li> Students must be at least 18 years old & required to have previously obtained a hairdressing NVQ/VRQ level 2 or equivalent. All students are required to work on a colour responsive <strong><a href="https://www.salon-services.com/hair/hairdressing-essentials-and-accessories/hairdressing-training-heads/">training head </a></strong> during the live practical session, no human model is required. </li> <li> Students are required to have access to their own professional tool kit and purchase any additional items required, please select and purchase any items listed below that you do not have already. <b>PLEASE NOTE that some of the items may already be salon essentials so there is no need to purchase more if you already own them.</b> It is also optional to purchase a training head <strong><a href="https://www.salon-services.com/hair/hairdressing-essentials-and-accessories/hairdressing-training-heads/">tripod </a></strong> for the webinar but this is not essential. </li> <li> You will receive access to the online learning portal via email a week before your chosen webinar. Please note that all theory work must be completed before your live practical session and we estimate this will take up to 3 hours dependent on your pace. </li> <li> The live webinar will take place between 9.30am – 2.30pm on your chosen date. </li> <li> Please note that there is a minimum of 2 delegates required to run a session. On the rare occasion of you being the only booking a week prior to the live webinar, you will be contacted to arrange a rescheduled session date. </li> </ul>