Proxelli NOAM Cordless Clippers
€ 59,99
ex. VAT
(Trade Price)

(

€ 73,79

inc. VAT)
Overview
Professional cord/cordless clipper with LCD display
Titanium coated fixed blade combined with ceramic moveable blade
Enables 4 levels of precise cutting lengths with special power adjustment buttons
3.0V Pivot motor with 5000 2000 RPM
3 hour charge for 3 hours operating time
Clipper comes with 2 reversible combs with following lengths: 3-6 mm and 9-12 mm
Description
Proxelli Professional Clipper with titanium coated fixed blade combined with ceramic moveable blade. The adjustment mechanism enables 4 levels of precise cutting lengths, with special power adjustment buttons to increase or decrease the engine power speed by 500 Rpm - 5 levels (5000 till 7000 Rpm). The LCD display indicates the burden status of the blade head, the power engine level and remaining operating time (in minutes). For battery use or use with cord, with a rechargeable Lithium-Ion battery: 3,7V, 2200mA. Charge time: 3 hours. Operating time: Minimal 3 hours. Motor type: 3.0V Pivot motor with 5000 2000 RPM. Current: input: 100-240V AC, 50/60Hz. Weight: 225g. Complete with adapter, charger, 2 attachment reversible combs with lenghts 3-6mm and 9-12mm, cleaning brush & oil bottle.

Use Clipper Spray before each cut to disinfect, sterilise and lubricate blades. Click Here to purchase.
Warnings
To avoid fire or electro shock do not use this appliance near water or damp rooms, always unplug the appliance and turn it off if it is not in use, there are no parts that can be repaired by the customer himself, if the appliance has to be repaired then pelase contact an authorized service center, the appliance hsould not be used by people (including children) with reduced physcal, sensory or mental capabilities or lack of experience and knowledge without the supervision of persons reponsible for their safety.
Recently Viewed Products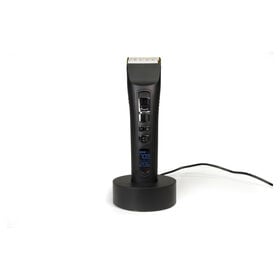 <ul><li>Professional cord/cordless clipper with LCD display</li><li>Titanium coated fixed blade combined with ceramic moveable blade</li><li>Enables 4 levels of precise cutting lengths with special power adjustment buttons</li><li>3.0V Pivot motor with 5000 2000 RPM</li><li>3 hour charge for 3 hours operating time</li><li>Clipper comes with 2 reversible combs with following lengths: 3-6 mm and 9-12 mm</li></ul>