SS19 hair and beauty trends you need to know about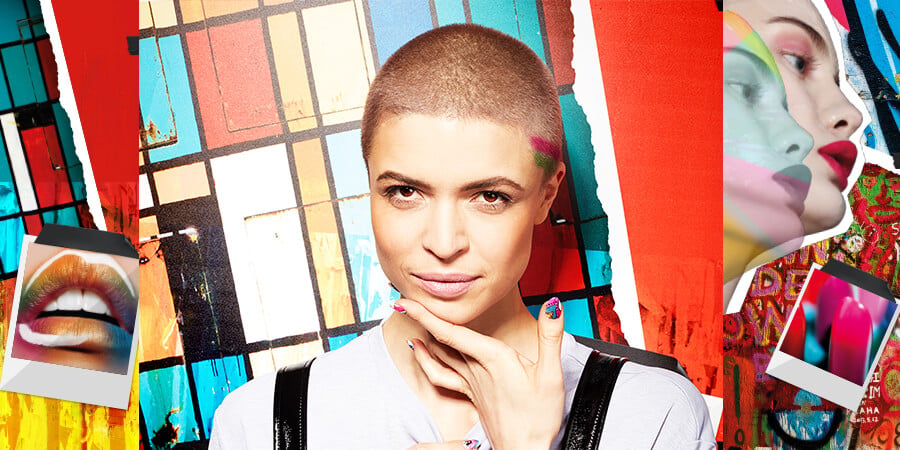 1. Creative Manifesto
The first key look for SS19 that we unveiled at our Trend Day is Creative Manifesto. It's up to you to be as creative, brave and energetic as you want!
Hair
Donna O'Donovan, Trend Forecaster at Salon Services says, "This look is all about bright bold colours and the mood is very brave, punchy and confident. Celeb Luxury Viral Shampoo colour range is the perfect range for conveying this look.
"At our Trend Day we created quite an androgynous look and gave the model a buzz cut. We bleached her hair and did some stencil dying on her hair before taking it to the next level and colouring it teal."
The makeup
For makeup, be as creative as you can be. Donna adds, "This look is quite natural on the skin, but the makeup colours are bold and there are citrus tones in there as well, like lime greens. It's all very urban and cool."
The nails…
The Creative Manifesto trend means lots of patterns and colour blocking. We explored the ASP Signature range as the perfect collection to create strong colour blocking techniques.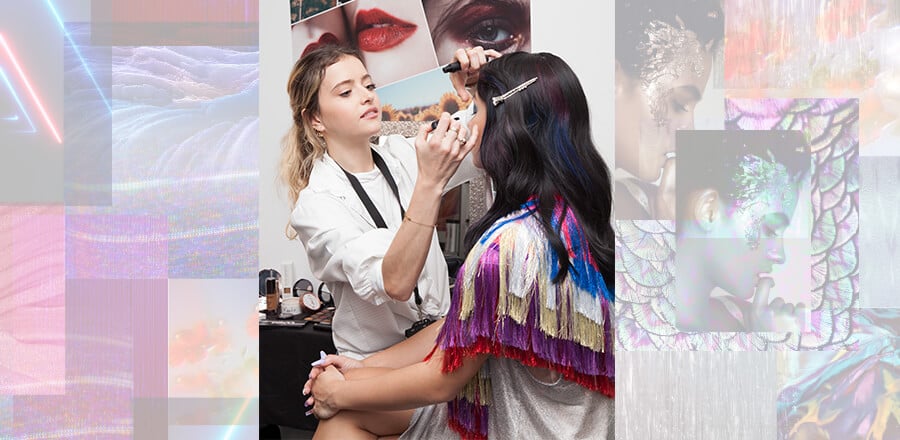 2. In Touch
This SS19 trend is ethereal and other worldly. It's going to be really popular for Festival Season so here's all you need to know about creating the In Touch trend.
The hair…
Donna says, "The hair is camouflage which is really cool. You get this hint of a mysterious colour coming through the hair and this is a key trend for festivals in 2019.
"Other festival looks for men includes braiding and bleached hair for a messy 90s grunge look. It's a look they could almost have done at home. It's not polished, it's very street and urban and really ice blonde."
The makeup...
From oyster pinks to ink blues and metallics, the makeup is quite dark and mysterious.
Donna says, "The makeup is very dewy and glowy and looks like it's from another world. The eyes are multi-coloured and look like they are holographic with colours including frosted lavenders and pinks." Bodyography Disco 'Til Dawn Palette contains everything you need to nail this look!
The nails...
New techniques are part of this In Touch trend. Donna says, "At our Trend Day we worked with Amy Ganney from Edge Nails. She's a nail blogger and did this amazing nail art which we're launching in March. She builds the nail art into the acrylic and created an amazing holographic look on the nails." Keep your eyes peeled for the launch of this range in March.
"At our Trend Day we had freehand Picasso illustrations on the nails which looked amazing"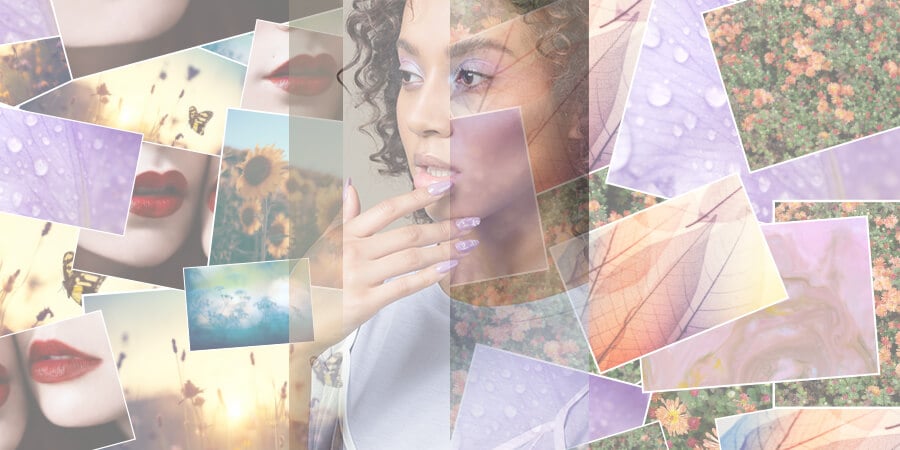 3. Common Ground
Going back to nature is a huge trend for SS19. This delicate look combines earthy tones and aquatic blues that reflect the natural world.
The hair…
Natural hair textures are key for this trend. Donna says, "It's all very delicate and feminine. It's about the natural texture of the hair and enhancing natural hair colour by lifting it in little sections." Paul Mitchell Super Clean Extra Finishing Spray works well for a natural soft finish while strongly holding the curls in place. Opt for warm, radiant tones to complement the natural skin tone.
The makeup…
To create the Common Ground trend, focus on corals, baked yellows and aubergine shades.
Donna says, "The skin is kept quite natural with a little bit of a dewy glow. The key colours are delicate lilacs."
Focus on nude lips for the day and dark plum lipstick shades for an evening look.
The nails…
Carrying on the natural focus of this trend, the look is very free and delicate.
Donna says, "At our Trend Day we had freehand Picasso illustrations on the nails which looked amazing. The look is very organic and every nail is a bit different."
Key trends for SS19
We'd love to hear your thoughts on the three key trends. Why not join the conversation on our Facebook page, @SalonServicesUK
Stay inspired
Recent Posts