Micro Loop Hair Extensions Course Review
What better way to update your salon than adding a new treatment or skill to your menu? We sent hairdresser Kellie Dobson, owner of The Looking Glass, Barrowford, to review the Micro Loop Hair Extension Course.
The Micro Loop Hair Extension Course
10am :
I arrive at Salon Services, Gloucester, bright-eyed, bushy-tailed, and ready to learn all about micro loop extensions. There's no glue, braiding or sewing required – and is a brand-new skill to me. After a friendly welcome from the trainer, and a quick introduction over a cuppa, we are ready to rock and roll.
10.30am :
Our trainer goes over the health and safety aspects of fitting hair extensions, covering all the dos and don'ts – from assessing the hair and scalp, to the aftercare. We then familiarised ourselves with the placement patterns when applying the extensions. Once our trainer felt that we had a firm grasp of the theory side, we broke for (a well-earned) lunch.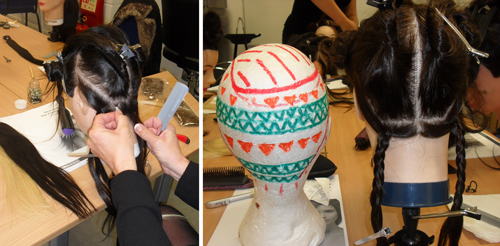 1.30pm :
After lunch at the local burger bar (brain food), we were ready to get back to work. Each student was provided with a supply of black and blonde hair, along with all the necessary tools. Our trainer then showed us how to section the hair. Once we'd seen the hair extensions being applied in the correct pattern (I'll admit, our trainer had to go over it a few times!), we were let loose.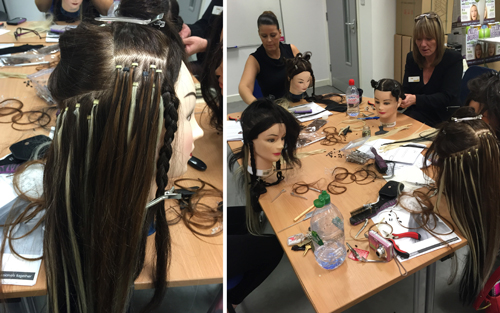 2pm :
The next hour and a half was spent applying micro loop extensions throughout the back and one side of the head. As a hair stylist, I loved the hands-on approach as I got to see how the hair would lie throughout the process – I could also check to see if my sectioning and spacing were correct with my trainer, who was always on hand to answer any questions.
3.30pm :
Everyone had hair left over, so we decided to do a 'colour flash', which I've already introduced in the salon.
4.30pm :
I came out feeling so confident: I had no knowledge of hair extensions before so I'm very proud of my new skill. I was nervous because it was a completely new skill that I had no experience in, but everyone was pretty much in the same boat and we helped each other. I would definitely recommend this course.
If Kellie has tempted you to try the course, then click here to book your place!
DETAILS
Name:
Micro Loop Hair Extension Course
Price:
£120
Place:
Venues throughout the UK
Recent Posts