Meet Tammy @ NAF! Salon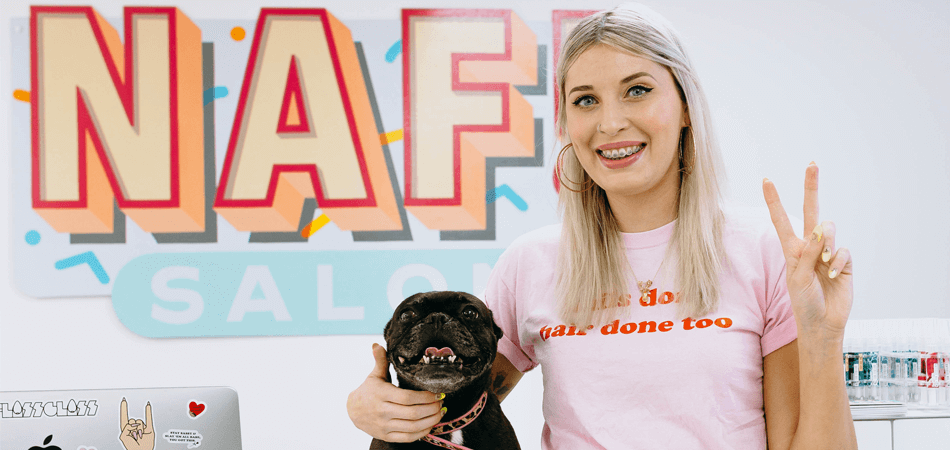 Name:
Tammy
Title:
Nail Boss @ NAF! Salon, Glasgow
Day in the life:
My days are always quite different, but I always wake up around 7am and check my emails (such a bad habit!) and then check my to-do list for the day. I'll get up and have some breakfast and scroll through the NAF! Salon, NAF! Stuff and my personal Instagram accounts to see if there's anything of note. I usually try to make my way through my inbox in the morning and then I'll either head to the Salon to catch up with my team and support them in any way they need or head to my co-working space to get my head down on admin.
Salons
Nail artists
Business Women
Proudest moment since starting NAF!
Ahh it's so hard to choose, there have been a few personal products moment and a few business ones! Winning the Scratch Stars Salon of the Year in 2017 and Best Use of Social Media in 2017 & 2018 were such proud moments, being featured by Vogue and Elle, getting my own double-spread column for 12 months in Scratch Magazine and opening our Topshop Concession in Glasgow this year have all been total "pinch me" moments. Ultimately though, overcoming personal challenges, seeing my team happy and thriving and our NAF! Stuff products being stocked and supported by other nail technicians is what makes me proud every day.
Favourite life quote
I always remind myself that…
"The world will not fall apart"
… it's a Miranda July quote and it's handy when you feel like everything is testing or getting on top of you.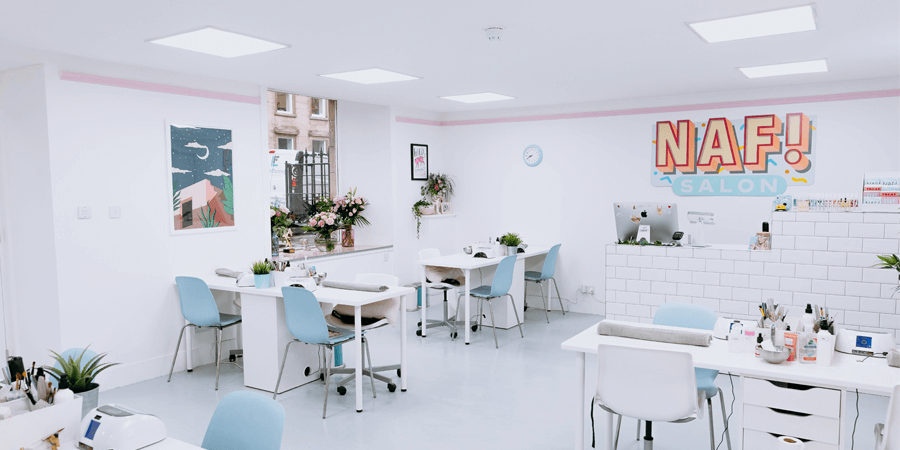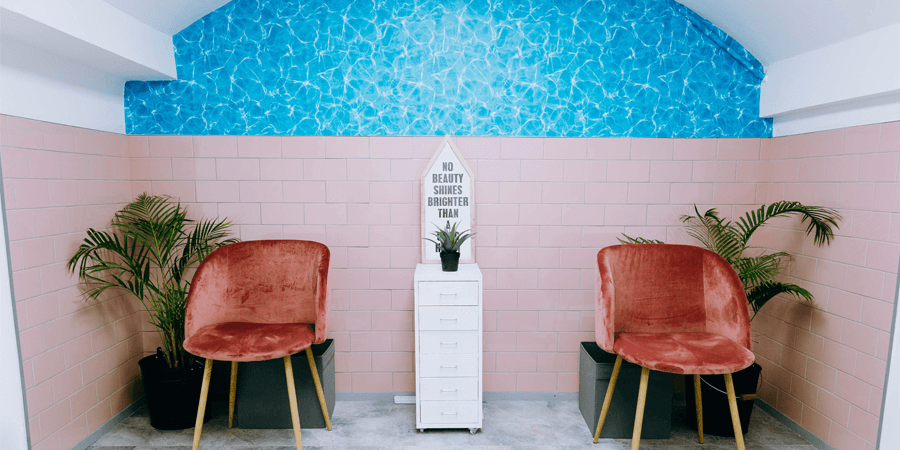 Tammy's Top Tips to build your following
Engagement, engagement, engagement! Social Media is a full time job, which is hard when you work in the beauty industry because you often work non-stop during the day and then have to deal with everything else after work, but if you're going to use it to promote yourself you need to be consistent in every way. You'll get likes on a photo if it's what your followers want to see, so you need to listen, learn and respond. Use every aspect of you platform to keep your name at the top of their list, post regularly, comment on things you love, like everything that inspires you and use the interactive functions on stories to show people what you're all about.
Follow local businesses. Make friends with local salons and generally just engage with the people in your industry that you admire. Support them and they will support you. I always advise business owners to keep their work profiles and personal profiles separate, it can be confusing for new followers who might just want to see your work, you can still share some personal things but keep them relevant to what they wanna hear!
Competitions are a great way to build your following too, connect with another business and do an "experience" giveaway where they visit both of your places. Top tip for competitions: Use a "Share" competition on Facebook and a "Tag a Friend" competition on Instagram, I've seen lots of great Insta comps fail because no-one wants to mess up their feed by sharing someone else's picture!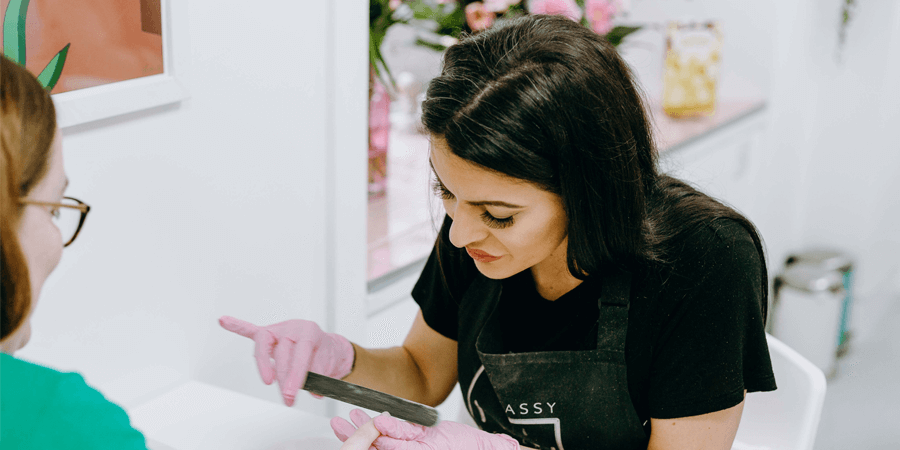 What advice would you give someone just starting out in the nail industry?
Stick at it. Doing nails, or any beauty service, is hard because there are always new techniques, products and trends coming out and you're always learning, but that's what makes it such an exciting industry!
Practice, practice, practise and don't let a bad set knock your confidence. I think once you realise that perfection is unattainable, you become more at ease. I learned how to do nails by watching YouTube tutorials, so don't ever discredit your own journey if it isn't the norm. If you want to do nails professionally then you need get your qualifications form a reputable and fully insured training provider.
Be kind to your clients and be active on social media. Engage with your followers, share your journey on your socials, follow artists and brands that inspire you, spark up conversations with them, tag the artists who have inspired your work and always listen to feedback from your clients.
What's next for Tammy? Where do you see yourself in 5 years?
I don't think I'm organised enough to work towards a 5 year plan! By that point, we will be 8, which is crazy to think about. I hope that the salon goes from strength to strength and that the majority of the team I have around me now will still be with us, but in senior roles taking over the world with the NAF! brand, which will hopefully be a mixture of Salons, training schools and our NAF! Stuff product line. Me? I'll be on a beach, Mojito in hand, planning our next move…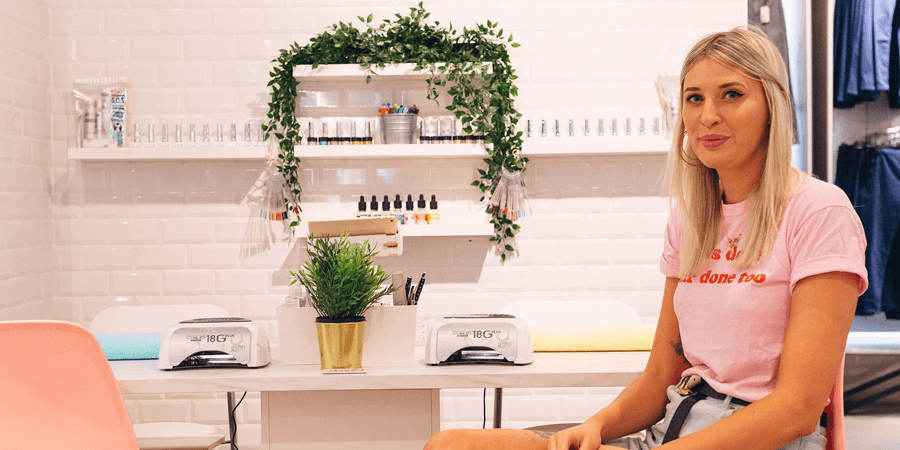 What are your top social media tips for success? Let us know on facebook @SalonServicesUK
Read more of Tammy's tips for social media success…
Stay inspired
Recent Posts