How to Use Instagram for Your Business by Expert Influencers

It's one of the most popular social media platforms. And Instagram also happens to be one of the best for the hair and beauty industry thanks to how visual it is - think of all those hairstyles, nail art and make-up looks you can showcase. Better yet, it's free marketing!
But it's also super competitive. Around 95 million images are posted on Instagram every day, yet a whopping 70% aren't seen. So how can you use Instagram for your business to help you attract new clients?
The first thing to do is make sure your Instagram is a business profile so you can keep track of analytics through your Instagram dashboard. This lets you see the times of day your followers are most engaged. Check this at least once a week and then post during the most active times.
With a business profile you can also add contact buttons including 'book' and 'email'.
Also, make sure your profile picture and biography really capture what your business is and what sets you aside from others.
We spoke to Instagram influencers Georgia Cutts (@grgctts) who has over 135,000 followers and Zoe London (@zoelondondj) who has more than 79,000 followers, for their top tips on making your business more Instagrammable.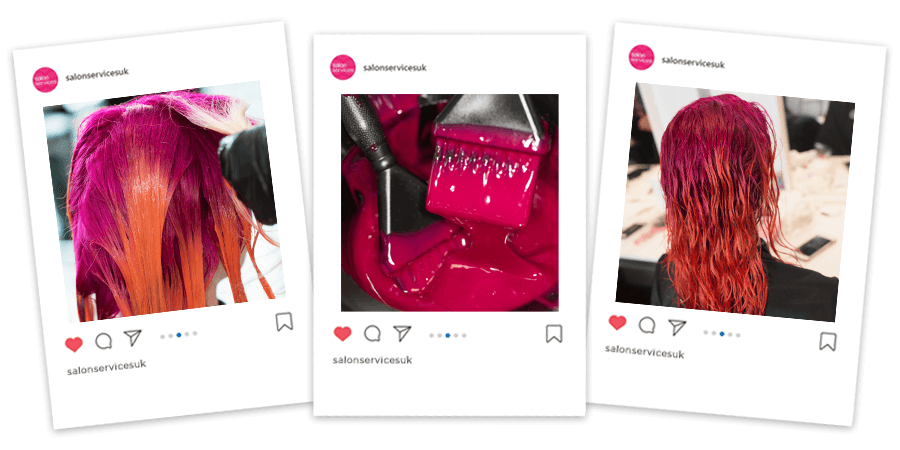 1. Be consistent
You're all set up on Instagram… now it's time to start posting.
Zoe London says, "The most important thing is to post regularly. It doesn't have to be the same time every day, but you need regular posts for people to come back. This consistency is key. Aim for at least one post a day on Instagram."
According to research by Instagram scheduling tool Hopper, shorter captions on posts work best and using emojis also ups the engagement from your followers. (No more than three emojis though or it could make your post hard to read.)
2. Make it personal… sometimes!
As well as posting product images and photos of looks you've created for your clients, you can mix it up with a few personal posts.
Georgia Cutts says, "If you are a freelancer rather than a business, then what you are posting on Instagram is going to be more personal - you are selling yourself as a hair or beauty professional. So be genuine and use Instagram for insights into your work and your life. But be careful not to go overboard - your followers don't want to see photos of your cat every two minutes!"
There's an 80/20 rule for Instagram: around 80% of your content should be focused on educating and engaging your followers. The other 20% should be self-promoting posts.
"You need to make Instagram and social media part of your day and keep on top of it."
3. Stay on top of Instagram colour trends
Make your images stand out on Instagram by using on trend colours.
"Keep on top of social media trends like millennial pink", says Zoe. "Style up your photos with millennial pink flowers for example. If your page is in tune with current trends, then people will follow you."
Other colours predicted to be huge this year include neo mint (according to trend forecasters Mintel, this is THE colour for 2020, so get in early!) and Gen-Z yellow.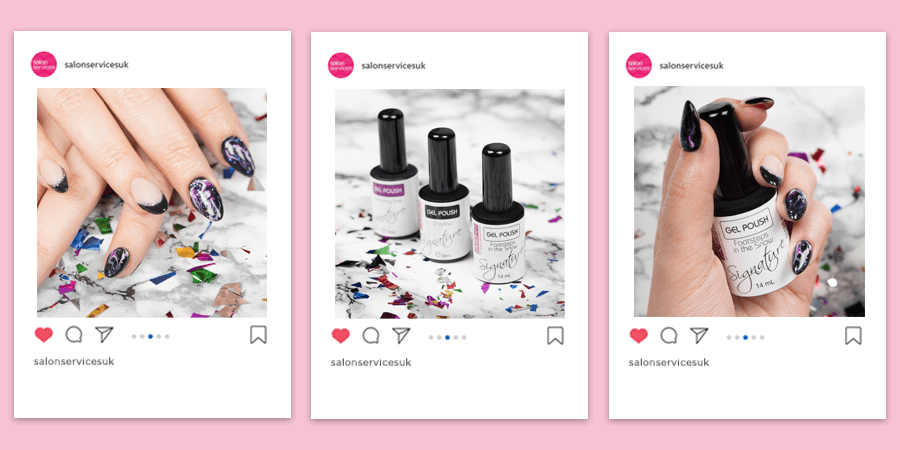 4. Use hashtags
It's all very well posting an amazing image. But to get it seen by as many people as possible, you also need to use hashtags. An Instagram post with at least one hashtag gets over 12% more engagement than a post with none.
Also, use local hashtags and geotagging - not only will this show potential clients you are based near them, research from social media experts Sprout Social shows posts with location have 79% more engagement than posts without.
"Research popular hashtags on Instagram that relate to your posts, like #nailsofinstagram. That way you'll show up in searches. Don't go too overboard though - four or five hashtags on each post is enough", says Zoe.
5. Talk to your followers
Another key way to increase engagement on your posts - and attract new clients - is to actually talk to them on Instagram.
Georgia says, "Set aside time in your day to chat to your followers on Instagram. Reply to their comments and also comment on posts from Instagram accounts you follow. By starting conversations and chatting to people, you're likely to get customers as they can see how friendly and approachable you are."
6. Have a selfie station
You already know how powerful word of mouth is when it comes to winning new clients. So, ask your hair and beauty customers to share selfies of themselves after their appointment with you. What better way to show how great your blow drys or manicures are?
Zoe says, 'Create a little area in your salon where people can take a photo. Everyone likes to do that! Get a ring light and put it in front of a really pretty wall. Then ask your clients to tag you in their photos and use your hashtag. You can then repost from your Instagram page.
Another nice idea if you do nails is using a photo frame. Your customers can take a photo of their nails with the frame as a border - it looks really nice and everyone will want to take a picture."
Plus, research shows Instagram photos that feature faces get 38% more likes than those without.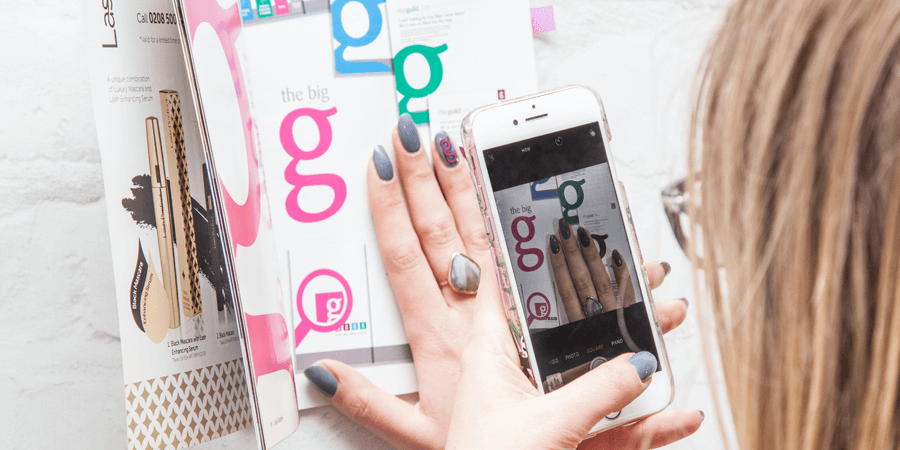 7. Use filters
Beautiful images get a lot more engagement so it's definitely worth taking the time to make sure your photos are Insta-ready.
Georgia says, "Edit your photos to improve the picture quality and think about which filters to use. Anything from older filters like the polaroid, vintage feel through to more artsy filters."
If you're looking for Instagram filter inspiration, research by Hopper found Gingham and Clarendon are the most popular.
8. Plan ahead
Don't leave your posting to chance. Instead, to make it a powerful marketing tool for your business, you need to plan ahead.
"You need to make Instagram and social media part of your day and keep on top of it", says Zoe. "Treat it a bit like a magazine and mix up the content you're posting: product images, 'how to' videos, lifestyle shots. Your followers will like the variety of posts. For my Instagram I always work a week in advance and know exactly what Instagram shots I need."
Georgia agrees. She says, "If you're really busy and worried you'll forget to post, you can use apps to schedule posts on Instagram. I'm quite impulsive on Instagram but it's also a good idea to have your posts all planned out."
9. Use Instagram Stories
Instagram Stories are really popular and give potential clients a real insight into your business. You can get super creative: from behind the scenes videos to before and after shots.
Zoe says, "As well as posting images, make sure you also use Instagram Stories. These can really capture moments in your day and your followers can swipe up to buy products. Stories are a great way to get people coming back to your page."
Recent Posts