How do I support my client with male hair loss & thinning?

Around half of all men will experience male pattern baldness by the time they are 50, usually starting when a man is in his 20s. Hair loss tends to be gradual, meaning that hair falls out over a long period of time.
We've enlisted the help of Jasmin Julia Gupta, Hair Loss Expert to recommend the ways you can support your client through their experience with hair loss & thinning.
Identify the cause
Whilst male pattern baldness is well-known, men can also be affected by a number of other reasons for hair loss and thinning.
The most common causes of hair thinning and hair loss in men are:
Male Pattern Baldness - Male hormones influence the hair growth cycle resulting in a receding hairline and other common characteristics. Typically hair recedes to such a degree that the hair that is left creates a 'horseshoe' shape.
Follicle miniaturisation - When hair becomes finer and thinner in diameter after each successive cycle this is referred to as follicle miniaturisation.
Side effects of medication or medical treatment - Some medications can cause hair loss as a side- effect to treatment. For example chemotherapy.
Underlying medical issues - As well as side effects to medicines, sometimes hair loss can be a result of an underlying health issues.
If your client is concerned about any underlying health issues, you should always recommend they consult with their doctor.
Establish the stage of hair loss
The underlying cause of hair loss will determine which ideas, products and possibly prevention regimes are appropriate for your client.
In the case of male pattern baldness there are a host of prevention products available, especially at the early stages of hair loss. It is important that clients stick to a regime for the recommended time to give the products an opportunity to work. Additionally expectations need to be managed. If a man has already lost some of his hair then he may be better advised to maintain his hair and conceal any sparse areas.
Support emotionally
As a hair and beauty professional you are a great source of information and support for your clients, and someone they are likely to confide in. Taking the time to have a more in-depth understanding about male pattern baldness will mean that you can offer well informed guidance and support.
Boost their confidence
Male pattern baldness often requires blending of shorter and finer hairs with longer lengths. Having a stock of items that conceal and camouflage sparse areas is a great way for your client to sample new products. It's a good idea to try products prior to washing hair. This way a client can try without feeling committed. Hair pieces can also be used to blend in hairs.
Shop our range of Hair Loss & Thinning products which is categorised in to Camouflage, Maintenance, Regrowth and Prevention.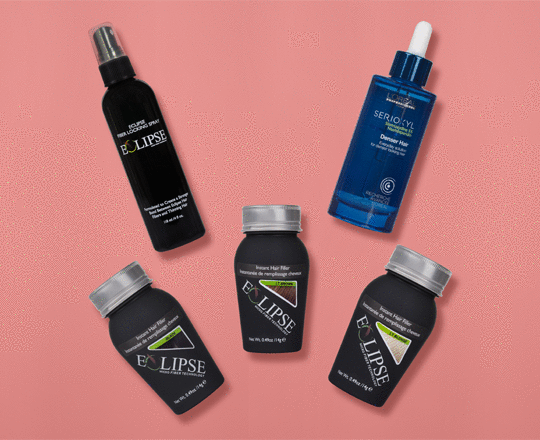 For more information and to learn about products for hair loss & thinning visit the Hair Loss & Thinning information page on our website.
Recent Posts