Hair & Beauty Trends for the Party Season

Hair & Beauty Trends for the Party Season
For the festive season, trends embrace the colours and ambience of December party nights. Hair colour takes on midnight hues on an almost cosmic level for both men and woman. Women's hairstyles are slicked-back glam with an expensive feel whereas men's hair is swept forward into a textured wet-look fringe. Gold leaf and decals adorn black glossy nails giving an air of sophistication and eye makeup is mesmerising in aqua metallic and glitter.
Midnight Hues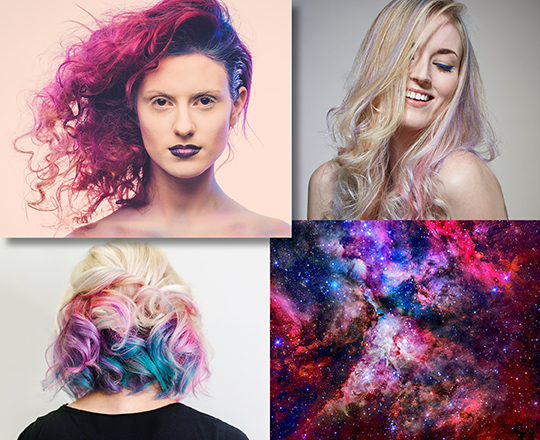 Rich, deep and high-pigment hues of violet, berry, blue and purple define this look. Although the colour palette is dark, the aim is to create vibrancy and reflection. Colour should be applied precisely, either all over the head or in sections for tonal contrast.
We recommend ion Semi Permanent Pastel Tube Colour in Wisteria, Blue and Pink for a subtle nod to this trend. Keep this look vibrant and fresh with the ion Colour Care range which is formulated to prolong colour vibrancy and help protect against damage.
If your client wants to try this trend without the commitment, try Rusk Colour Mousse in Purple, Blue and Pink for vibrant colour that lasts up to three washes.
Refined Rebel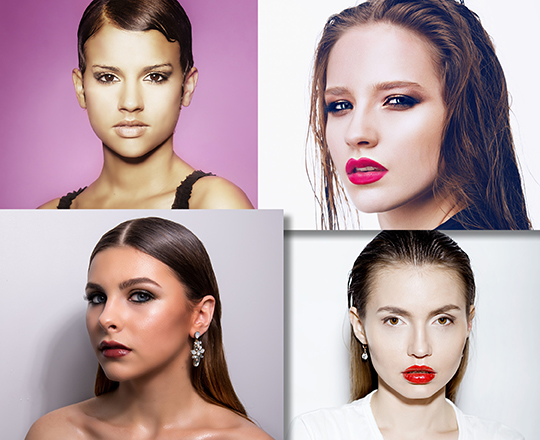 Slick goes glam. Create luxury with sleek up-dos and intricate details, or go wild with twisted coils and wet tendrils. Oil-based products offer both treatment and hold. Whether tightly slicked back or swept across the face and moulded to the crown and jawline, shine is key.
For this trend, we recommend Amika Oil Treatment to prep the hair, style with Diva Touch Straightners and finish with Osis+ Soft Glam Smooth Polish Elixir for a smooth shiny sleek look.
Aqua Metallic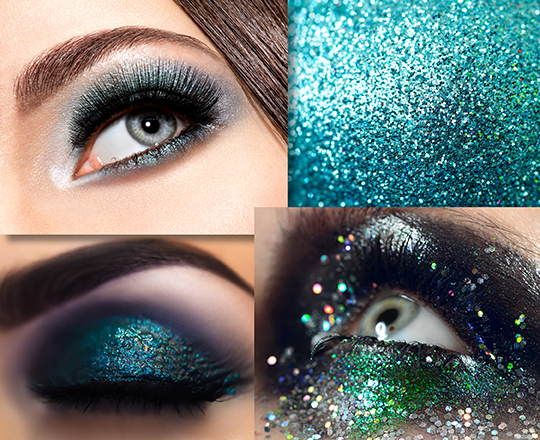 This trend offers a new take on the classic smoky eye. Create a mesmerising shimmer using a combination of metallic blue and grey. Pigment should be swept across the entire lid for full impact. Mascara should be thick and jet black.
We recommend Lord & Berry Stardust Eye Shadow Loose Powder in Aqua and Lord & Berry Seta Eye Shadow Powder in Premiere to brighten and lighten the eyes. Finish by adding a touch of glitter.
Black Metal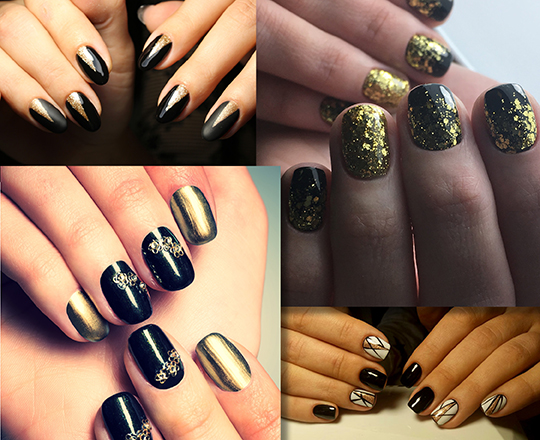 From glossy blacks to reflective metallic, this trend is all about glamour. Choose glittering gold or shiny onyx for winter luxe. Make the look more opulent with the addition of details such as tiny pearls, studs, gold leaf or gold glitter and create gothic chic with long, pointy fingertips.
We recommend ASP T3 LED UV Glitter Gel in Gold. For some added glam try Cina Gold Baubles Nail Art Kit , Nazila Love Glamour Gold Studs and Nazila Love Glamour Gold Leaf.
Men's Hair
BOLD BEDHEAD
Sleek and sophisticated meets slick and edgy with hidden partings and flat styling. Gelled hair brushed forward over the forehead creates a statement textured fringe. Individual strands of hair can be emphasised for a dishevelled finish. Lightweight gels offer a light-reflective glow and mimic the appearance of freshly washed hair.
We recommend The Bluebeards Revenge Pomade and Maria Nila Salty Mist.
Recent Posts