8 ways to refresh your salon on a budget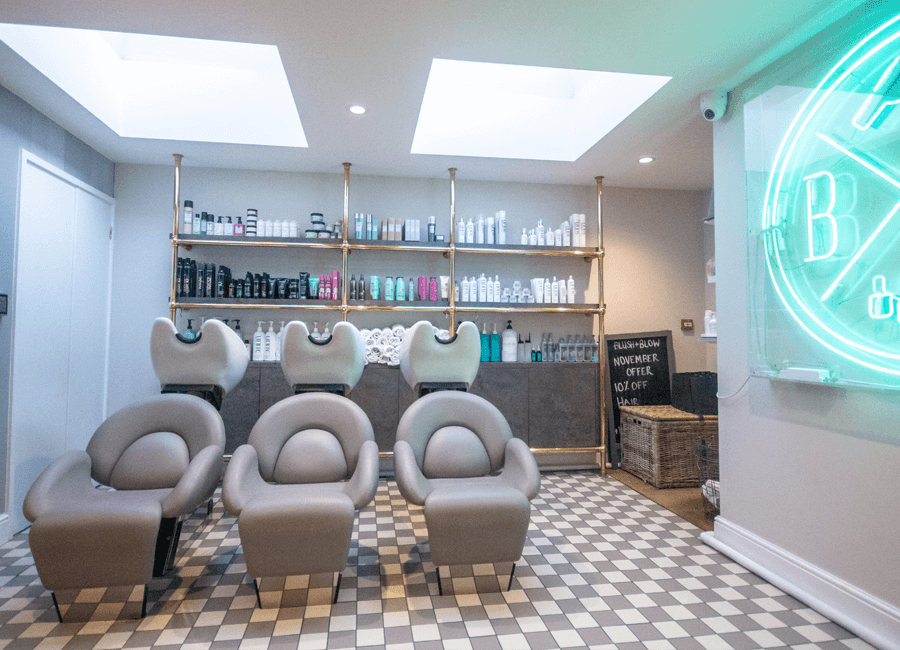 As a hair and beauty professional, you spend your days making sure your customers look their best. But what about your salon? From a tired-looking reception area to a colour scheme that no longer matches your brand, you want to make sure your space wins you clients rather than puts them off!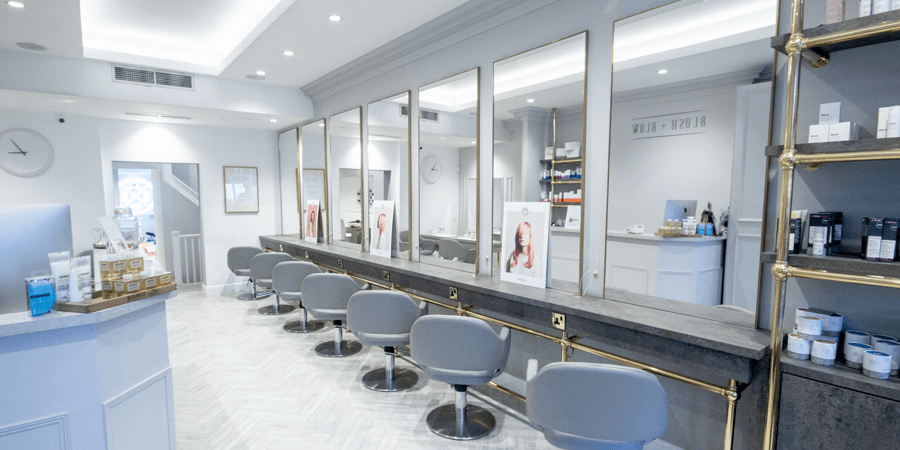 Blush & Blow Salon in Fulham has a very clean aesthetic with gold features
1. Decide on your theme
When you've decided to revamp your salon, it can be tempting to rush in with the paint brushes. But before you get started, make sure you know exactly what theme you want.
Paul says, "Ask yourself if you know what you want to do and what look you want to achieve. Whatever your theme - be it vintage or minimalist - be consistent with that."
Spend some time checking out salons on Instagram for inspiration. Also, think about any tweaks you can make to your salon to appeal to your customers.
"Who are your customers - do you have an older clientele and need to think about investing in front-wash units? Or are you a young trendy salon? If so, you might want to put in massage chairs as part of your revamp or some interesting wall art."
"A lot of salons are using drop down lighting rather than spotlights. This is a softer light than a spotlight and is a good way to instantly update your salon"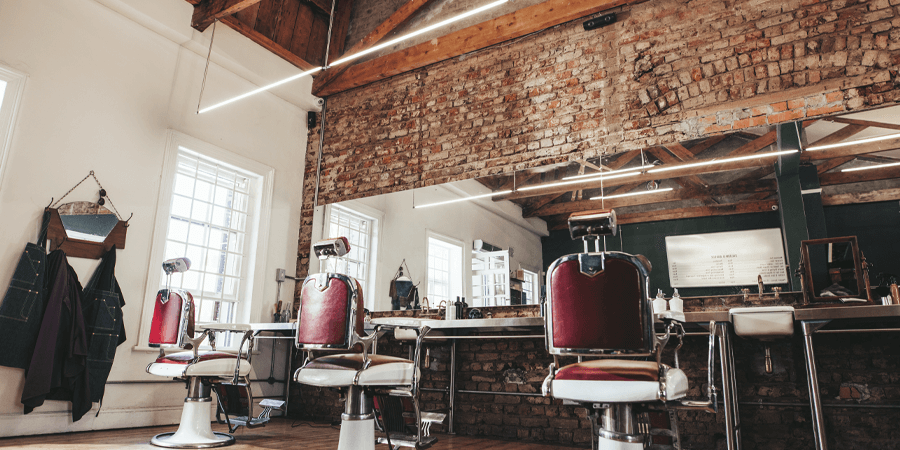 2. Start with your reception area
First impressions count. So no matter what your budget, you need your reception area to look the business!
Paul mentions, "I work with hair salons, brow bars, beauty salons and barber shops. I find the first thing people usually want to focus on is chairs or styling mirrors.
"Although they are important, I always advise that they think about their reception first - it's the area of your salon where customers will make their first impression of your business. It's important you can see what's going on around you in the salon."
If you have no budget at all, channelling your inner Marie Kondo and decluttering your reception can make a big difference. If you've got a bit of cash to spend, think about painting the walls or investing in a new coffee table or reception desk.
Paul adds, "Consider how much space you have, and whether lighter colours on the wall would make a difference. If you've got more money to spend then could you put in a new reception desk or a nice retail display unit."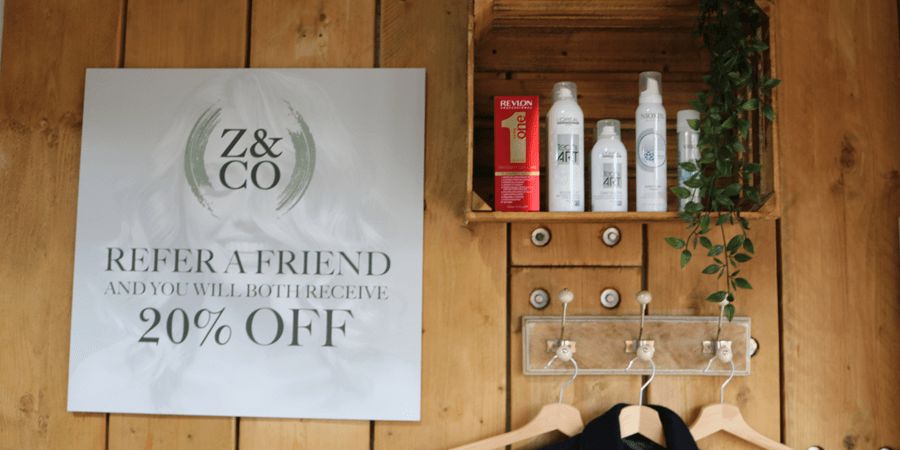 Z&Co Salon in Reading has turned a small space in to a welcoming reception area
3. Focus on lighting
If your salon is quite small and dark, lightening up your colour scheme can make a big difference, says Paul.
This could be as budget-friendly as a simple repaint. If you have a little bit of cash, think about investing in bigger mirrors to bring the light in.
For more of a splurge, why not change your lights. "A lot of salons are using drop down lighting rather than spotlights. This is a softer light than a spotlight and is a good way to instantly update your salon."
4. Create a feature wall
An easy way to update your salon without splashing the cash is by creating a feature wall. Choose from paint or wallpaper to really make a statement. Paul says, "I recently worked with a salon and the owner used a dusky pink wallpaper on one wall and on the other side she used snakeskin wallpaper. It looked stunning."
Another easy win to make your salon bang on trend is to paint your skirting boards a darker colour. "Sometimes all a salon needs is a lick of paint and it will transform it."
Adding simple accessories or trendy wall art can also revamp your salon for next to nothing.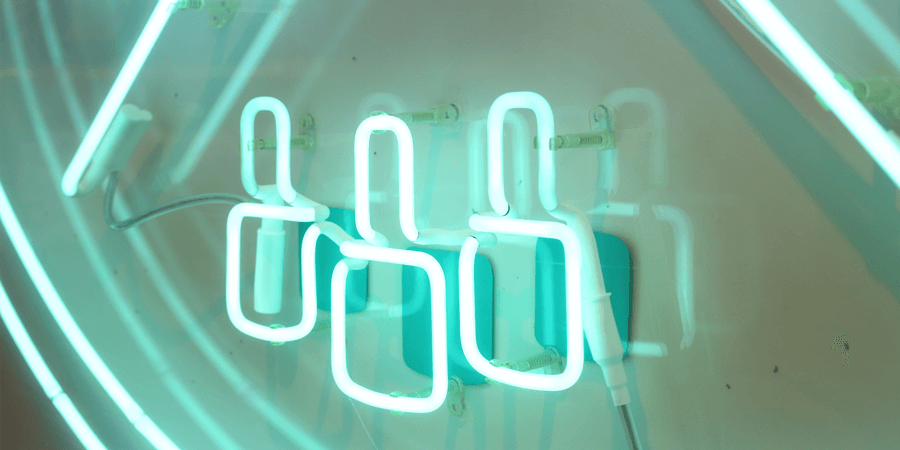 Blush & Blow Salon have a feature neon light with their branding which encourages customers to share pictures on social media
5. Invest in good chairs
You want your customers to enjoy their experience at your salon. So although investing in the right chairs can be expensive, it's also good for business.
We've got chairs to suit any budget, from the best-selling Ellie range to the REM Atlas range.
"I'd always encourage people to spend a bit more money on chairs", says Paul. "It's where your customers are going to spend their time and if they are in an uncomfortable chair, it's not a great experience."
Chair trends for 2019 include lighter colours (especially creams and golds) and embossing your salon logo on the fabric.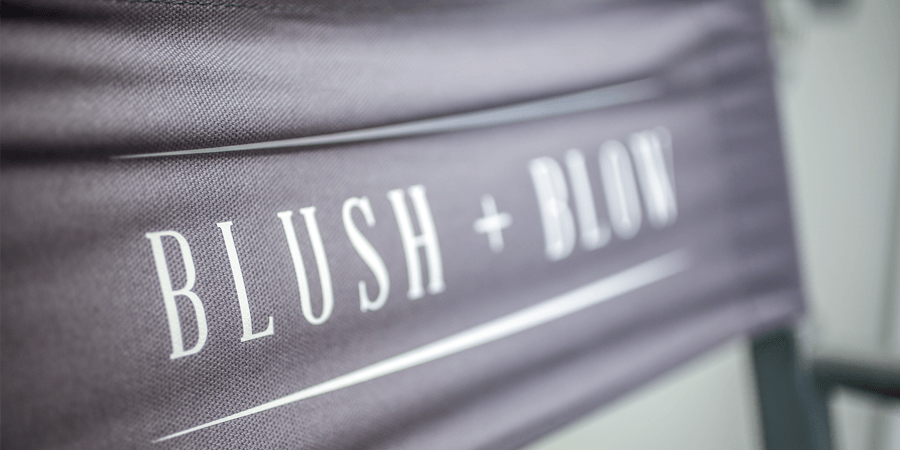 Blush & Blow Salon's personalised chairs
6. Update your backwash area
When it comes to updating your salon, don't forget your backwash area. As with your reception, simply decluttering it can make a big difference.
"Think about how you're going to store everything and how cluttered it's going to look", says Paul. "Put a unit between sinks where you can store shampoos. Also, think about where to store towels - you could make a feature of this by having towel racks filled with nice light-coloured towels."
This can be quite low cost but really uplift your backwash area. Search on Pinterest or Instagram to see how other salons are storing their towels and products.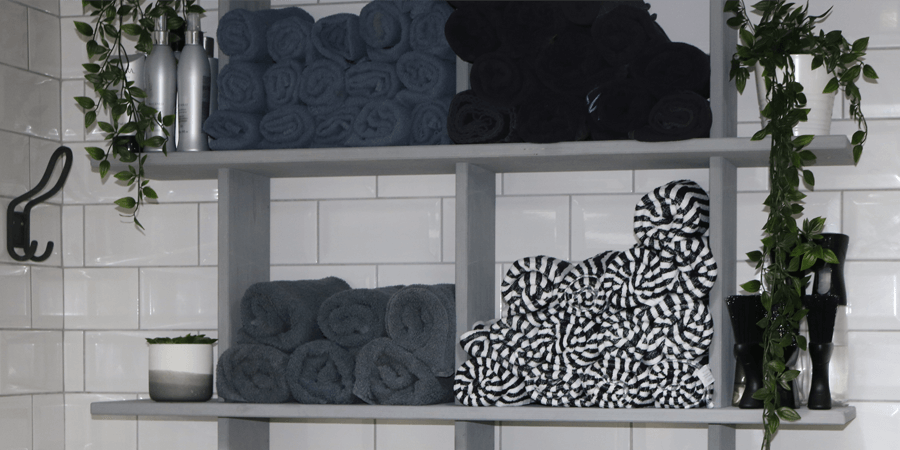 Z&Co Salon have made a functional feature out of their towel racks
7. Make more of your dispensary area
Do you disappear into a back room to mix up your colours? Not for much longer…
"There's a trend in bigger salons where stylists mix colour in front of the client", says Paul. "More and more salons are investing in a dispensary area that customers can see - it's almost like a cocktail bar for hairdressing. They like to talk about the brand and what the customer will be getting."
This isn't a cheap option, but something to think about if you're budgeting for any bigger renovations for your salon.
8. Pick your timing
Finally, be savvy about when you do your revamp. After all, you don't want wet paint during your summer rush.
"Give yourself time to revamp", advises Paul. "If you're ordering new furniture, allow for delivery time and think about doing it during the quieter months."
Interested in our Salon & Spa Design Service?
For more advice and expertise on your own Salon design, get in touch with our key accounts team!
Stay inspired
Recent Posts