Trade

Card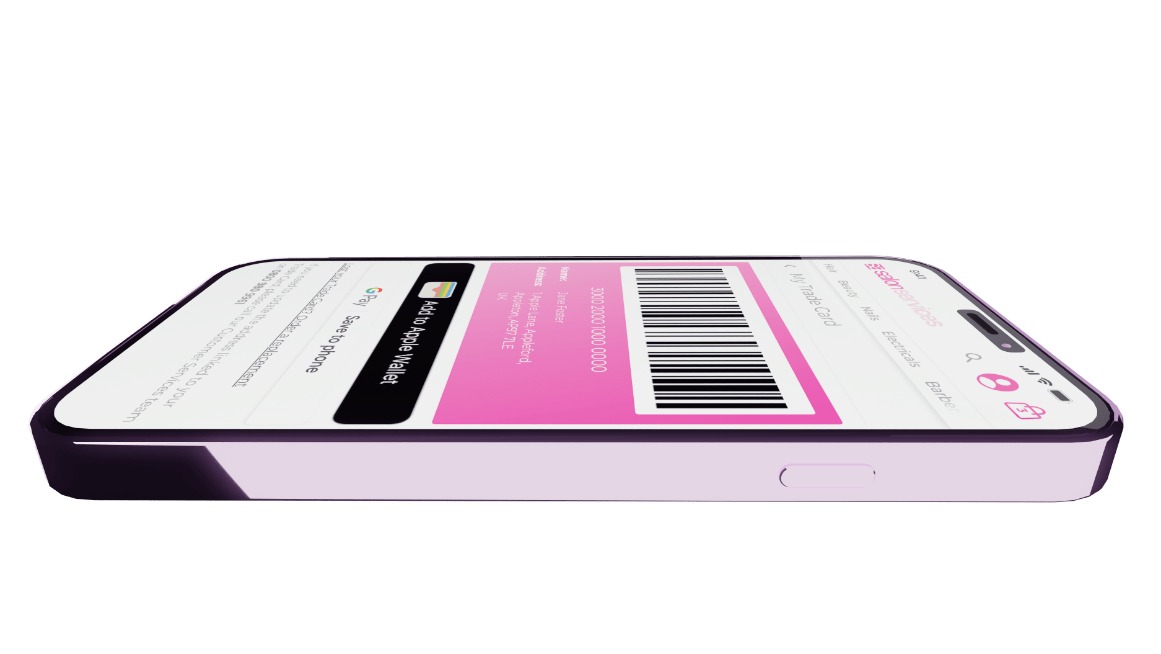 You need a trade card to access our huge range of hair, beauty and barbering products at wholesale prices.
Getting your Salon Services trade card is free and easy, you just need to prove you're in the trade as a hair, beauty or barber professional. If you are studying for a qualification, you can apply for a Student Salons Services Trade Card.
If you're not in the trade, shop our retail site at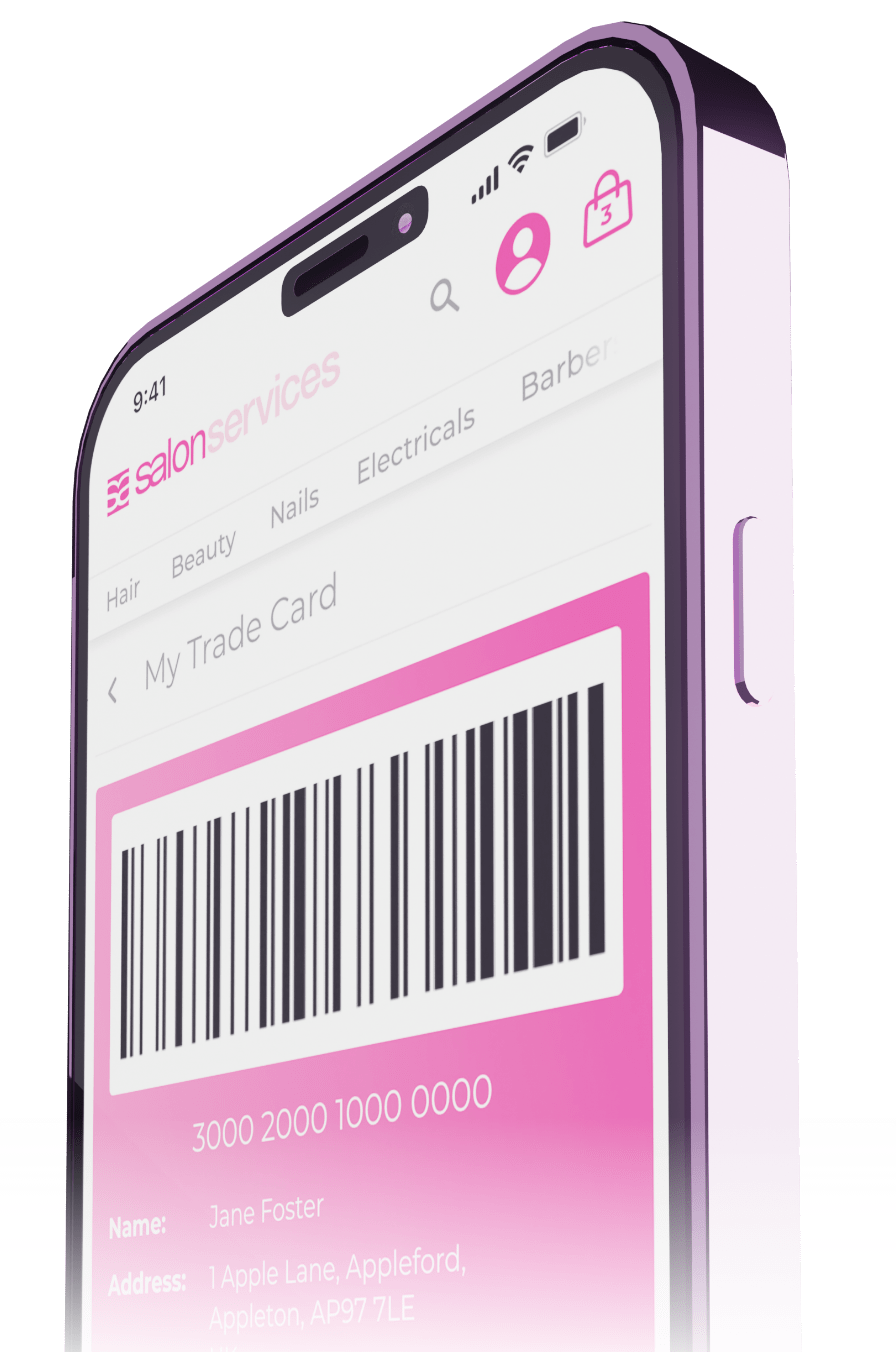 How Do I Apply For A Trade Card?
Let us know what you do and create your account
Take a picture or upload your documentation to prove you're in the trade.
Start shopping online straight away. Move your digital trade card to your Apple or Google wallet or keep it within your 'My Trade Card' section. Your welcome email will arrive with you in 2 days.
You'll have the opportunity to place one order after completing your application whilst it goes through the approval process, but if you would rather wait to get official confirmation then we aim to respond to all applications within 2 working days of receipt.
At the moment we are receiving a high volume of Tradecard applications, but we will review your application as soon as we possibly can. Please support us and only send a message when you have been waiting longer than 4 working days.
Why should I Apply for a Salon Services Trade Card?
Access to our Trade Prices & Products
Low prices on the highest quality products - only available to professionals! With over 5,000 products from leading brands including our bulk buys!

Offers and Promotions
Exclusive promotions and deals available to trade card holders only! Make extra savings with our Bespoke offers, straight to your inbox.

Award-Winning Customer Service
People with in-depth product knowledge and a real passion for hair and beauty at any 260+ stores across the UK and Ireland.

Training & Equipment
We offer fully accredited hair and beauty courses respected throughout the industry, as well as our equipment direct service!

Scheduled Delivery Days with DPD
We offer next day deliveries where available, as well as scheduled deliveries when using the DPD app, making it more convenient for your business.
What happens if I don't receive my registration email?
If you do not receive your registration email or you have accidentally deleted it, don't worry. You can still register to shop online, you just need to provide your trade card number and the post code you used in your application. Sometimes our emails can get trapped in the junk folder of your inbox. Please allow up to two days for this email to arrive, and ensure you check the junk folder in your inbox. If you haven't received a welcome email after two days, please contact our trade card team on Tradecard@salon-services.com.
What if there is a problem with my application?
If you're having issues with your application please let our trade card team know by contacting us on Tradecard@salon-services.com. You must work in the trade or be training to do so to shop on Salon Services, if you're shopping for yourself, please see our retail site at over on SallyBeauty.co.uk!
How do I upgrade or extend my student card?
Once you have qualified, you can then apply for your full trade card!
I am unable to log in online with my replacement trade card
Why are prices not showing on the website?
As our prices are exclusive to trade professionals, you are required to log in with your Trade Card to view these prices.
Can I set up my trade card on my phone?
Do you ever forget to bring your card to store? Fed up of carrying so many cards? There's an easy way to ensure you always have your Trade Card on you by setting it up on your phone using the Stocard app.
To set up your trade card on your phone please follow the following steps:
1. Download the Stocard app (it's free) from your App store.
2. Click on the button to add a card.
3. Search for Salon Services
4. Scan the barcode on your physical trade card or click to enter your trade number manually.
My Trade Card has been lost or stolen
How long will my replacement card take to arrive?
Please allow up to 2 weeks for your replacement card to arrive.
Do I need to wait until I receive my trade card before I can shop in stores?
As soon as you've signed up for a trade card, you can order your first shop with us online, when you log into your new account.
Once you've received your welcome email, you can present this in-store as evidence of your trade card and start shopping in our stores. Alternatively you can also set up a digital trade card on your phone via the Stocard app. If you prefer to have a physical trade card it will arrive within two weeks.