Suitable Level
intermediate
Salon System Lashlift & Tint Online Beauty Course
https://www.salon-services.com/brows%2C-lashes-and-makeup-courses/salon-system-lashlift-and-tint-online-beauty-course/814159_00093_12-OCT-2022.html
£110.00
ex. VAT
(Trade Price)

(

£132.00

inc. VAT)
Suitable Level
intermediate
This interactive Award Winning course delivered by a Salon System brand Ambassador and lecturer of further education will take you through a LIVE Webinar to give you the skills and knowledge required to successfully perform a Lashcurl, lashlift & lash/brow tinting services.

Top ...
Read more
What to expect when booking this course
Students require a laptop or tablet with a camera to access the webinar via Blue Jeans and we would recommend an additional device (smartphone) to enable ease of access to the learning portal during the webinar.

You will need to have a suitable work space for your practical webinar for the comfort of yourself & your model.

For further information please see our FAQ's in our help section.


Recently Viewed Products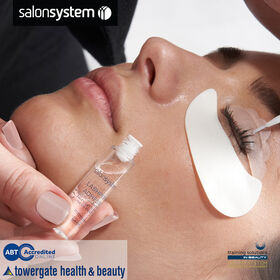 This interactive Award Winning course delivered by a Salon System brand Ambassador and lecturer of further education will take you through a LIVE Webinar to give you the skills and knowledge required to successfully perform a Lashcurl, lashlift & lash/brow tinting services.<br> <br> <b> Top Features</b><br> Prior to your live webinar you will receive access to an online learning portal to complete the following:<br> <ul> <li>Salon hygiene, sanitation/health and safety</li> <li>Client consultation, contra-indications and client care</li> </ul><br>The LIVE Webinar practical session will cover: <br><ul> <li>Eye area preparation </li><li>Lashcurl to enhance the appearance of the eye</li> <li>Lashlift to create the illusion of length and volume</li> <li>Lash/brow Tinting to further enhance & define using colour guides</li> <li>Aftercare advice and troubleshooting</li> </ul><br> <b> Key Learnings</b> <ul> <li>Understanding of the procedure and products for the lashcurl, lashlift and lash/brow tinting treatments <ul> <li>The skills and knowledge to successfully perform these treatments</li> </ul><br> <b> Additional Information</b> <ul> <li>Students and Models must be at least 18 years of age</li> <li>Students must hold a minimum level 2 beauty qualification</li> <li>A week before the webinar you will receive access to the online learning portal via email, this must be completed before your live practical session, we estimate this will take up to 3 hours dependent on your pace</li> <li>1 day 9.30–1.30pm or 2.00-6.00pm via live webinar</li> <li>Models are required during the live webinar at 12pm or 4.30pm and must not have any existing eyelash extensions, a patch test must be completed on your model 48 hours before</li> <li>A minimum of 2 delegates are required to run a session, in the rare event of you being the only booking a week prior to the live webinar, you will be contacted to arrange a rescheduled session date</li> <li>Students are required to have access to their own professional tool kit and purchase any additional items required, please select and purchase any items listed below that you do not have already. PLEASE NOTE that some of the items may already be salon essentials so there is no need to purchase more if you already own them.</li> <li>Students also have the option to use the following on the webinar if they choose to: Salon System Lashlift Pro Tool, Marvelash Glue Rings Plus 10 Disposable Cups and Marvelash Eye Make Up Remover Pads, though these are not essential</li> <li>After your webinar you will continue to have access to the online learning portal, valid for 1 year</li> <li>Upon completion you will receive an accredited e-certificate</li> <li>4 CPD hours & 4 CPD points</li> </ul>