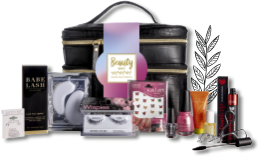 Blended with Essential Oils, plant extracts and Tea Tree Oil
Penetrates deep into the skin to condition and restore moisture.
Helps replenish the skin
Leaves feet with a youthful softness
No parabens, sulphates or mineral oil

Immediately illuminates and evens out complexion
Delivers a burst of hydration for smoother, suppler skin
Peptides help improve the look of firmness and tone
Leaves skin radiant and glowing all day
Use alone or under makeup as an instant glow primer

Salon Services Cuticle Oil
Value for money
Formulated to penetrate deep into cuticles
Conditions the nails
Promotes healthy re-growth

Conditioning, restoring and softening
Skin stimulating and exfoliating scrub
With smoothing granules of salt and sugar
For softened, revitalised feet
Scented with lemon and basil

Conditioning, restoring and softening
Delivers intensive moisturisation
Enriched with olive oil and vitamin E
For luxuriously soft legs and feet
Scented with lemon and basil

Lithium-ion battery provides maximum power.
Delivers over 1 hour of runtime on a single charge - 2x longer than other shavers
Lightweight - less than 5 ounces.
Powerful and quiet rotary motor.
Gold titanium hypo-allergenic foil for irritation-free shaving.

Instantly illuminates and firms skin
Retinol Vitamin A smoothes skin texture
Gold helps to firm, lift and brighten
Flower extracts nourish and restore skin
Hydrolyzed Collagen and Vitamin E leave your skin feeling tighter and more lifted

Enriched with the natural oils of Avocado that penetrate deep into the skin.
Hydrates and repairs skin
Anti-ageing formula
Protects skin from the elements
Deeply nourishing

Powerful anti-aging hydrogel sheet mask
Super-charges skin with Retinol to support the skin's natural collagen
Reduces the appearance of fine lines and wrinkles
Replenishes lost moisture and promotes firming looking skin
With radiance boosting Peony, Jojoba and Hyaluronic Acid

Powerful botanical extracts
Soothes irritation
Anti-inflammatory formula
Minimises redness
Cleanses the skin of impurities

A balanced blend of light oils for face and body massage
Formulated with soya and wheat germ oil
Light, gentle and moisturising for all skin types
Rich in vitamins and antioxidants
Helps to relieve symptoms of dry and sensitive skin

Promotes the growth of natural nails
Nourishes and protects cuticles
Delivers nutrients directly to the nail via the cuticle
Light and non-greasy
High quality formula

Multi-tasking superfood with anti-aging benefits
re-energise the skin
Encourages cell renewal
Anti-oxidising formula
Leaves skin hydrated & radiant

Reveal a radiant, selfie-ready glow in minutes
Helps make-up go on smoother and last longer
Hyaluronic Acid super-charged sheet mask for intense hydration
With plumping Collagen and Pomegranate Extract
Reveals a bright, glowing complexion

Anti-ageing 15 minute treatment
Boosting skin firmness
No animal ingredients or testing
Free of Mineral Oils, Lanolin, Petroleum and Paragons
Improving skin clarity, tone and elasticity

Visibly reduces dark circles and puffiness
With active ingredients Caffeine, Volcanic Ash and Vitamin C
Tired eyes look energised and awake
Noticeable signs of fatigue are reduced
Serum infused gel patches provide weightless hydration

Delivers a fine mist of your favourite essential oils to transform the mood of your space
Consciously crafted from natural ceramic and wood
Features a gentle colour-changing trim to enhance your relaxation
Up to 6 hours continuous or 12 hours intermittent
With two pure essential oils, sweet orange and peppermint

Helps hydrate your nails
Helps to prevent cracking and peeling
Easily absorbed
Vitamin rich oil encourages growth of strong healthy nails
No parabens, sulphates or mineral oil

Removes dead skin after 7 days
Over 16 botanical and fruit extracts
Innovative dual layered bootie
Ready to use
Free of Mineral Oils, Lanolin, Petroleum, Parabens

A multi-tasking mask to rebalance skin tone
Minimises pores
Packed with a variety of Herbs and Vitamins
Brightens complexion
Provides deep hydration

Self warming
Intense hydration for fatigued skin
Reduces the appearance of fine lines and wrinkles
Improves skin elasticity
Stimulates collagen production

Improves skins elasticity and tone
Exfoliates to smooth the appearance of fine lines and wrinkles
Improves the appearance of firmness and tone
Powerful serum formulated with high level of Vitamin A

Rich and luxurious day cream
Moisturises, smoothes and soothes
Helps to improve skin texture, clarity and radiance
Vitamin A exfoliates, smoothes and revitalises
SPF 20 to block the sun's damaging effects

Transform your space with the soothing scents, sights and sounds of the Ellia Gather Diffuser
Consciously crafted from natural frosted glass and wood
Translucent frosted case emits a gentle glow for a peaceful environment
Up to 10 hours continuous or 20 hours intermittent run-time
With a convenient remote control to flick through lights, sound library and diffusion settings

Tape Measure from Contour Wrap
For calculating inch loss results
Metric and imperial
Robust and wipe-clean

Blended with Essential Oils, plant extracts and Tea Tree Oil
Helps condition and soothe rough dry skin
Non-greasy & hydrating
Helps revive tired skin
No parabens, sulphates or mineral oil

Deeply moisturises and softens
Monoi Oil hydrates and pampers skin
With Sweet Almond Oil to soothe and comfort
Absorbs quickly without any greasy residue
No Parabens, Phthalates, Mineral Oil, Gluten, Sulphates or dyes

Gentle and moisturising
Suitable for all skin types
Rich in vitamins and antioxidants

A natural, easy way to protect and perfect your skin
Enriched mineral formula with lightweight, hydrating SPF protection
Medium coverage with a natural, dewy finish
Top-quality foundation brush applicator for quick & easy application
Cruelty & paraben free

For smoother, more toned, healthier-looking skin
Coconut Oil provides all-day hydration to keep skin looking healthy
Seaweed extract helps to ease fluid retention and support skin firming
Sweet Almond Oil improves skin s elasticity and helps tone, while Caffeine improves circulation for a smoother appearance
No Parabens, Phthalates, Mineral Oil, Gluten or dyes

Formulated with Raw Coconut Sugar to exfoliate and polish skin
With Coconut Oil to deeply moisturise and soften the skin
Monoi Oil hydrates and pampers skin
Peppermint Oil invigorates and stimulates skin
No Parabens, Phthalates, Mineral Oil, Gluten, Sulphates or dyes

Activated Charcoal deeply cleanses, targeting blackheads and acne
Rebalances oily zones and clears impurities
Exfoliates dead skin cells, increases hydration
Helps repair skin damage and brighten the complexion
Ready to use, 10 minute treatment

Mess-free brightening mud sheet mask
Instantly boosts radiance and reduces the appearance of pigmentation
Unclogs, tightens and purifies pores
Goji Berry and White Mulberry help to even skin tone and protect against UV damage
Rich in antioxidants
      Find top quality salon skincare supplies in our range at Salon Services. We supply professional skin care options designed for all skin types including options from big name brands such as Skin Republic, and BeautyPro. Choose the perfect salon skin care products for your needs online today.