Jaguar Silver Line CJ4 Plus Offset Scissors 6.0"
€ 185,00
ex. VAT
(Trade Price)

(

€ 227,55

inc. VAT)
Overview
A popular all-rounder that is perfectly suited to slice cutting thanks to hollow grinding and DC honing
Offset design with angled thumb eye create an ergonomic hand position for effortless cutting
Adjustable, self-contained flat Smart Spin screw system allow incomparably easy, perfect cutting action
Convex blades with fully integrated cutting edges and a highly acute cutting edge angle for maximum sharpness
Hand-polished, high-gloss finish
Description
Thanks to the ice-treated quality steel in combination with a flat cutting angle, the White Line scissors offer very good, long-lasting sharpness with good slicing ability. The Jaguar CJ4 Plus hairdressing scissors are ideal for slicing. The slightly convex blade with partially integrated cutting edge has an acute cutting angle, which gives it excellent sharpness. Thanks to the hollow grinding and honing, the CJ4 Plus has ideal slicing properties.
For the CJ4 Plus, forged special steel is used to deliver very long-lasting sharpness. The special ice-hardening process that is used to create a Friodur® blade makes the blade harder, making the steel extremely resistant, so the sharpness can last extremely long. The hand-polished, high-gloss product surface gives the hair scissors a noble and high-quality design.
The hairdressing scissors in offset design with angled thumb eye create an ergonomic hand position and relax arm, neck and shoulder muscles. The flat and self-contained, adjustable Smart Spin screw system makes the scissors particularly easy to move. In combination with the sharp blades, the muscles of the working hand are also relieved.
Recently Viewed Products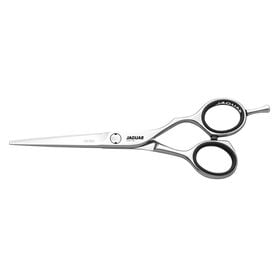 <ul><li> A popular all-rounder that is perfectly suited to slice cutting thanks to hollow grinding and DC honing </li><li> Offset design with angled thumb eye create an ergonomic hand position for effortless cutting </li><li>Adjustable, self-contained flat Smart Spin screw system allow incomparably easy, perfect cutting action </li><li> Convex blades with fully integrated cutting edges and a highly acute cutting edge angle for maximum sharpness </li><li> Hand-polished, high-gloss finish </li></ul>