Your beauty hotlist has arrived

The Beauty Edit brings you the season's hottest beauty finds straight from social media to store and online. Inspired by what's trending now, we'll fill your beauty basket with cult cosmetics and coveted new brands including Contour Cosmetics, Bodyography and Nails Inc's hot new lip hit INC.redible. Style yourself like a blogger and re-create flawless, on-trend looks.
Like it. Share it. Own it.
Bodyography
Seriously professional cosmetics for seriously professional results. Certified as a cruelty-free brand by PETA, the trendsetting Bodyography range of boutique makeup is infused with vitamins, minerals and antioxidants for an incomparable weightless finish.
If you're craving the latest look, The Beauty Edit brings you Bodyography's number-one selling primer, six shades of matte metallic liquid lipsticks, and their new pearl-finish glitter pigment eyeshadow shades.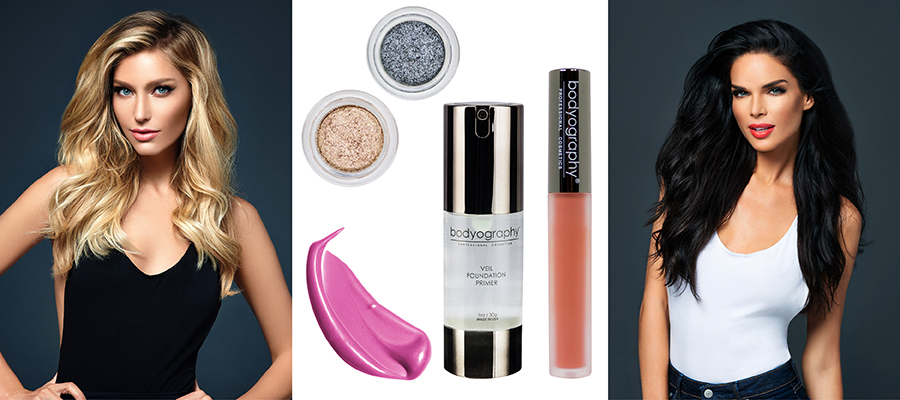 Bodyography's Veil Foundation Primer is packed with anti-oxidants, vitamins A and E, Jojoba and Grape Seed Oil. This weightless anti-aging primer fills in fine lines and wrinkles, prevents collagen breakdown and gives the skin a silky smooth, long lasting, flawless base.
If it's a metallic lip that you're after then Bodyography's Liquid Lava Lipstick will give you that trend. Choose from six bright, bold and ultra-soft shades with a matte metallic finish. The micro absorb technology goes on opaque, dries instantly and lasts for hours plus it has 3 x more pigment than other liquid lipsticks.
One of a kind eye shadow technology, Bodyography's Glitter Pigment incorporates the saturation of a loose pigment, the cushion of a cream and the silkiness of a powder, all with a beautiful high glitter and pearl finish. Available in six dazzling shades, wear it alone or as a glitter overlay on top of eye shadow.
Contour Cosmetics
The Beauty Edit is proud to bring you an influential, independent brand that regularly features in Glamour, Cosmopolitan, Elle and Tatler. With Contour Cosmetics, you can effortlessly achieve the latest trends and irresistible celebrity styles.
British-made and cruelty-free, Contour Cosmetics' specialist makeup includes Kylie Jenner-inspired lip kits and Kim KW-style cream contour palettes.
Contour Compact Original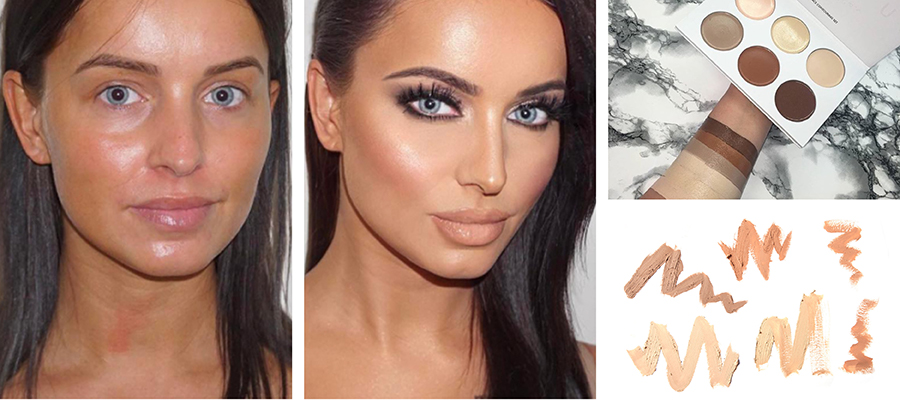 Take your contour on tour! The Contour Compact Original is a bag friendly unique contour set that includes six blendable shades in a creamy formula and can be used to highlight, contour and conceal. The shades can also be mixed to create customised shades to suit every skin tone.
The Contour Compact 2 includes two new shades; cool taupe and deep brown to suit every skin type.
Image courtesy of @paintdatface
Contour's Illuminating Glow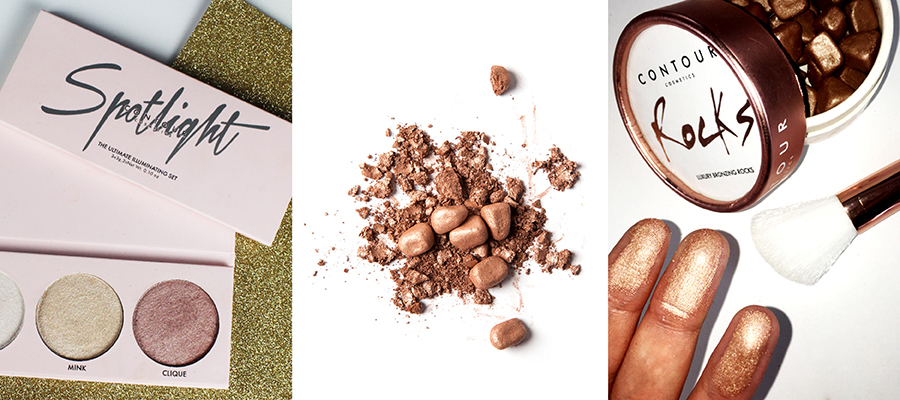 Glow and behold the rocks! Contour Rocks are luxury bronzing rocks created to sweep over your contour. The rocks are ultra-pigmented with shimmering particles to create an instant golden glow.
The Spotlight Illuminating Set contains three iridescent powders to highlight and illuminate your look. Fan the highly pigmented shimmer infused powders over the high points of the face for a serious glow!
Contour Lip Contour Kit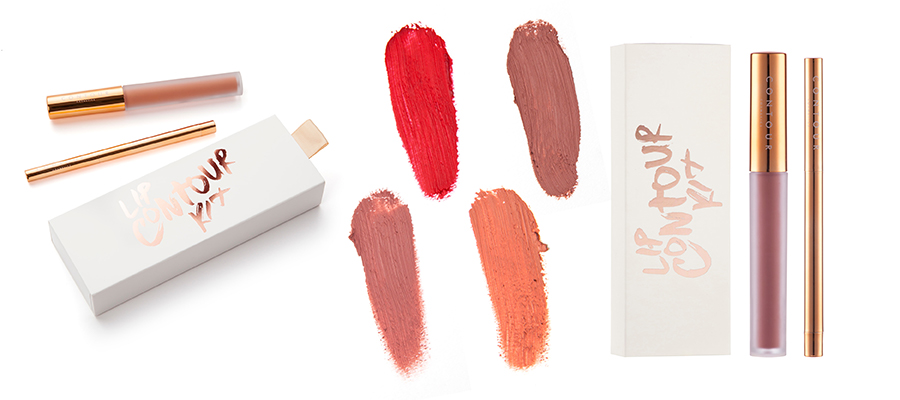 Say hello to the Lip Contour Kit! A matching duo of a creamy lip liner and matte liquid lipstick so pigmented that a flawless lip look is yours in seconds. Outline lips with the lip-liner and pair with the intensely pigmented liquid lipstick to lock your lip look down all day long!
INC.redible
For all you trailblazers out there, we're excited to introduce Nails Inc. London's new range, INC.redible. Don't conform; create – bring your own style with a specialist range of unicorn-inspired lippies and polishes.
Available to you at high street prices, these superior formulations are brought to you by The Beauty Edit.
INC.redible Lip Trip Iridescent Lipstick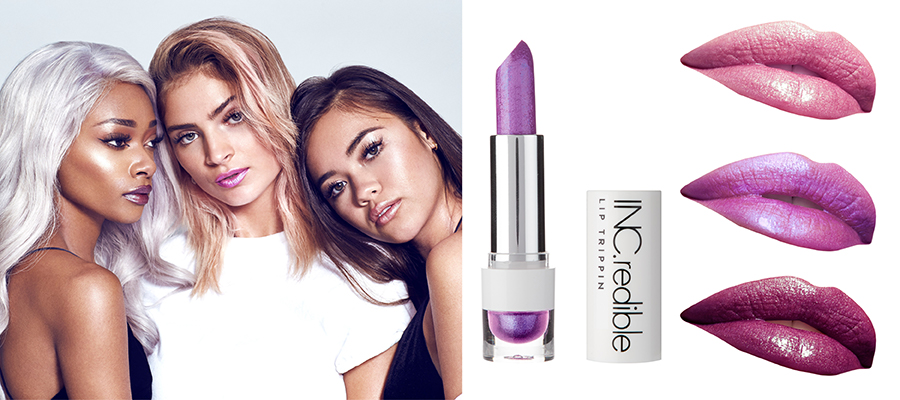 Channel your inner unicorn with this range of iridescent strobe lipsticks with colour pigments that magically flip shades when they catch the light. Available in three oh so now shades including Friyay Feeling – a bright lilac pink that flips to opalescent, Busy Unicorning – a gorgeous peachy pink that shimmers into a greeny gold and Rainbow Chasing - a deep plum that merges to a mesmerising mermaid green.
INC.redible Lip Jelly Shot Jelly Lipstick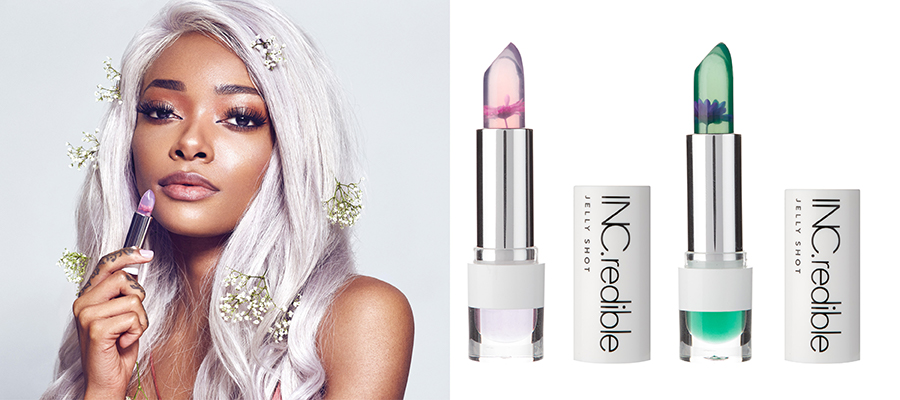 Add a subtle flush of colour with these superfood lipsticks enriched with natural oils. These lip quenching tinted lippies come in four shades including the natural blush of Just Be Me and the luscious lilac of It Was Only a Kiss. If a golden glow is what you're after then Ex Revenge is infused with 24 carat gold and Watch Me Go is a PH reactive green that transforms on the lip to a natural pink tint unique. And they look just as good in the packaging as they do on your lips!
INC.redible Foiling Around Metallic Liquid Lipstick
Metallic lips, yes please! INC.redible Foiling Around is a collection of metal tinted liquid lip paints that give a full coverage with a stunning matte finish. With seven shades to choose from, there's one to suit every mood (and outfit) from a deep red and bronzed plum to a metallic mauve and a sun-kissed bronze.
INC.redible In A Dream World Iridescent Lip Gloss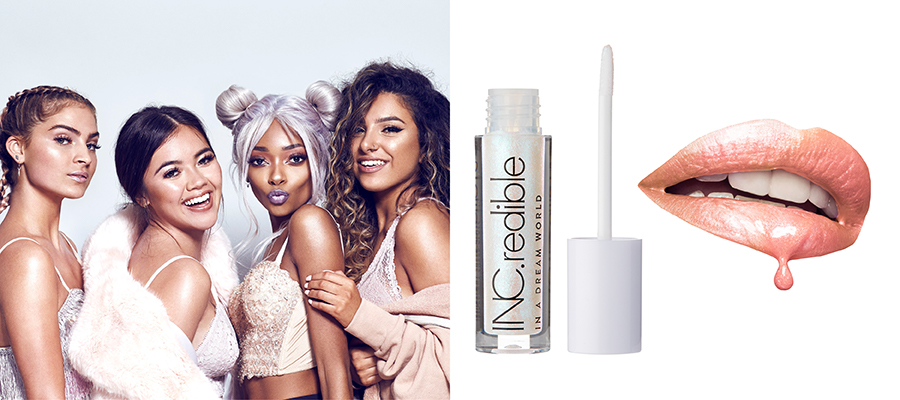 Mermaids and unicorns unite with this gorgeous range of sheer lip glosses boasting an iridescent sheen and an intense effect. Available in six enchanting shades including Stayin' Mad & Magical, a deep mauve shade with burnt bronze and pink pigment; Anything Flaming Goes, frosted pink with an opalescent colour flip pigment; Never Peachless, a soft muted peach with warm golden iridescent pigment; Rainbow Hooves & Crazy Moves, a glistening white with an ultraviolet shimmer; 99% Unicorn, 1% Badass, a lilac base with a beautiful greeny-blue iridescent pigment and Mermaid Tantrums, a warm copper with a subtle touch of deep pink sparkle.
Nails Inc. PRO Incredible Unicorns Nail Polish collection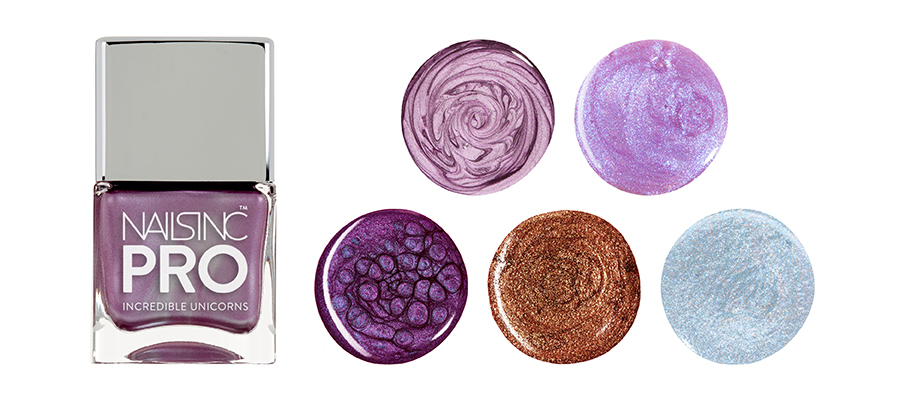 We all believe in unicorns, don't we? Let nails live happily ever after with these vibrant, high-shine unicorn-inspired nail polishes in five mystical shades. The range includes I Dream In Rainbow, a sheer pink gloss that magically flips to a shade of blue; Galloping and Gallivanting, a fairytale base with a touch of pink for a sheer finish; Gidee Up, a full coverage polish with lavender metallic pigments; Hooves of Gold, a sparkling shade of gold with violet undertones and colour flip pigments and Rock the Trot, an indigo shade steeped with ultra violet strobing, for a plump full coverage manicure. Now this is something to believe in.
Recent Posts