Waxing for men: expert advice for getting started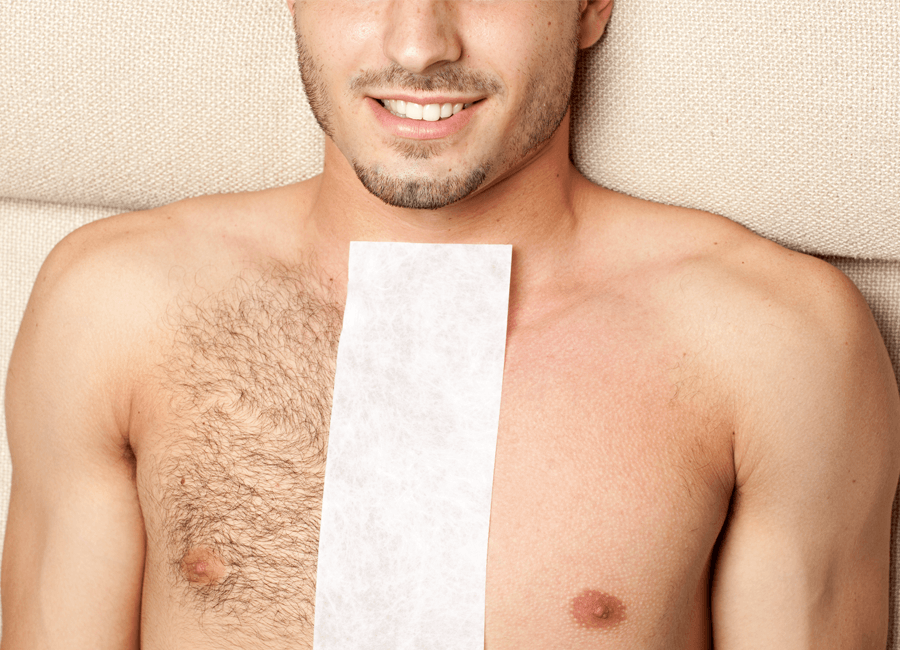 Across the UK, ever-increasing numbers of men are turning to their local beauty therapists in the fight against unwanted body hair – thanks in part to fuzz-free celebrities and TV shows like Love Island.
Andy, who owns Axiom Bodyworks in Hampshire, says, "Although grooming is booming, it's important to remember that we aren't yet living in a world that expects men to be smooth from top-to-toe all year round, so a little extra work is often required to get the fellas over the threshold."
In this blog, Andy reveals his insider tips for growing your male waxing business…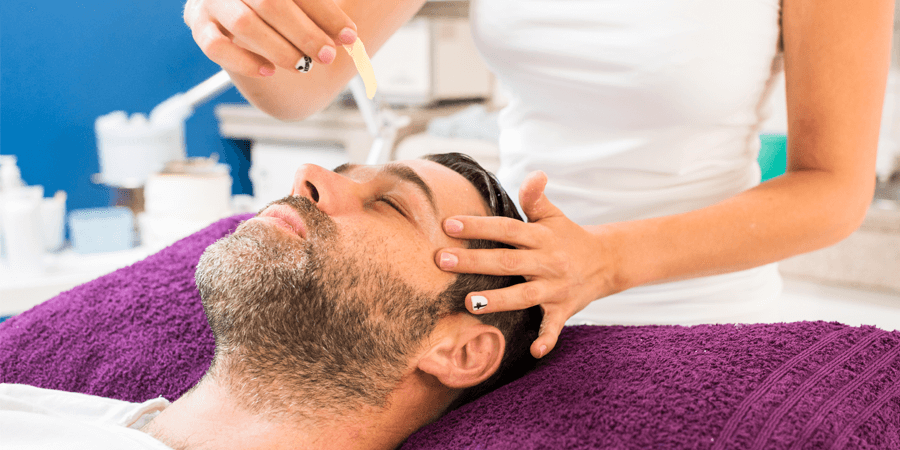 How to find male waxing customers
The trick to building a loyal male customer base is to identify WHY chaps in your area might want to be hair-free in the first place (e.g. for improved comfort, confidence, aesthetics, sports-related reasons, etc.), and then use those benefits as the basis for marketing your treatments.
1 Join forces with other local businesses
Cross-promote your services to staff and customers. Good places to start are gyms and sports clubs, swimming pools, piercing and tattoo studios, wedding outfitters and so on. Once you start thinking outside the box, it's amazing how many would-be wax fans you can identify!
"Many men will have no point of reference and may feel nervous before their first wax… especially if they've watched the infamous waxing scene in 'The 40 Year Old Virgin'!"
2 Use social media
Waxing is a very visual treatment, so Instagram and Facebook are the perfect platforms for showing off your spatula skills. Before and after shots and short video clips always get a lot of attention and help take some of the mystery away for new customers, too.
Extend your reach by incorporating hashtags used by other people in the demographic you want to target, e.g. #readyforsummer, #poolside, #weddingdetails, #gymmotivation, #cyclestyle, #chestday, #inked and so on.
3 List male treatments separately
If you have a unisex salon, ensure you list your male grooming services separately from your ladies, both online and in print.
This simple distinction will make your male customers feel better catered for and more welcome as a result. Online bookings are a big plus for male clients who may be reluctant to phone or walk into a salon to make a waxing appointment.
4 Create a FAQ section on your website
Bear in mind that many men will have no point of reference and may feel nervous before their first wax… especially if they've watched the infamous waxing scene in 'The 40 Year Old Virgin'!
A simple trick to gain client confidence while also boosting your visibility on search engine result pages is to put a list of frequently asked questions on your salon website. Clients can then refer to this beforehand to help quash any anxiety.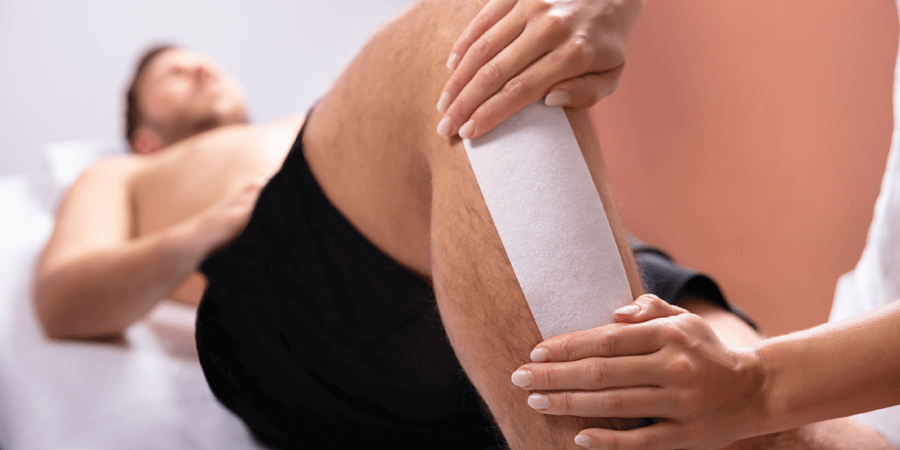 Male waxing - Andy's tips on which products to use
The right products can make a world of difference in terms of client comfort. As a busy therapist, you want a wax that gets perfect results on both male and female clients, suitable for every skin and hair type, whatever the body part or time of year.
1. The Advanced Strip Wax in the Salon System Just Wax Expert line has an ultra-low working temperature and allows for profitable 'speed waxing' techniques, where large areas can be covered at a time without the worry of over-drying or sticky residue.
The exceptional fluidity of this particular wax also means it can be spread thinner on the skin, so you use less product and make more money from every dip.
2. Non-strip waxes are also a must-have for quick and comfortable hair removal from men's faces, underarms and intimate areas. Compared to traditional hot wax, the latest generation of peelable waxes are cooler, easier to apply and remove, and remain pliable when dry.
I love the fact that the Advanced Hot Wax from Salon System has the perfect combination of flexibility and strength – it literally 'shrink wraps' around the hair as it dries, making it the perfect choice for removing men's tough and coarse hair.
3. Retail sales are often overlooked when it comes to waxing, but take-home products form an important part of a customer's homecare routine and help them get the best long-term results. It's not uncommon for first time male clients to suffer with pimples on the back and chest after waxing, so stock up on soothing after-wax lotions and anti-bacterial skin washes or sprays.
Try Just Wax Expert Protect & Calm, which contains shea butter and marshmallow root to soothe and hydrate freshly waxed skin. Smooth It from Hive of Beauty comes in a handy spritz to help prevent and treat pimples on the body.
Exfoliating wash cloths and scrubs are also popular with men in the battle against ingrown hairs, along with specialist targeted products for more stubborn spots, such as Depileve's Folisan or Gigi No Bump.
Follow Andy on Twitter, @wax_daddy
Do you offer male waxing treatments?
We'd love to hear your advice or tips for offering male waxing services. Why not join the chat on our Facebook page, @SalonServicesUK.
Stay inspired
Recent Posts