Salon Services announces partnership for new diverse business academy
Are you a mobile therapist who misses the community and support of a salon? Or are you a freelancer wanting to know more about the business side of beauty? Whatever your situation you're all invited to join E.A.T.O.W, a new inclusive membership club for hair and beauty professionals offering everything from networking opportunities to business advice.
The club launched in March with a prestigious panel event at the Houses of Parliament.
We're delighted to have partnered with E.A.T.O.W to create a business academy and a series of masterclasses designed to help you get ahead in the beauty industry.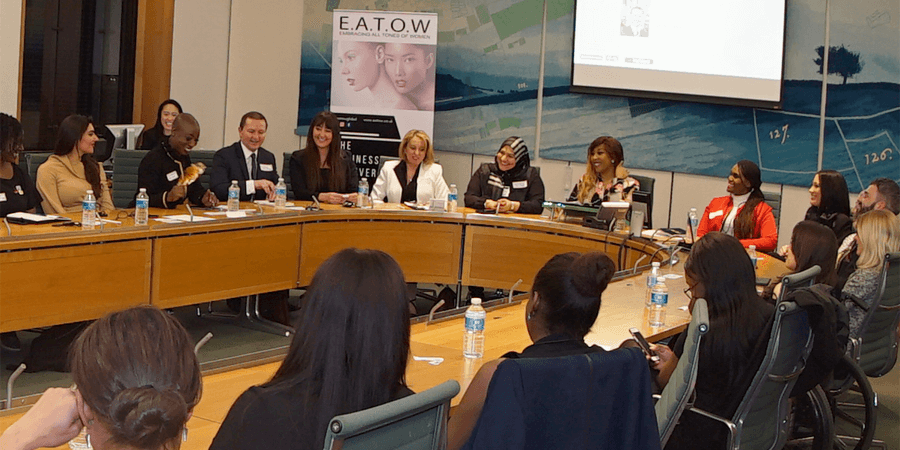 What is E.A.T.O.W?
E.A.T.O.W is a hybrid education and networking platform designed to empower hair, beauty and business entrepreneurs from diverse backgrounds around the world.
The club was founded by Eryca Freemantle, former makeup artist to celebrities and now Global Beauty Strategist, Transformational Coach and Product Developer and Ria Lincoln, a professional accountancy and tax advisor.
Not sure if it's for you? Think again! The club is open to everyone - from stay at home parents to start-ups. All you need is a passion for the beauty industry and a drive to get ahead.
What are the benefits of joining?
Members can access downloadable resources covering anything from employment contracts and business plans to the latest health and safety information.
It costs from £10 a month to join and you'll also be invited to exclusive bi-monthly E.A.T.O.W events featuring top industry guests, speakers and panellists discussing all things business and beauty.
Eryca said, "We're about empowering those who are coming up behind us. For people starting out in the industry, where do you go? Who do you speak to? It's about connecting you. It might be your dream to do someone's hair, someone's makeup. To get that connectivity you have to be in the room. You have to be where the movers and shakers are making decisions that could change your life."
"If you're starting out in the industry don't be afraid to be different. I'm a black woman who has been in the beauty industry for 35 years and every door possible closed in my face. What did I do? I kicked them down!"
Salon Services masterclasses
Another great reason to join is to supercharge your knowledge.
We've partnered with E.A.T.O.W to create a diverse educational beauty & business academy. All master classes are BIA accredited or endorsed by Salon Services and we're offering E.A.T.O.W members 10% discount on all masterclasses.
Joanne Etherson, Salon Services Group Advertising, Events & Social Marketing Manager said, "When I first met Eryca I was struck by how engaging she was and her dream for a community and building a better industry to empower and educate people.
"We spend our days caring for others. It's our responsibility as a huge company within the industry to make sure we're giving back to our customers. This is the perfect platform to encourage our customers to join so we can educate and empower them and help them become the best they can be."
The launch event
E.A.T.O.W launched on 19 March at the Houses of Parliament where a stellar panel of experts discussed diversity in the beauty industry and what diversity means to them.
Among the panellists were Kubi Springer from SheBuildsBrands, Ian Archibold, MD of Olympia Beauty, Aruge Ahmed, a retail analyst, Katie Godfrey, director of KG Professional, Narjice Basaran, a corporate business trainer and founder of Pure Modus and Tracy Ann, CEO of Beauty City International.
All are supporters of E.A.T.O.W and will be sharing their expertise with members Kubi, who has worked with clients including Nike, Adidas and Facebook said, "I believe this [E.A.T.O.W] is well overdue. It's not only important this happens it's also imperative this happens. I think it's phenomenal the House of Parliament has opened up its doors for this launch."
Missed the launch? Be at the next event!
The next event for E.A.T.O.W members will take place in London on 24 April.
Tickets will be available for non-members to buy and can be redeemed against a 12-month club membership.
Need more inspiration to join? Speaking at the launch event Eryca said, "If you're starting out in the industry don't be afraid to be different. I'm a black woman who has been in the beauty industry for 35 years and every door possible closed in my face. What did I do? I kicked them down!"
Recent Posts