Get the cover look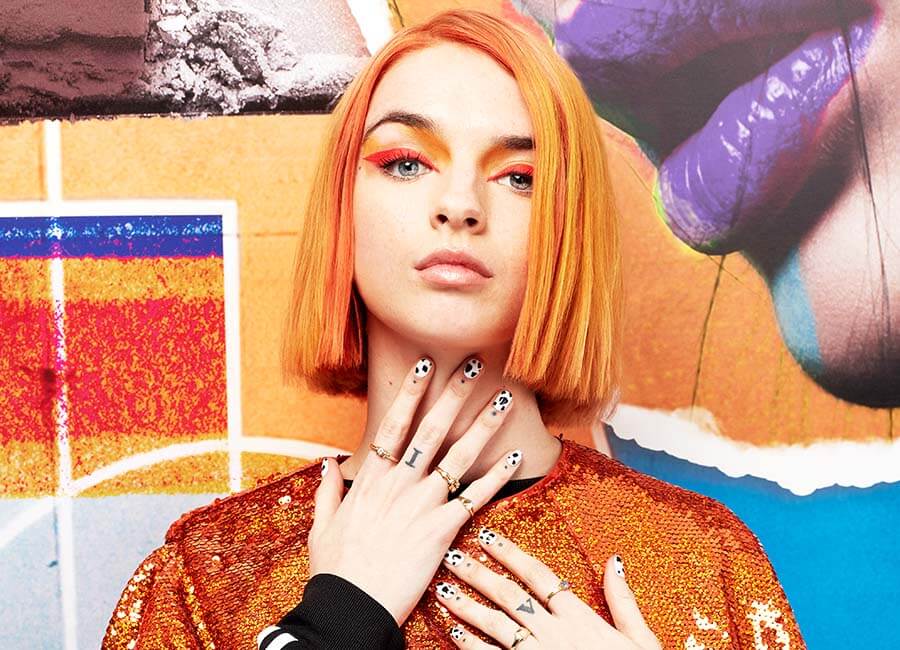 Follow our stylists' tips to recreate this colour in your salon. This hair colour is perfect for those clients who are bored with their blonde summer hair, looking to inject some zest into their lives! It works great on brunettes as well for a fiery punch.
"How gorgeous is this Coral hair colour, the colour of 2019! The finished look has a lived-in colour which is almost faded out looking in areas."
Be brave
The whole look and feel of the "Freestyle: Disruptive Play" trend is to add your own twist, the idea of creating a one-off, customised look for your client.
Be creative
I really enjoy creating levels of colour throughout the hair and this is a really playful way to add interest and features within the hair cut itself!
The overall base was one colour global application. Then at the basin is where the fun happens.
I sectioned the hair into a front panel and a back panel. On the front panel I added a bright copper tone and through the back section I worked in areas of a mustard tone, all using Celeb Luxury shampoo. This gives a great visual effect and is really quick and easy to apply.
"The overall base was one colour global application. Then at the basin is where the fun happens."
Full colour steps here
Base Lift: Lift the base colour with Kenra Color Simply Blonde Crème Lightener applied throughout the hair.
Global Color: Apply global colour: Mix 60g Kenra Color 6C with 30g Kenra Color 8RoM.
Block Color Tones: Mix 5g Celeb Luxury Extreme Yellow + 1g Celeb Luxury Extreme Red + 1g Celeb Luxury Extreme Hot Pink for the front colour block. Yellow celeb Luxury applied to the back color block section.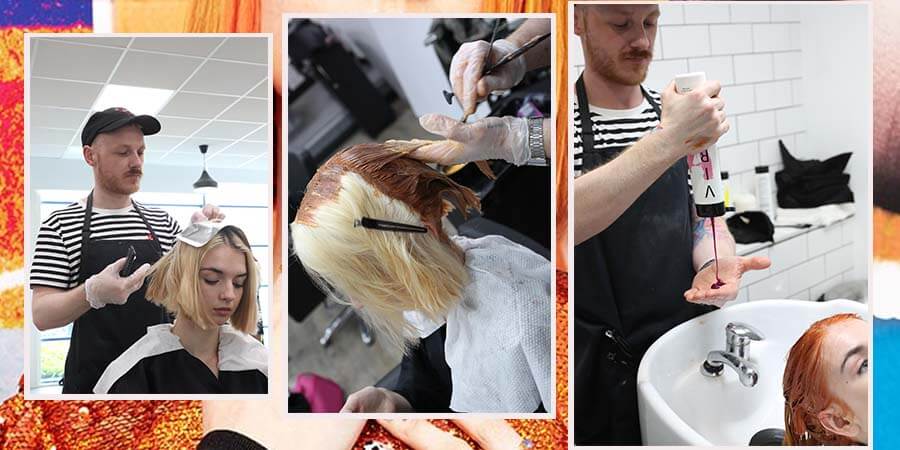 "This is a great idea to give to clients when they're sometimes feeling a little bored with their hair. A little parting change, or a texture change is sometimes all our clients need!"
Runway locks
The finished look has a very cool runway finish, 'straight but not straight.' Keeping the bob looking really blunt and sharp.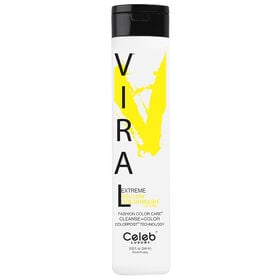 <ul><li>Instantly adds bold color while cleansing</li><li>Maintains, corrects and boosts color brilliance</li><li>Continuous use after fresh color adds color and stops visible washout and fade betweencolor services</li><li>Superior sulfate-free, paraben-free, ammonia-free, peroxide-free, PPD-free</li><li>Extra-gentle for color treated hair</li></ul>
Animal print nails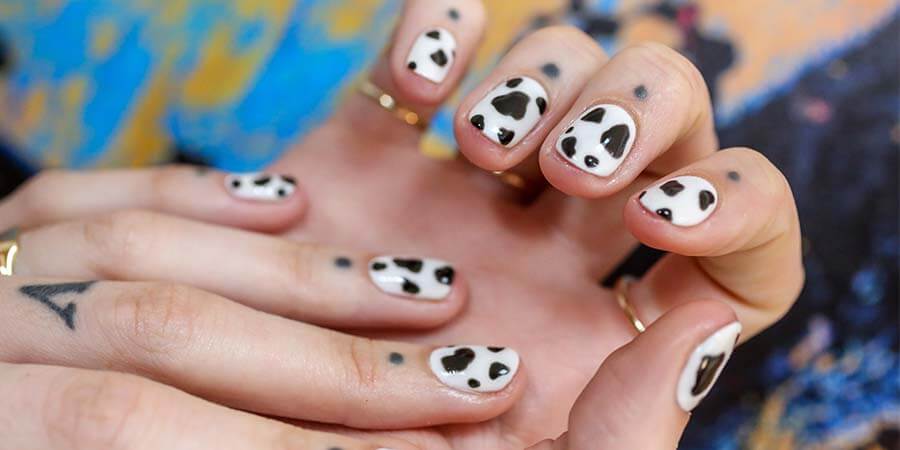 Prepare the nails…..
File the nails into your preferred shape. Nancy's nails are quite short as it suited the overall trend.
Prepare the nails with Gelish Nail Surface Cleanse and apply the foundation. Using your Gelish brush, dry brush the foundation.
Get moving with the colour….
First of all choose your colours and your style!
This cow print is a really fun way to introduce your client to nail art if they haven't tried it before.
Apply two coats of Gelish Arctic Freeze to all nails and cure for 30 seconds.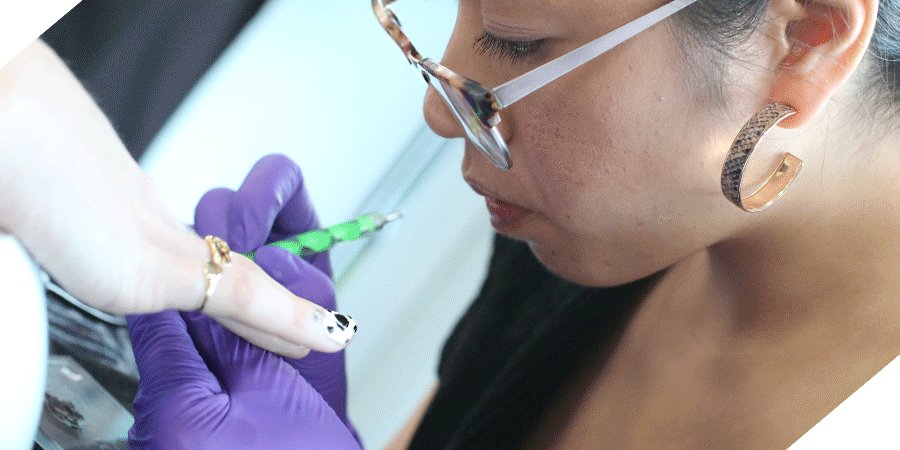 Using the biggest dotting tool from the Salon Services Dotting Tool Set, apply a few large cow print spots to each nail using Gelish Black Shadow.
Using the smallest dotting tool, apply a few smaller spots, ensuring there is enough space between each spot. You need to make sure the spots are not too thick, otherwise they won't cure properly. Cure for 30 seconds with your Gelish lamp.
For nail art I like to check all the spots to see if I need to go over any again or if they need further curing. Apply your top coat and cure for 30 seconds.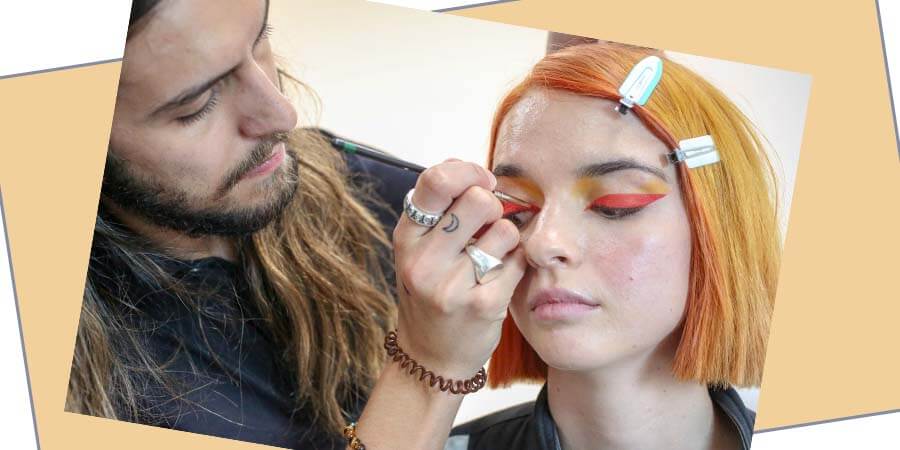 Orange crush
Prep the skin using Bodyography Foundation primer in Clear, then use Radiance Boost liquid luminizer under eyes, over cheekbones and on the t-section of the face.
Apply a wash of Natural finish foundation over the face.
Use shade Bootin' from the Disco 'Til Dawn Palette to add splashes or orange colour randomly under the brow bulbs and between the tail of the brow and the outer corners of the eyes.
Create a dramatic winged liner using Crimson Lip pencil and then top with Pure pigment eye shadow in shade Naartjie (orange), make sure to perfect any lines with a Q-tip for a sharp finish. Create a deeper brow by shading using Brow trio.
Add lashings of mascara! Apply blush in shade Crush (soft orange) over the apples of the cheeks using a fluffy brush and blending out using fingers to maintain a super soft effect, apply lip balm to lips and press in a light natural dusting of the same blush to keep a monochromatic look! Finish and seal makeup look with a couple of spritz' of Ready, Set, Go makeup setting spray.
Keep an eye on our professional hair and beauty blog for more inspiration
Model: Nancy @the_lizard_queen
Hair Stylist: Hair Stylist: Jamie Richards @jamiedoeshair17
MUA: Sam Johnson @beardedbeautyblogger
Nail technician: Metta Francis @nailsbymets
Stylist: Jess Grist @iseebambi
Photographer: Barry Jeffery @barryjeffery
Stay inspired
Recent Posts