Bridal hair & makeup artist top tips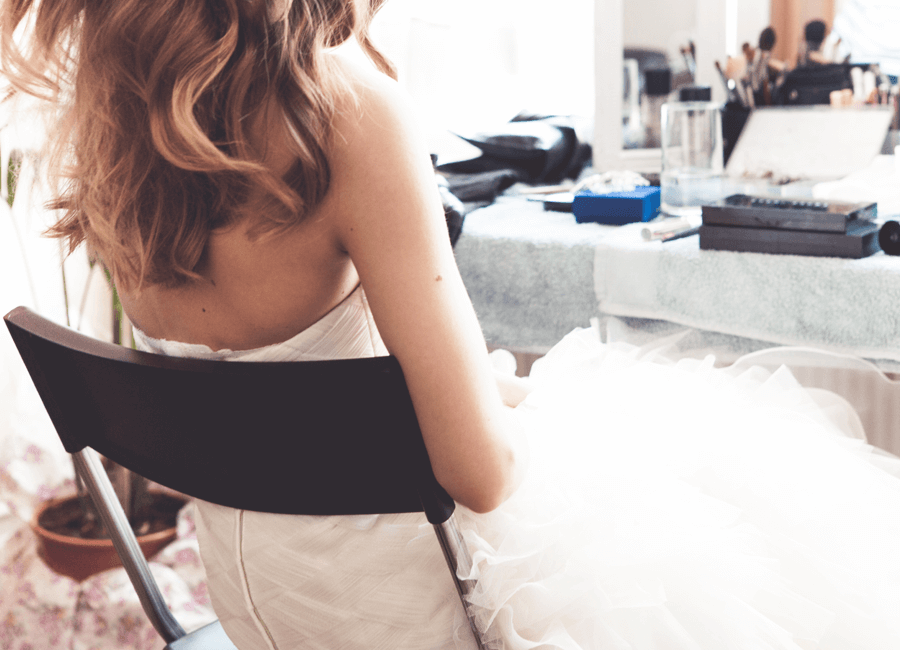 Peak wedding season is practically here, which means it's a VERY busy time for bridal hair and makeup artist Natasha Fletcher. We caught up with Natasha, who has been working as a hair and makeup artist for eight years, to find out more about her typical day.
"I get up at 5am…"
"... or even earlier, depending on where I need to travel to. I'm based just outside of London, but I do weddings all over the place, from Surrey to Somerset. I always leave myself plenty of time to get to the venue, to get set up and introduce myself to people in the wedding party that I've not met before.
"What time I get up also depends on the number of people in the bridal party that need their hair and makeup done. I always allow around an hour and a half to do the bride's makeup. I leave the bride to last because then you can be stricter on times with bridesmaids. I usually allow 45 minutes for makeup on bridesmaids (longer if I'm doing hair as well)."
"A schedule is absolutely key…"
"To make sure I don't run over, I like to have a timetable of who is getting their makeup done and when. I send this to the bride ahead of the wedding day so everyone knows their slot. Otherwise, it can turn into a bit of a free for all. I've found it really puts the bride at ease knowing everyone will be ready in time for their photos - and the ceremony!"
"It's a really lovely atmosphere to work in and doesn't feel like a job"
"Meghan Markle has set the bridal trend for 2019…"
"One of the main bridal looks this year is inspired by Meghan Markle's look on her wedding day to Prince Harry. It's very natural, effortless makeup with barely-there foundation, flushed cheeks, brushed-through brows, and illuminated skin.
"There's also the Instagram look which is a different vibe but still popular, very highlighted and contoured. Another trend we're seeing this year is a bold lip for brides. You then use a tone from the same colour chart on the cheeks for quite a whimsical look.
"For wedding hair, headbands are back in (think Blair from Gossip Girl!) along with bows, flowers and - thanks to Holly Willoughby on Dancing on Ice - jewelled hair pieces."
"I've done a few unusual weddings…"
"…one was for a biker couple, so the bride wore a black wedding dress and had quite a gothic look - very heavy eye makeup and dark lips. It was totally different from weddings I've done before and was great fun.
"A lot of weddings are in barns or nice hotels and they all have such a happy feeling to them. It's a really lovely atmosphere to work in and doesn't feel like a job."
"Sometimes the bridesmaids are more nervous than the bride…"
"Some brides are as cool as a cucumber and have done so much planning beforehand. There can be last-minute jitters, but sometimes I find the bridesmaids can be more nervous!
"When I've finished all the hair and makeup, I tidy most of my kit away so it's not in the way. I always leave the essentials out like lip gloss and lash glue, liner or anything that can rub off while they're having a glass of fizz. If I'm honest I love seeing the bride and bridesmaids in their dresses."
"I don't stop when I get home…"
"Unless the bride has asked me to stay for the full day, I'll head off around lunchtime. As soon as I get home I shampoo all the brushes that I've used. It's important to clean everything, especially if you have a booking the next day.
"I've got a big kit bag with lots of pockets, so I also make sure everything is organised and in the right place. I'll then have something to eat and relax.
Natasha's top tips for freelance hair and makeup artists
Want to break into the bridal market? Here are Natasha's expert tips...
Do your research
Visit wedding fairs and see what other makeup artists, photographers, and hair stylists are doing to attract brides. Take note of what you like and what you don't like, then set up your own way of doing things.
Always do a bridal hair & makeup trial
Trials are very important for the bride, and for you. It's all about trying to save yourself time on the actual wedding day.
Always carry business cards
Never underestimate the power of word-of-mouth. I've been surprised by how many friends of a friend I've been referred to. Your name does get passed around, so give your cards out on every job you do, be sociable and you can't go wrong!
Don't be afraid to collaborate
If it's a big bridal party then I'd always ask for assistance from makeup artists I've worked with in the past, who I know are reliable. It's good to have people you can call on.
Take food and drink for yourself
Cereal bars and a bottle of water are great to have in your kit bag or in the car. Time disappears from you on the wedding morning and before you know it, it's 2 pm and you've not eaten!
Be confident
Don't undersell yourself. The more jobs you do, the more confident you'll become. Also make sure you have the right products behind you, giving you even more confidence in your craft.
Follow Natasha on Instagram, @natashafletchermakeup
Do you work with brides?
Why not share your experiences and tips for finding bridal clients on our Facebook page, @SalonServicesUK.
Stay inspired
Recent Posts