Behind the scenes at the Grease Shoot

We collaborated with OPI, Wella & ghd last month to create a Grease themed day of Summer Lovin' hair colour, hair styling and nail art.
OPI's range of summer nail colours have launched to celebrate the 40th anniversary of Grease. Wella & ghd have come together with OPI to create the complete retro Grease look this summer.
OPI You're the shade that I want….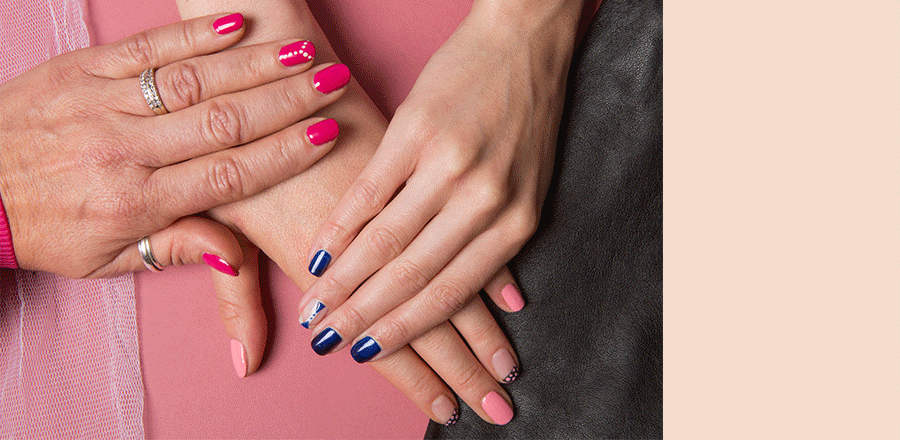 Look 1
OPI Infinite Shine "You're the shade that I want"
Nail art created using "Met a boy cute as can be"
Look 2
OPI Gel Colour "Chills are multiplying"
Nail Art created using "Chills are multiplying" & "Don't cry over spilled milkshakes
Look 3
OPI Nail Lacquer in Pink ladies rule the school
Nail art created using "Danny & Sandy 4 ever"
Pinkladies rule the school……Wella shows you how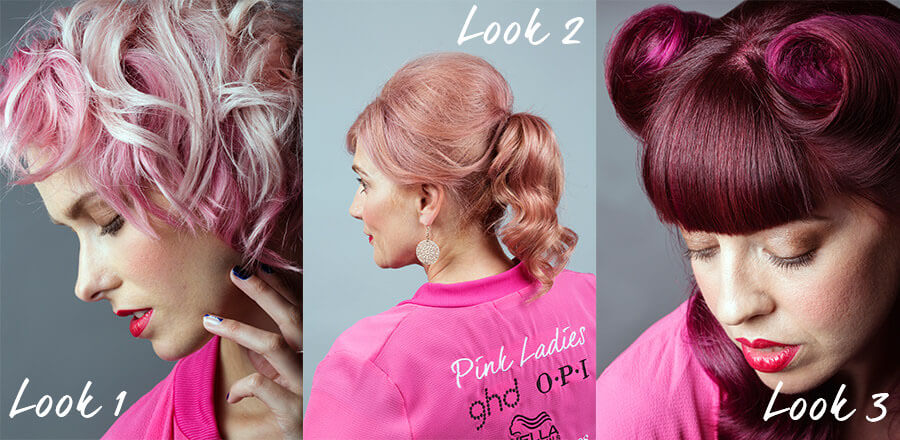 Get the look tonal Pink
Part 1
Blondor Soft Blonde Cream & Welloxon Perfect Pastel mixed 30g. BSBC + 45g Pastel + 3g. Wellaplex
Toner Colourfresh 0/6
Part 2
Back panel Koleston Perfect Innocence 30g 10/95 + 60g Welloxon Perfect Pastel
Front section Color Touch Relights 20g. 0/6 + 40g. 1.9% Color Touch Cream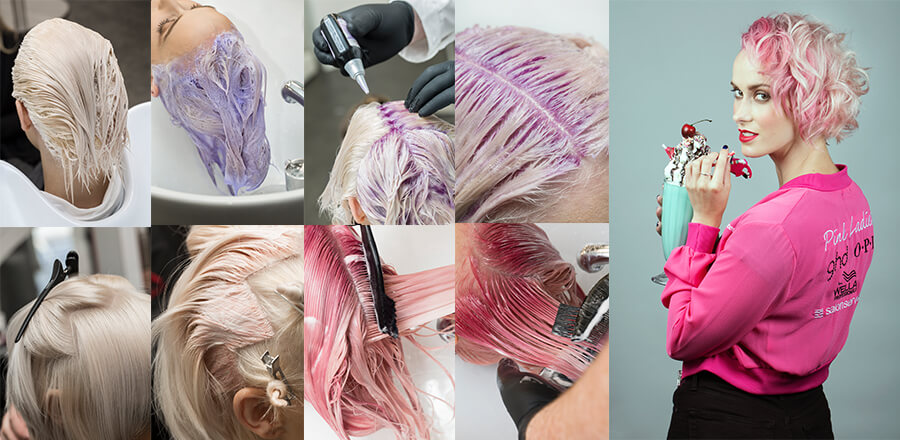 Get the look strawberry pink:
Koleston Perfect: 30g. 10/96 + 3g. 0/65 + 66mls Welloxon Perfect Pastel Developer.
Koleston Perfect: 30g. 10/96 + 5g. 0/65 + 70mls Welloxon Perfect Pastel Developer
Develop for 20 minutes, rinse, shampoo & anti-oxidant conditioner with Nutri Enrich Invigo.
Front section Color Touch Relights 20g. 0/6 + 40g. 1.9% Color Touch Cream
Get the look magenta pink:
Prelighten midlengths & ends with Wella Professional Blondor Freelights Developer & Wellaplex No.1
Process for 45mins., rinse and apply Wellaplex No.2 for 10mins.
Shampoo with Invigo Nutri-Enrich shampoo & apply Anti-Oxidise
Apply Colour Fresh Create High Magenta and process for 20mins.
Rinse and apply Koleston Perfect 55/05 + 6% on the roots
1Process for 35mins. And then shampoo and apply Anti Oxidise.
You better shape up with ghd styling techniques
Get the look retro victory rolls: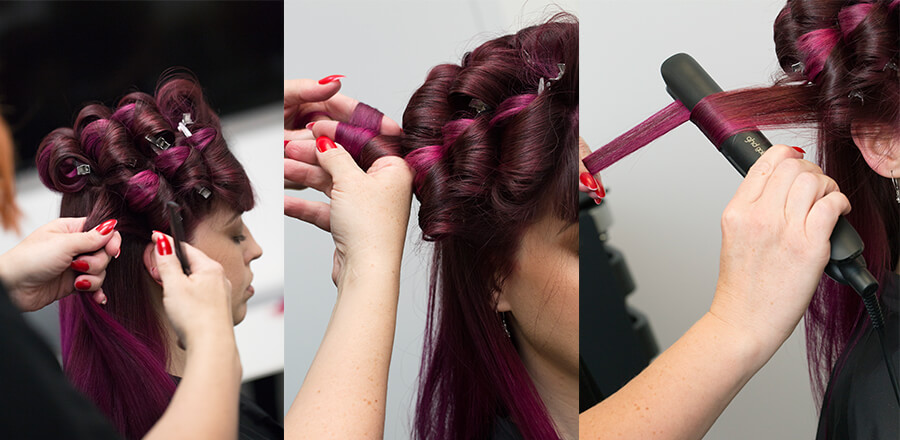 Apply EIMI Natural volume mousse and Root Shoot to damp hair, to give extra hold and stop hair being soft and slippery, and thoroughly dry without parting the hair
Starting on top of the head, in the middle, at the front hairline, take a 4cmx2cm size section of hair and insert the ghd GOLD styler horizontally
Roll the stylers under a full turn then glide through staying horizontal, continuing to turn the stylers slowly to keep the hair in the middle of the plates
To get even longer lasting hold, wrap curled section of hair around two fingers and pin securely to the head.
Repeat throughout the whole head working in a 'brick' pattern to the nape of the head.
Allow hair to cool, release curls one at a time, place parting where required, then brush in to a smooth wave with a paddle brush
For the Victory Rolls – take a triangular section at the front side of the head (widest part of the triangle at the bottom), backbrush then roll up and secure with grips
Repeat on the opposite side.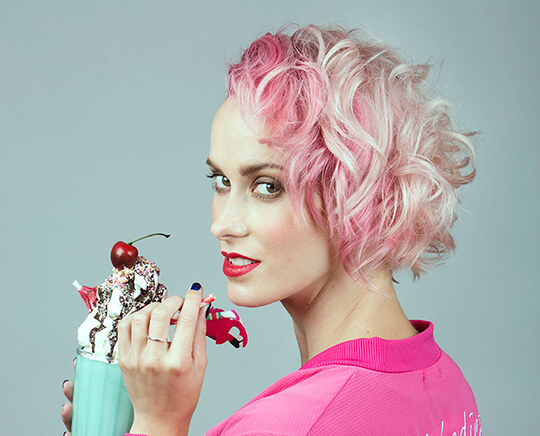 Get the look tousled waves
Apply EIMI Natural volume mousse and Root Shoot to damp hair, to give extra hold and stop hair being soft and slippery, and thoroughly dry without parting the hair
Starting at the nape of the neck, take small random sections and working vertically in the hair with the ghd GOLD styler, turn and push down, pause, turn the opposite and push to the end of the section.
Repeat throughout the whole head keeping sections random and ununiformed to create a natural effect
Section in to a low side parting and tuck hair behind one ear bringing a small section forward on to the face.
Break up hair with fingers and allow to fall naturally
When Danny met Sally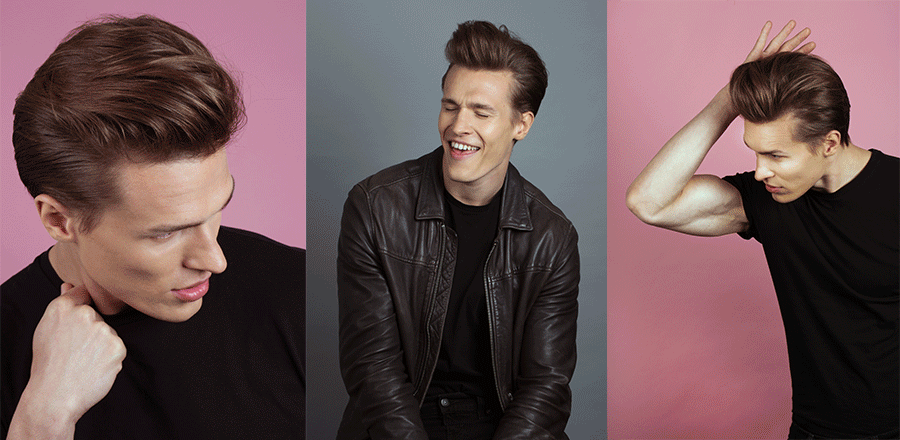 Recent Posts