AW17/18 Hair & Beauty Trends: Dark Wonder & Human Nature

The AW18/19 trends have landed! Prepare for some bold new looks this season.
Our top looks from this season have been inspired by nature. Metallic is trending across hair and makeup, while scorched yellow is seen on nails and hair.
Key colours this season are Gold, Scorched Yellow, Ultraviolet, Red, Black and White.
Our holiday and party season look is inspired by the Dark Wonder trend. Glitter and metallics are applied to eyes, brows and lips for a very glamorous winter look and the skin is illuminated. We see the return of cornrows and braids which continue to be a massive styling trend. Try working through strands of metallic threads through the plaits for an even more textured look.
Glitter has been seen on brows also for AW18/19. This is very much a look that can be adapted to suit your bold clients as well as those looking to try just a little bit of illumination.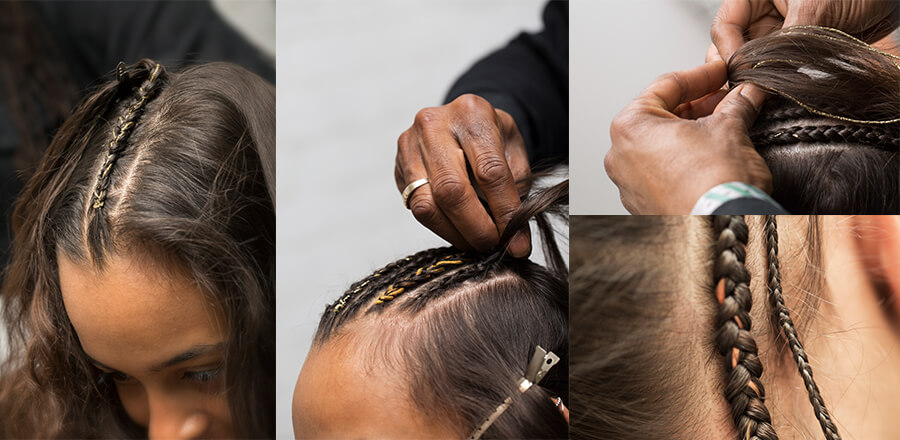 How to Hair Styling:
Starting at the centre parting, gradually weave very thin French braids back along the head using Cantu Moisturising Twist and Lock Gel.
Work from centre to the left of the hair parting and then from the centre to the right of the hair parting.
Using gold thread (Stylist's own) weave this through selected plaits to create an organic look.

How to Makeup:

Top Lip - Bodyography Lip Lava in Obsidian
Bottom Lip - Bodyography Lip Lava in Thunder
Bodyography Gleam & Glitz
Ardell Mascara
Salon System Naturalash Volume Strip Lashes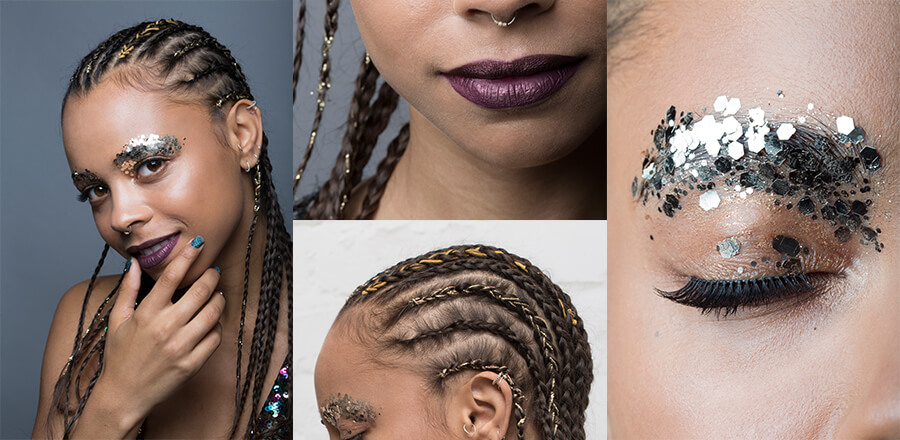 Colour blocking is a new trend in hair colour especially in shades of ultraviolet and red which are perfect for clients who want to experiment with colour without making a commitment to a full colour transformation.
We have paired this with earthy, smoky eyes for an update on the traditional black smoky eyes and matte finished skin. Ombre lips for finish this grungy 90's look.
How to Hair:
How to Makeup:
Incredible You Glow Girl Highlighter in Peach Out on cheeks and eyes
Ardell Eyeliner in Brown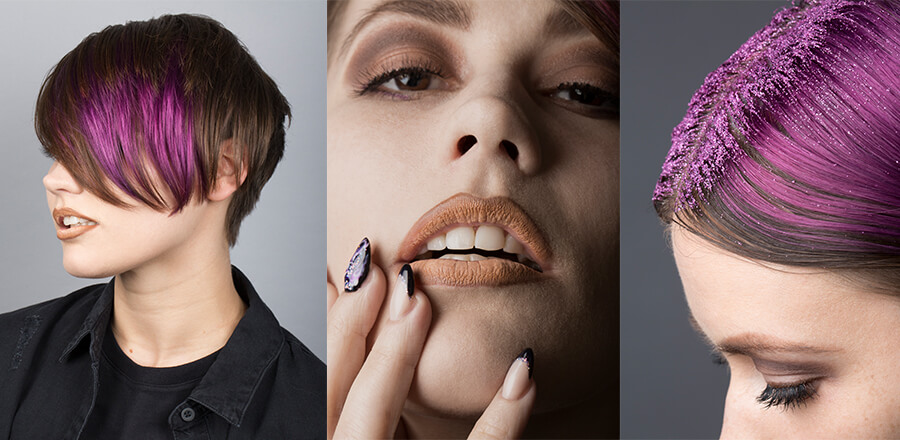 Rich hues of yellow offer a brave new colour choice for hair paired with millennial pink lips and dewy skin to create the total look for Autumn. On the eyes a strobing effect is created with eye pencil which is a subtle technique of adding colour to your client's look.
We think this yellow look works really well with dark roots to create a stylish contrast for your client.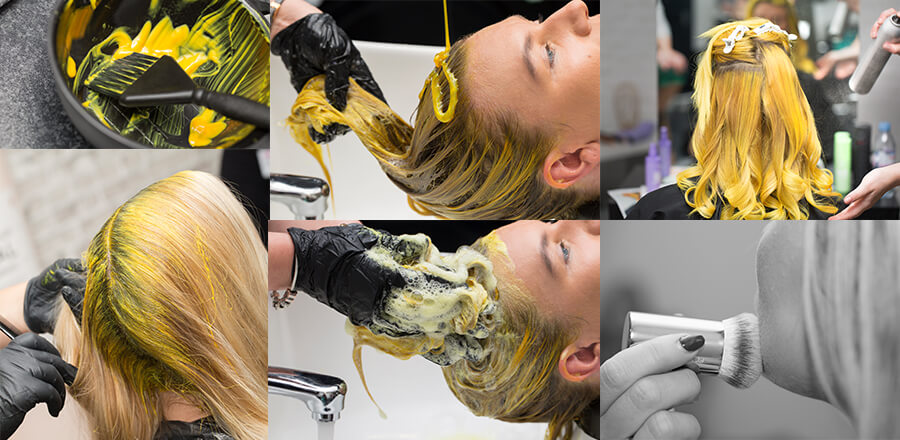 How to Hair:
Viral yellow on dry rinse
Shampoo with Celeb Luxury Viral Semi Permanent Colorwash
Shampoo in Extreme Yellow
Condition with Celeb Luxury Viral Conditioner
Style through Design Me Fab Me on wet hair
Apply Design Me Power Me and dry hair
Style with Barnum Curling Iron
Finish with Kenra Professional Volume Spray 25
How to Makeup:
Apply a base of primer, we use Bodyography
Contour Cosmetics used on the skin to define and contour
Ardell Eyeliner used on the eyelid in a strobing effect, we used blue and white to create a fresh and striking look
Baby Pink Lip we used INC.redible Tri Harder Lip Gloss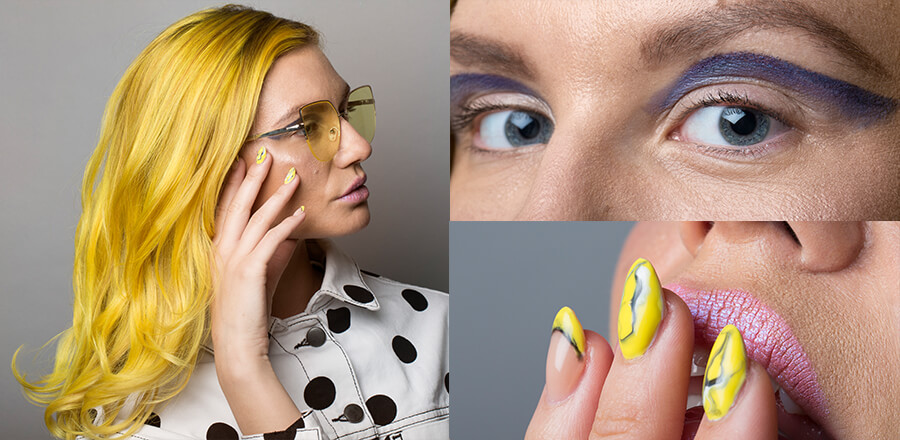 Men's styling and grooming looks to the 90s also where we see short, blunt fringed against shaved sides to emphasise the fringe, pair this with a very clean shaven face.
We have also seen mini moustaches become a trend as well as long grungy side swept fringes. Men's hair colour follows the block colour trends as well with colours saffron orange, saturated yellow and fiery red.
Nails ia all about exploring colours, textures and nail art this season as we see gems and glitter across nails in an organic pattern and marbling techniques. Get set to create a unique look for each of your clients.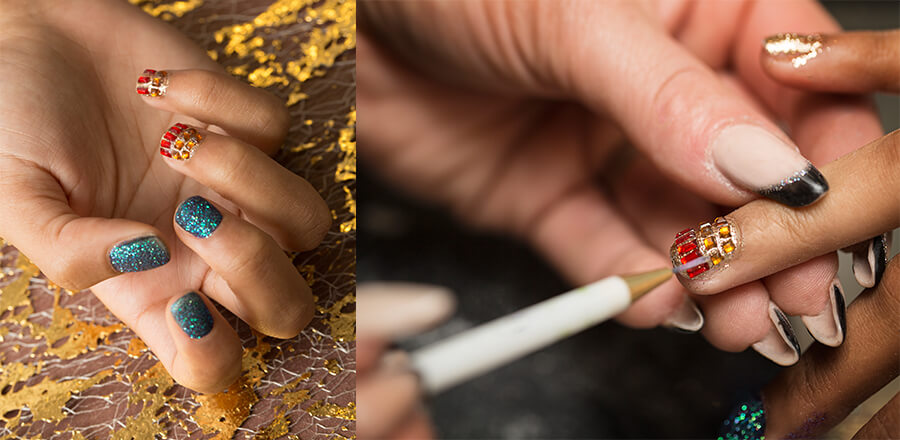 How to Nails:
Apply ASP Signature Gel Polish in Shadow
Apply Icon Nail Glitter Dust in Allure
We used Cina Gems
Apply Icon Nail Gllitter Dust in Dazzle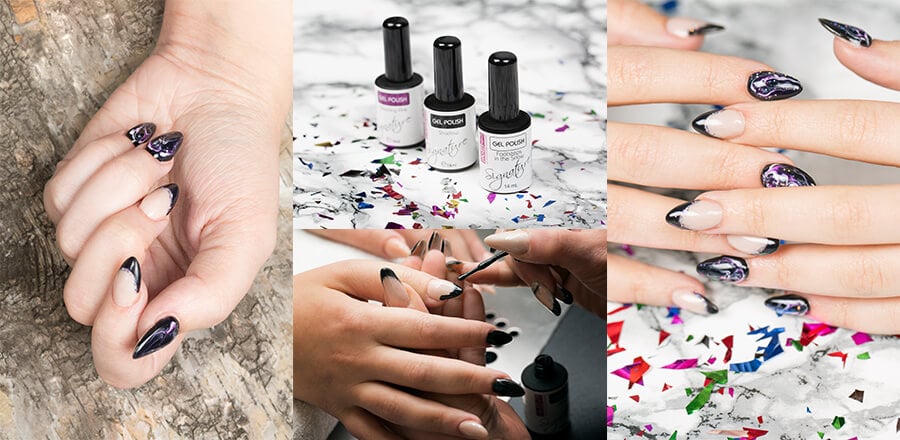 How to Nails:
Apply ASP Signature Gel Polish in Bare Blush
Then apply footsteps in the Sno with an overlay of Shadow on the tips
Marble effect created with Footsteps in the Sno and Tropical Pink on Shadow.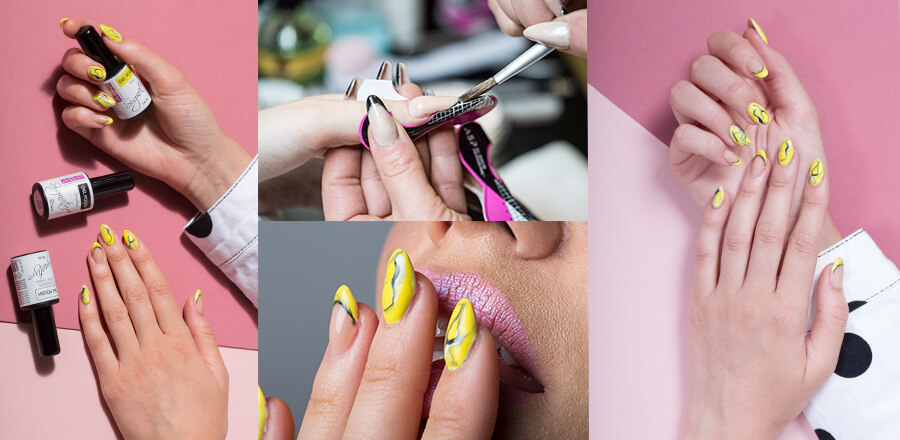 How to Nails:
Apply ASP Signature Gel Polish in Bare Blush
Then apply footsteps in the Sno with an overlay of Yolo* on the tips and nails
Marble effect created with Footsteps in the Sno and Shadow on Yolo.
(*Coming soon or try shade Lemon Ice for a more subtle look)
Recent Posts