9 spray tan mistakes - and how to fix them!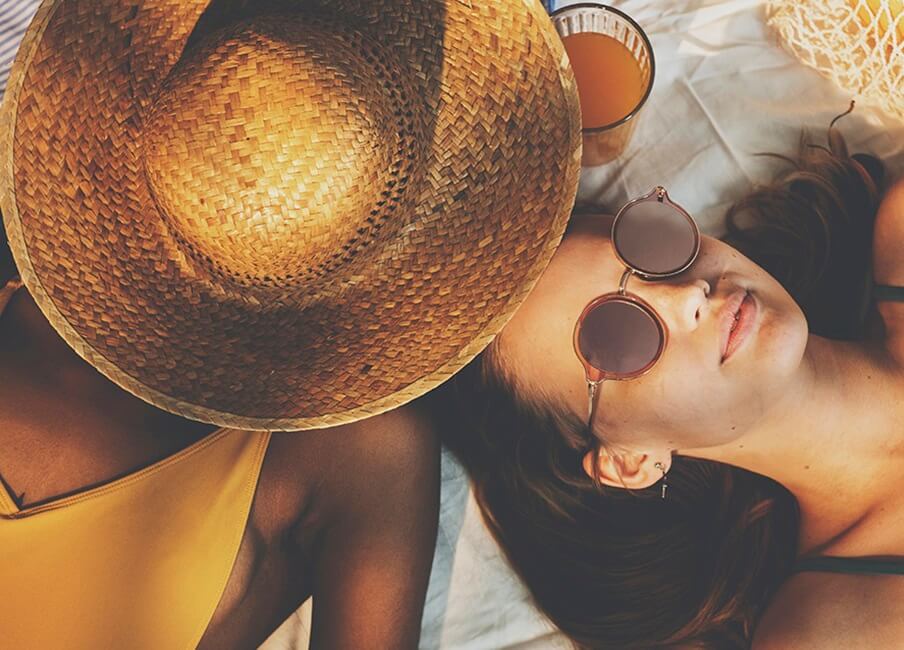 As a spray tan technician, summer is probably one of your busiest times, with clients booking in for a pre-holiday bronzing session. Yet while your customer is hoping for a golden glow, things don't always go to plan! The good news is, there are simple steps you can take to avoid some of the most common spray tan disasters including white lines, orange tans and green armpits.
To get you started, professional spray tanner Carly Hobbs shares her expert advice on the best way to spray. She says, "Spray tan techniques will vary from brand to brand depending on spray tan product and training, but for every client respect their individual body shape and work with the curves of the body. For example if someone has bigger boobs, get them to raise their arms to tan beneath them, allowing time to dry, or if they have a super perky bum ask them to lean forwards to tan under each cheek!"
Spray tan mistake 1: dark patches
Carly says, "Dark patches can be so pesky and are normally caused by super dry areas of skin. Thankfully they are super easy to tone down."
Try using a tan removal product like the Sienna X Tan Eraser and Mitt to buff over any darker patches. "This will ditch unwanted tan while being kind to skin", adds Carly. "And next time you're getting your faux glow on, skip the dark patch stage all together by using Sienna X Secret Tan Primer on typically dry areas – elbows, knees, knuckles, between the fingers, backs of ankles, inner wrists and toes.
"Always remind clients of this as you do it, so if they tan it themselves in between appointments then it will minimise problems for you when you next help them into your tan tent! It's a great upsell too for profit points."
Spray tan mistake 2: streaky tan
This is a really common spray tan mistake and can sometimes be down to your spraying technique.
"Tan can run and go streaky for a few reasons", says Carly. "To stop the tan running, less is definitely more. You want to hold your spray tan gun about 30cm away and the ideal is a light mist flowing continuously from your gun. Designs will vary but also make sure the nozzle is spraying out tan at a steady rate – too much means tan will run."
If any tan does run - either because you've gone in to close or the client's tan is a little sweaty - Carly recommends using a tanning mitt to blend in the tan without wiping it away. "It's almost like you're pushing the client away, firmly but steady (you don't want them taking a topple in the tan tent.) If the tan has gone streaky, buff it in the same way until it's even. It's always worth upselling a mitt to clients to do this themselves on the rare chance they mess up your tanning handiwork after they've left the appointment."
"There are no excuses for leaving your clients with discoloured nails after a spray tan"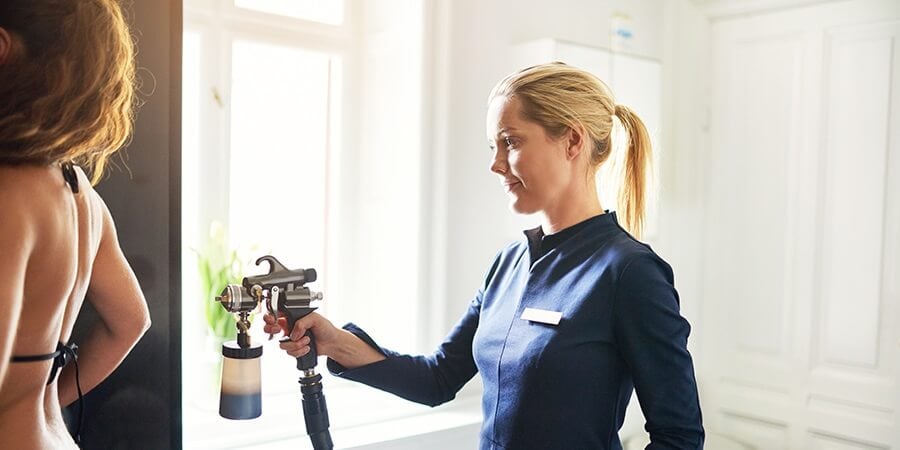 Spray tan mistake 3: your client rubs off the tan
You've finished tanning your client… only for them to rub it off while getting dressed.
"It's so frustrating when a client rubs off part of their tan", says Carly. "Always do your best to advise them on the perfect post-glow outfit - loose baggy clothes, no bra, no trainers and no trainer socks! I love my clients to pop on pjs or a roomy jumpsuit, ideal for allowing the colour to develop safely."
Spray tan mistake 4: white lines on the knuckles, knees and elbows
Carly says, "Avoid white lines along knuckles, knees and elbows by prepping properly before the tan. You can use a professional barrier cream which hydrates these areas so the tan glides over them."
Spray tan mistake 5: fake tan staining fingernails and toenails
This is an absolute no-no says Carly. "There are no excuses for leaving your clients with discoloured nails after a spray tan. As soon as you have finished tanning you should wipe over the nails – and between the fingers, toenails, palms and the inner wrist - to ditch any product build up so they look flawless."
Spray tan mistake 6: your client's face comes out too dark
With some customers no matter how precise your spray tan technique, their face will come out darker than the rest of their body. Carly says, "Some client's faces will really take on the colour of tan really well so spray carefully, move the spray tan gun away and even adjust your nozzle so it mists out at the lightest setting. If after tanning it seems too dark, advise them to wash the guide colour from their faces at least one hour before the rest of their tan. If you know your client is prone to this, get them to moisturise their face pre-tanning to lighten the finished colour."
Spray tan mistake 7: darker feet
As a pro tanner, you'll know that a client's feet can be another problem area. Carly recommends always using sticky feet to stop the soles and sides going too dark.
Spray tan mistake 8: orange tan
Probably the biggest fake tan disaster is when your client turns orange rather than a sunkissed bronze! To avoid this, Carly says, "If you use a premium brand and select the right shade for your client there will be no issues with an orange colour, only naturally glowy results. With Sienna X I base my shade selection on how my client's would tan in the sunshine. This allows for a bespoke tan just for them."
Spray tan mistake 9: Green armpits
Another colour your definitely don't want to see on your clients is green! But if they are wearing deodorant or perfume, this will oxidise with the tan products and go green rather than bronzed.
Carly says, "They will go tan after a shower to rinse off the guide colour but it looks unprofessional. Ensure you get clients to shower before their tan and don't apply fresh deodorant. If they are coming straight to you for a tan with no time to shower ask them to thoroughly wipe under their arms to ditch their deodorant." Try these Sienna X Removal Wipes before getting in the tan tent.
Follow Carly on Instagram, @carlytoptip.
Share your spray tan disasters!
What has been your worst fake tan mistake? Why not share your stories on our Facebook page @SalonServicesUK.
Stay inspired
Recent Posts