5 top 2019 hair trends and colours you need to know about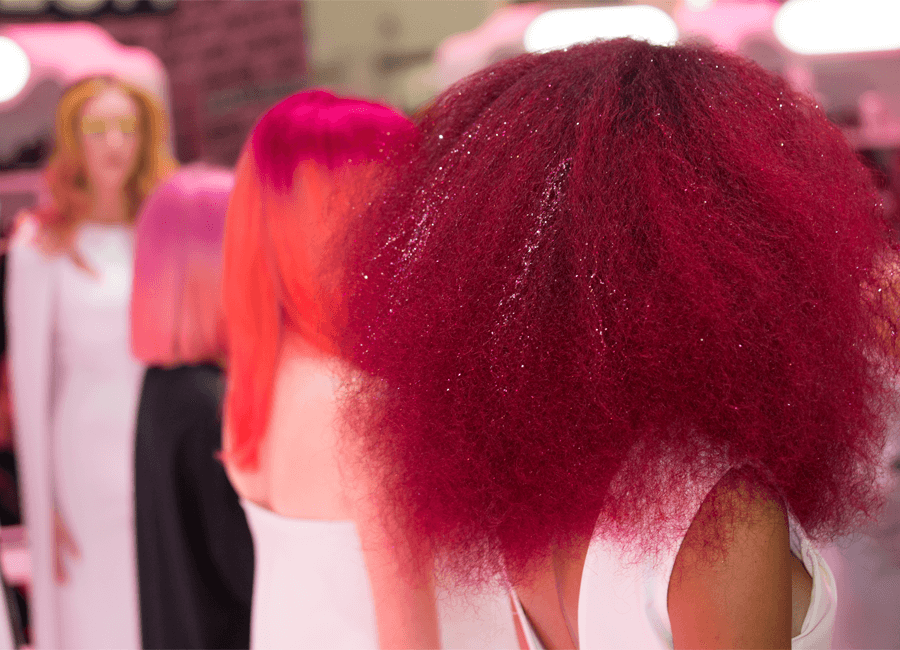 Spring is officially here – hurrah! – which means it's time for an injection of colour in your hair and beauty services.
To help, we're running our annual Festival of Colour promotion. For a limited time, buy four tubes of hair colour and get one free or buy three nail polishes and get a fourth free.* Plus if you spend over £/€150 on selected brands you'll receive a free 7" HD tablet. Result!
Read on for top tips from Joe Hill about the hair colours of 2019 your clients will be asking for…
Blush tones
Add a subtle colour to your client's hair by using blush tones. Joe says, 'Think of these colours like the blush on your cheeks. Hues like cashmere rose and Bellini are popular. It's just a blush of tone so your client still looks blonde. You can just see the casting of colour, a chalky dusting of colour.'
To achieve the look, Joe recommends prelightening the hair to Level 10 and then using a blush toner. Try Wella Professionals Color Touch Instamatic in Pink Dream.
"Skip back 15 years and everyone wanted Jennifer Aniston highlights. Now, there's nothing that isn't a trend!"
Vintage hues
Vintage has been a trend in clothes and furniture for a few years so it's probably no surprise it's now a popular hair colour.
Joe says, 'In the past no-one wanted their hair to look faded. But now the look is solid at the roots and faded to vintage on the ends. Take inspiration from flower petals that are about to fall off - they look aged but still have a lovely hue.
'Popular hues include French truffle brunette and a minky undertone brunette - we're starting to see this look filter down to the High Street.' Try the L'Oreal Majirel French Browns collection.
Express colour
It's not just the latest hair colours you need to know about for your hair and beauty business. A growing trend is for salons to offer express colour - a service you can market to clients who want to pop in for a colour touch up in their lunch hour.
'Express colour is a huge emerging market', says Joe. 'The 2019 woman hasn't got as much time and that means you're probably getting two visits from your customer a year. Encourage them to come in more by offering services like a toner service and colour brightening.' Try Scwharzkopf Professional BlondeMe Toner.
The new blonde
Chances are your most requested colour service from clients is blonde, either using highlights or balayage.
So, it pays to know the hottest blonde tones for 2019. First up is the Snow Bunny Blonde, a very pale powdery blonde with just a hint of blue. Or offer your customers a Dirty Blonde by shadowing their roots and making them ever so slightly darker than the ends.
Joe says, 'Skip back 15 years and everyone wanted Jennifer Aniston highlights. Now, there's nothing that isn't a trend! 2019 is the year of blonding. We're moving away from balayage to a brighter idea of blonding, focusing highlights around the face.' Try the Kenra Color Simply Blonde range
Colour contouring
Add a new colouring technique to your services in the form of colour contouring.
'With haircuts, hairdressers have always known that a bad cut can highlight the wrong part of a client's face, bringing out a big nose for example', says Joe. 'It's the same with hair colour which can affect face shape.'
To master colour contouring, why not sign up for a hair colouring course. And according to Joe, it's a great investment. 'You can charge more for colour contouring because it's a bespoke service.'
What are your most requested colours in 2019?
Which hair colours are your clients loving so far this year? Join the conversation on our Facebook page, @SalonServicesUK
*Terms and conditions apply
Stay inspired
Recent Posts