FREE
Beauty Bag
WORTH OVER £70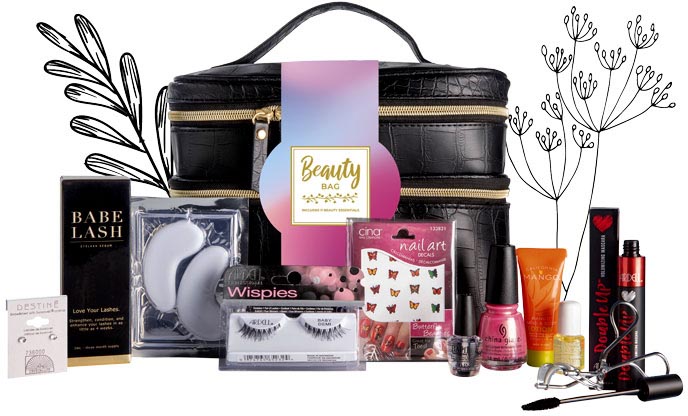 out of stock online
When you spend £50 (ex VAT) or more
in store

within Beauty or Nails*:
What's included?
Award Winning

FULL SIZE!

Eyelash Serum

by Babe Lash

FULL SIZE!

Double Up Mascara

by Ardell

False Lashes

by Ardell

Eyelash Curler

Top Coat Nail Polish

by OPI

Nail Art Stickers

by CinaPro

FULL SIZE!

Nail Polish

by China Glaze

Mango Body Lotion

by Cal (15ml)

Mango Cuticle Oil

by Cal (4ml)

Undereye Patches

by Marvel Brow

Anti-Aging Sheet Mask

by Retinol

Crystallite Earrings

by Destine
Out of stock online. Offer valid from 1st – 28th April. One per transaction, worth price based on RRP. Available while stocks last. Excludes hair products, hair essentials, colour, training courses, salon wear, equipment, electricals, gift vouchers and beauty boxes. Products may vary. Offer cannot be used in conjunction with the VAT Free Voucher.