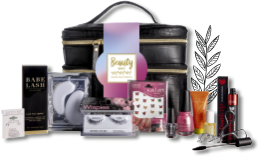 Soft and gentle non-woven wipes
Perfect for polish removal or nail preparation
Lint free and highly absorbent
Pack of 200

Best-selling smoothing block
Professional application of artificial nails
Removes final scratches on extensions
To be used before buffing

Ultraform Tips from Salon Services
Quality meets value
For flat or curved nail beds
Non-yellowing virgin ABS plastic
Pack of 50 size 5 tips supplied

Salon Services Foil Nail Wraps
Pack of 400
Pre-cut foil for the removal of gel and acrylic nails
Pre-folded edge for comfort and protection
Simple and quick to apply

Smooth filing in awkward areas
Reduce thickness
Buff out bumps
Shape nails
For use with nail extensions

220/320 grit softie blocks
Amazing value box of 100
Ideal bulk buy for the busy salon
Great for natural nail preparation
Long lasting and hard wearing

Toe separators from Salon Services
Keep the toes apart during foot treatments
Pink foam
One pair supplied

Salon Services Brush on Nail Glue
Easy application
Fast Drying
High quality formula
Long-lasting hold

Best-selling nail care product
Easy filing around cuticle
For expert and beginners
For acrylic, fibreglass or silk nails
Perfect for blending

Amazing value box of 1000 7" Birchwood Sticks
Ideal bulk buy for the busy salon
Can be used for all kinds of nail and beauty services
Great for pushing back cuticles, cleaning under the nail and cleaning away polish that runs onto the skin around the nail.
Excellent quality

Perfect for shaping natural nails
Refines nail extensions
Buff out irregularities
Best-selling nail care product

Salon Services Cuticle Nipper
Keep nails clean and smooth
Compact
Spring-activated

Salon Services Nail Brush
In white
Ideal for cleaning under nails
Convenient handle
Firm white bristles

Precision-crafted stainless steel implement. Great for removing soak off gels. Sanitizable

Salon Services Softy Block
In pink
Grit 220/320
Polish and buff nails

Best-selling nail care product
Triple-graded block
Three simple steps
High shine glossy nails

For use with artificial nails
Best-selling nail care item
Shorten length
Reduce thickness
Boomerang shape

Salon Services Glass Dappen Dish
Multi-purpose
Ideal for liquids and powders

Separate client's toes for treatments
Pedicure aid
Flexible foam
Blue supplied

Large Pedicure File
From Salon Services
Smoothes rough skin on feet
For pedicure use
Washable and hygienic

Best-selling nail care product
Removes top overlay
Use before removing extensions
For acrylic, fibreglass or silk nails

Salon Services Disposable Grits
Pack of 20
In black
For use with Salon Services Metal Foot File

Salon Services Nail Glue
Fast drying
High quality formula
Long-lasting hold

Shorten length
Reduce thickness
Buff out bumps
Shape nails
For use with nail extensions

Toenail clipper from Salon Services
Classic design
With clippings catcher
Safe and hygienic
In black, stainless steel

Salon Services Manicure Bowl
Acetone safe
Perfect for nail polish remover
Enhance your manicures

Salon Services Birchwood Sticks
Length 17cm
Pack of 10
High quality

Salon Services Dual Ended Birchwood Stick
A Pack of 10
Multi-purpose

Salon Services Ultraform Tips Masterpack
Made from virgin ABS plastic
Non-yellowing, non-cracking
A pack of 360

For professional use
Angled file
Shorten length
Reduce thickness
Wide surface area

Salon Services Cuticle Pusher
Solid stainless steel construction
Gently treat cuticles
Able to be sterilised

Comfortable toe separating
Sanitary and convenient
100% cotton
Minimise smudging
Disposable

For professional use
Not suitable for natural nails
Sanitisable
High-quality cushioned file
For tailoring tips

Salon Services Gel Brush Cleaner
Supplied in a 125ml bottle
Do not use on acrylic brushes
Remove residual nail treatment substances easily and quickly

Salon Services Gel Brush
With fine white bristles
Precision application
Professional level tool

Zebra Straight Nail File
Shorten and reduce thickness of nail extensions
Buff out irregularities
Shape and rebalance
Use during infills and after applying acrylics
      Find top quality nail tools and accessories in our range and get salon ready pedicure tools and manicure tools suitable for any beauty shop. Browse top nail accessories such as acetone safe manicure bowls, nail wipes, disposable grits, and much more to make sure you're fully stocked to give clients the nails of their dreams.