Mike Taylor Education Traditional Barbering Course
165258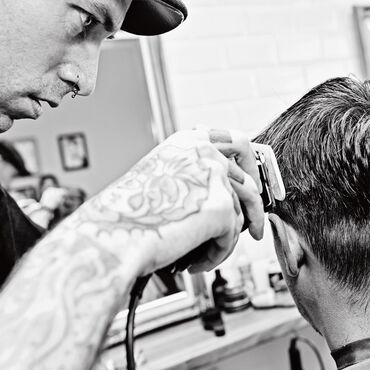 Scroll to Zoom
Pinch to zoom
https://www.salon-services.com/ie/mike-taylor-education-traditional-barbering-course/165258_00039_28-OCT-2018.html?lang=en_IE
SAVE
Look out for massive savings across Hair, Beauty, Nails, Electricals and more!
The Traditional Barbering course is the most thorough path to becoming a barber. Throughout the day, students will learn about the quintessentially British history of barbering and why it's so important to give tribute to tradition.
Venue:

Glasgow Hillington

Date:

Time:

10:00am - 28:00pm
Kit Required
Please Note:
Before booking a training course, please check the requirements below. If a kit is required for this course, add the item(s) to your basket before proceeding.
Salon Services Manikin Head with Beard
Andis Pro Alloy Corded Clipper
S Professional Pro Series Scissor 12.5cm
Course Requirements
Students may bring own model (male only) if preferred
Model should arrive at 1pm
Students and models must be at least 16 years of age
Students are required to have barbering experience
Expertise Level
Suitable for beginners.
What to expect when booking this course
Once you have booked your training course, you will receive an email confirmation containing the details of your course, terms and conditions along with what items/tools you will need to bring. You will need to arrive at your chosen training course location 15 minutes prior to the course start time. A model may be needed to work on during the Training Course, so please check with the hosting store for further detail.
Once booked, you cannot cancel your place on the course. If you fail to attend a booked course you will not be entitled to a refund or offered an alternative course.
More about this course
Top Features
• Practical session where students will practise scissor-over-comb techniques and perform a short clipper comb-taper cut
• The history of barbering
• Overview of cutting tools
Key Learnings
• Full understanding of cutting different shapes using traditional barbering techniques
• The skills and knowledge required to carry out scissor-over-comb and layer-over-comb techniques and clipper-over-comb, tapering and flat-top techniques
• Health and safety knowledge to carry out the service confidently
Featured Products
Customer Reviews
There are no reviews for this product yet