Kate Hughes Ultimate Makeup Workshop - Contouring & Smokey Eyes
542107
Suitable Level
intermediate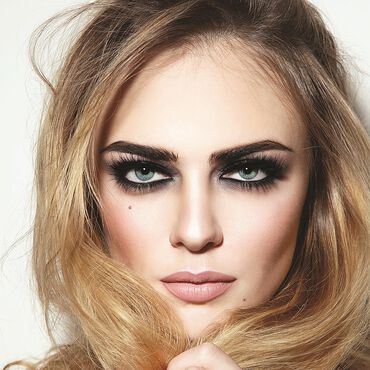 Scroll to Zoom
Pinch to zoom
https://www.salon-services.com/ie/kate-hughes-ultimate-makeup-workshop---contouring-and-smokey-eyes/542107_00009_16-OCT-2018.html?lang=en_IE
Modern make-up images are now heavily influenced by social media and make-up has evolved into a specific, overtly dramatic style. This intensive course is designed to help you master the basic skills of these popular techniques to create the ultimate statement look.
Venue:

Belfast Adelaide HAIR

Date:

Time:

10:00am
Course Requirements
Models should arrive at 1.30pm until 4.30pm
Models and students must be at least 16 years of age
Demo model is required 10.30am – 12.30pm for the educator (hosting store to arrange)
Students are required to purchase all of the items from the kit list prior to attending the course
Kit Required:
• Make-up brush kit
• Non-oily make-up remover
• Make-up wipes
• Moisturisers
• Primer
• Cotton buds
• Cotton pads
• Cream foundation
• Concealer
• Translucent powder
• Powder blush
• Matt bronzer
• Lipstick/lip gloss
• Contouring kit
• Highlighter
• Liquid eyeliner - black
• Pencil eyeliner - black
• Mascara - black
• Brow pomade
• Strip lashes and glue
Expertise Level
Students are required to have a qualification in basic make-up application
What to expect when booking this course
Once you have booked your training course, you will receive an email confirmation containing the details of your course, terms and conditions along with what items/tools you will need to bring. You will need to arrive at your chosen training course location 15 minutes prior to the course start time. A model may be needed to work on during the Training Course, so please check with the hosting store for further detail.
Once booked, you cannot cancel your place on the course. If you fail to attend a booked course you will not be entitled to a refund or offered an alternative course.
More about this course
Top Features
• Practical demonstrations and professional advice and support from a top industry educator
• Review of contouring and highlighting techniques to enhance face shapes by adding definition, light and dimension to facial contours
• Review of brow and lash application and blending techniques to create the perfect smokey eye and pigments to become confident with colour
Key Learnings
• Full understanding of professional make-up tips and tricks to enhance knowledge and ability
• The skills and confidence needed to create dramatic looks and accelerate your talent in this competitive market
Featured Products
Customer Reviews
There are no reviews for this product yet