Microblading
€ 1.950,00
ex. VAT
(Trade Price)
Online Training Courses Available...
Due to safety concerns with Covid-19, our face-to-face training courses are currently unavailable. Don't worry, we have you covered with our new range of online accredited courses, allowing you to learn a new skill at your own pace. Click Here to find out more.
Overview
Microblading creates the perfect brow by applying semi-permanent colour with an incredibly fine, sterile blade. Tiny hair stokes are delicately drawn on the brow area with the blade to create perfectly shaped, long lasting brows that can last up to 18 months.
Top Features
Become a true brow expert by learning the highly popular Microblading treatment.
Learn how to create new brow shapes and styles using curved hair strokes which mimic real hair in thickness and direction of growth.
Each hair is individually drawn by hand, allowing you to create bespoke brows for your client.
Key Learnings
Full understanding of the Microblading treatment and products.
Gain full knowledge on brow mapping, styling and complete colour theory.
Understand health and safety, consultations, aftercare, maintenance and retail opportunities
Skills and knowledge to perform the treatment successfully and effectively.
Gain confidence performing the treatment under the observation of skilled microblading trainers.
Recently Viewed Products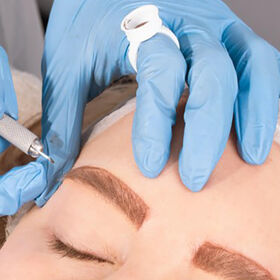 Microblading creates the perfect brow by applying semi-permanent colour with an incredibly fine, sterile blade. Tiny hair stokes are delicately drawn on the brow area with the blade to create perfectly shaped, long lasting brows that can last up to 18 months. <br> <br> <b>Top Features</b><br> <ul><li>Become a true brow expert by learning the highly popular Microblading treatment.</li> <li>Learn how to create new brow shapes and styles using curved hair strokes which mimic real hair in thickness and direction of growth.</li> <li>Each hair is individually drawn by hand, allowing you to create bespoke brows for your client.</li> </ul><br> <b>Key Learnings</b><br><ul> <li>Full understanding of the Microblading treatment and products.</li> <li>Gain full knowledge on brow mapping, styling and complete colour theory.</li> <li>Understand health and safety, consultations, aftercare, maintenance and retail opportunities</li><li>Skills and knowledge to perform the treatment successfully and effectively.</li><li>Gain confidence performing the treatment under the observation of skilled microblading trainers.</li> </ul>