FootsieBath of Beverly Hills Spa Gen 2, Black
£149.55
ex. VAT
(Trade Price)

(

£179.46

inc. VAT)
Overview
Immerse your clients feet into the newly improved Footsie Bath of Beverly Hills for the ultimate foot spa experience
Variable temperature and vibration control for a personalised treatment
Ultra lightweight and durable, perfect for mobile treatments
Retractable 1.6 metre cord
With 5 Footsie Bath Liners and Carrier Tray for easy cleaning
Description
The first pedicure spa with a retractable cord, which is lightweight and durable FootsieBath™ is the most versatile foot spa on the market with a temperature controlled heater and ultra sonic vibration/massager. The carrier tray Eliminates the need to carry the Footsiebath™ from sink to pedicure station and back. It fits easily under most standard taps, making filling a breeze. Save time and space with the Carrier Tray from Footsiebath.™ When finished with the pedicure, just lift Liner Carrier with used Liner. Once Liner is lifted, just empty out the water and dispose or recycle the Disposable Liner. What a big difference in cleaning!
Features include:
Thermostat
Ergonomic design
Retractable 1.6 metre cord
Variable soothing ultra sonic massager, ideal for therapeutic soaks
Variable heat setting
30 minute spa timer
Directions for Use
To prepare for the pedicure, take 1 Liner and insert into the Liner Carrier. Fill the liner with warm water. Place filled Liner and Liner Carrier into Footsie bath™ Spa. The Liner is designed for a one- time use. It is perfectly pre-fitted to the Spa for a professional look. When finished with the pedicure, lift the Liner Carrier with the used Liner, empty the water and recycle the Liner. Then, use another for your next pedicure.
Recently Viewed Products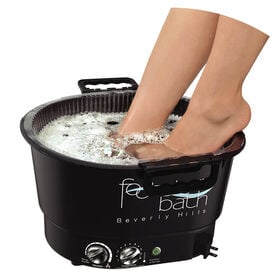 <ul><li>Immerse your clients feet into the newly improved Footsie Bath of Beverly Hills for the ultimate foot spa experience</li><li>Variable temperature and vibration control for a personalised treatment</li><li>Ultra lightweight and durable, perfect for mobile treatments </li><li>Retractable 1.6 metre cord</li><li>With 5 Footsie Bath Liners and Carrier Tray for easy cleaning</li></ul>